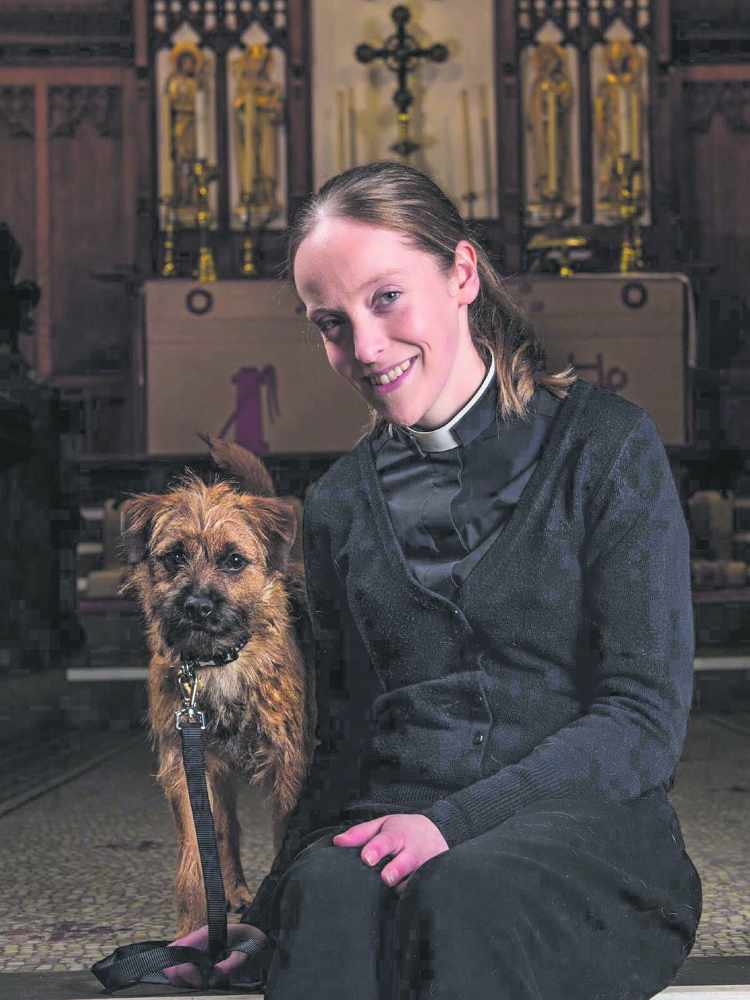 The new vicar at Stalybridge's St George's Church says she can't wait to get started and meet her new community.
The Rev Penny Warner (pictured with Buddy, her border terrier) will be licensed this Sunday (January 26) at 6.30pm.
After she was ordained in 2013, Penny worked at St Elizabeth's Church in Reddish for three years, before spending three and-a-half years at Newchurch in Rossendale.
Last year, Penny married the Vicar of Mossley, David Warner, and was delighted when the position became available at St George's.
"The position here became vacant and it just seemed like a great community to become part of," she said.
"There are all sorts of things happening and lots of things to join in with. Because there are such strong building blocks in place, there is huge potential to build for the future with community work.
"I'm looking forward to getting to know the wider community. It's set in such a great area to build those connections.
"Being the neighbouring parish to my husband's is a bonus! It's nice for the churches in this area to be able to work together more as well."
It's an exciting start to 2020 for the congregation and volunteers at St George's.
Last year, the roof of the Grade II listed building was repaired after a £233,000 grant from the Heritage Lottery Fund meant the two-year project could be finished.
Now, fundraising is underway to repair the roof above the chancel and the church tower, as well as get the church organ refurbished.
Speaking about the projects, church warden Derek Redeyoff said: "Under the Heritage Lottery grants, you have to also prove that your church is open to the community.
"One reason we got that grant is because we have the brownies, guides and rainbows, a dementia group who meet every first and third Friday and we've got a Slimming World group; we're a very busy church.
"The next phase is over the chancel, which is a flat roof, and the tower.
"We might not get a grant for the organ, although it is quite old. We estimate the organ will cost around £25,000."
Derek, who has been taking some services while the church waited to appoint a new vicar, said he knew straight away that Penny would be a good fit.
"I did the interview with Penny and straight from the word go, I wanted her to come to St George's," he said. "Her sense of humour shone through."
Penny added: "That's what it's all about, isn't it? The Christian community is about a sense of joy, love and care for each other, in the church and outside the church walls.
"If we can foster that as a Christian community then it gives so much to the community around us."