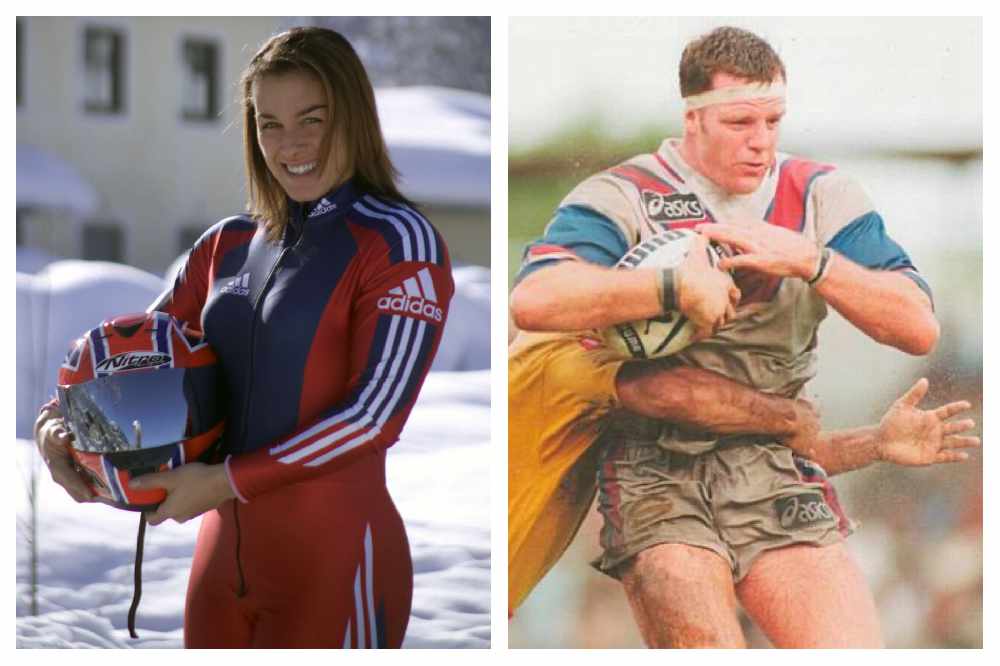 Two sporting heroes have visited Copley Academy to raise awareness of the importance of mental health.
Bobsleigh champion Nicola Minichiello and former rugby league star Paul Broadbent (pictured) were at the school as part of the Greater Manchester Mentally Healthy Schools and Colleges Programme.
Commissioned by Greater Manchester Health and Social Care Partnership, the programme provides specialist mental health support for pupils and teachers across 125 primary and secondary schools and colleges across the region.
Nicola and Paul, who now work for the Youth Sport Trust, have been working with students to provide advice to help them improve their confidence and reach their full potential.
Drawing on their own experiences of being bullied at school for being good at sport and competing at a high level, Nicola and Paul have also been offering the students coaching in key life skills, such as growing self-esteem, learning creative thinking skills and how to develop coping strategies for challenges.
Paul said: "The Greater Manchester Healthy Schools & Colleges Programme really is making a difference to young people and I was pleased to see how the sessions encouraged students to open up.
"I take great pride in the part I play in motivating and inspiring young people to take up sport and promote positive mental health and wellbeing.
"Whilst at school, I would have loved the opportunity to meet someone who had competed at a high level.
"For me, it's a great way of sharing my experiences and knowledge to educate and help others choose the right paths in life. The Copley Academy students were terrific and were a real credit to the school."
One in eight young people aged five to 19 has at least one mental health disorder, according to NHS research.
Through workshops with Youth Sport Trust athlete mentors and Place2Be, young people are being supported to build their confidence and reach their full potential.
The programme has already found that by helping young people to become Mental Health Champions, 88 per cent of primary pupils taking part said they can now recognize poor mental health in their peers.
Jo Tidbury, Assistant Principal at Copley Academy, said: "Our students have really benefited from the project. Wellbeing is such an important issue and we are delighted to be able to participate in programmes that have allowed us to develop our ability to support our students in a range of different ways to meet their emotional needs.
"We now have in place a mental health first aid service, a range of mental health personnel that students can access as well as our Mental Health Champions, and we are looking to further develop wrap around care for our young people."
The two-phase scheme is a collaboration between Alliance for Learning Teaching School, Place2Be, the children's charity Youth Sport Trust, Social Sense, Greater Manchester Health and Social Care Partnership and 42nd Street. Alliance for Leaning, the teaching school part of the Bright Futures Educational Trust, has trained the school leadership teams in mental health first aid, while the project has offered schools guidance on how to work more effectively with children and young people experiencing mental health problems.
The scheme has also provided a simpler, easier way to refer into Child and Adolescent Mental Health Services (CAMHS).