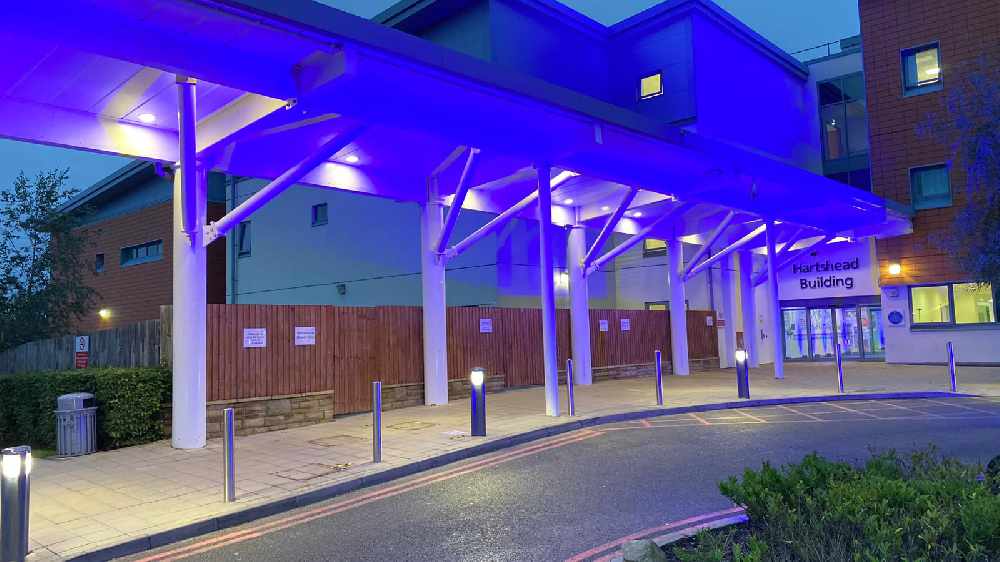 Tameside Hospital illuminated to mark anniversary
The UK skyline has turned into a beacon of blue tonight as more than 100 major sporting and entertainment venues, national landmarks, bridges, hospitals and historic buildings across the country are illuminated on the eve of the NHS anniversary.
The NHS Birthday weekend is paying tribute to staff as well as the public and organisations who have helped the health service during the COVID-19 pandemic.
Iconic landmarks including Windsor Castle, Calton Hill, Wembley Arch and the Houses of Parliament were all bathed in blue from 9pm tonight for the landmark date – plus Blackpool illuminations.
Hospitals too are playing their part – not least Tameside Hospital with the main Hartshead Building entrance also illuminated in blue tonight.
The Tameside and Glossop Integrated Care NHS Foundation Trust says the illumination acknowledges all those people who have tragically lost their lives to the virus and also represents a massive thank you to everybody who has helped during the pandemic.
The #LightItBlue illuminations pay tribute not only to NHS staff, but to those that have helped the organisation during its most challenging period since its 1948 inception.
#LightItBlue was created by the events and entertainment industry to show a united display of gratitude for those risking their own health to look after Britons who are ill with COVID-19.
The initiative began on Thursday, March 26, when more than 100 of the UK's most famous castles, cathedrals, bridges, city halls, sports stadiums and giant LED screens were illuminated in blue to coincide with the nationwide applause for the NHS and frontline care workers.
Since then, eminent landmarks across the world including Windsor Castle, Niagara Falls, Komazawa Park Olympics Memorial Tower and the Prince's Palace of Monaco have taken part.
Prerana Issar, Chief People Officer for NHS England, said: "The support the NHS has received from the public during this pandemic has been truly overwhelming, and the Light It Blue campaign is a great way to celebrate the 1.5 million NHS staff and volunteers who have worked tirelessly during the past few months to help patients and their families."
The illuminations will lead into the NHS birthday tomorrow (Sunday, July 5) where the whole country is being invited to join together at 5pm for a nationwide clap to applaud the commitment, courage and sacrifice shown by so many.
Locally in Tameside a separate applause will be staged at 12 noon at the hospital as staff and key workers also thank the local community for all of their support and donations throughout the crisis.