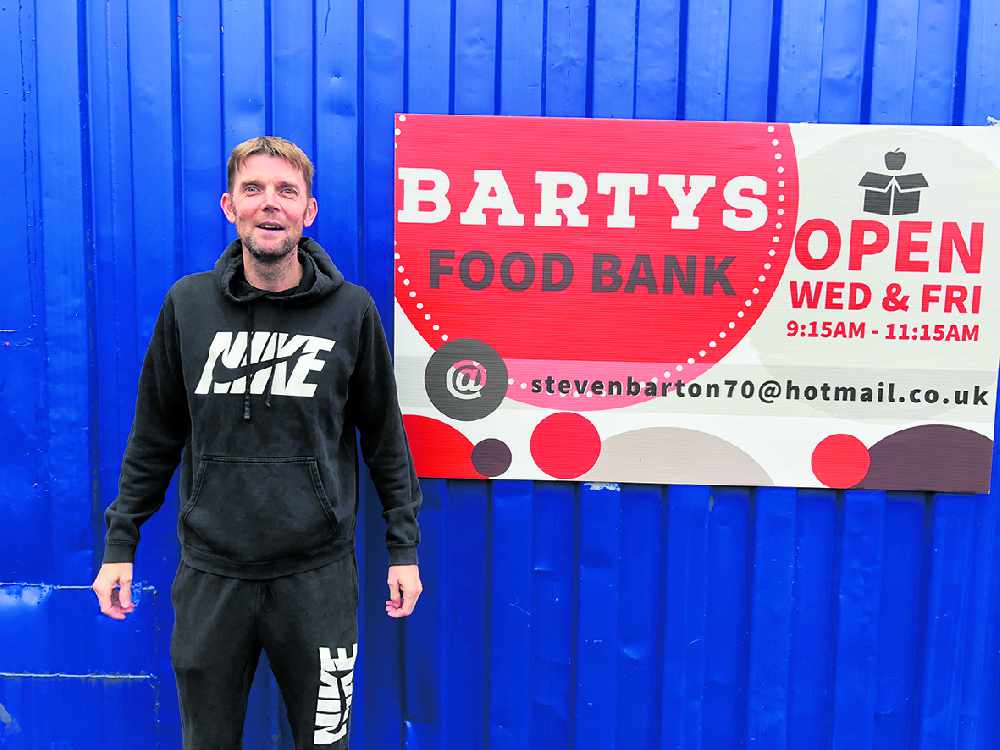 Foodbank founder and Stalybridge community hero Steven Barton has been awarded the British Empire Medal in the Queen's Birthday Honours List. 
Steven (pictured) has worked for many, many years, totally driven to help others and providing for families who otherwise would have nothing, ultimately culminating in the creation of 'Barty's Community Foodbank'.
The foodbank, which has been operational for some six years, is now situated in a container next to the New Stalybridge Labour Club after Steven had been operating the service from home.
Steven is no stranger to winning awards and accolades. He was most recently the recipient of an award from the High Sheriff for Greater Manchester just a few months ago, recognising the help he has provided on behalf of the community throughout the pandemic.
The award was extra special as members of the Stalybridge community had nominated Steven.
However, receiving a British Empire Medal is something else again and he is still coming to terms with being named in the Queen's Birthday Honours List.
Steven said: "It's the biggest secret I have ever had to keep. I thought it was a wind-up at first.
"I love Stalybridge and I'm also so proud to be recognised for doing something I love, and dream about, it's quite simply unbelievable. I am truly honoured.
"People have stopped me in the street to say what a good job I am doing - but I don't do any of it for recognition - I do what I'm doing to stop child poverty."
Steven has been helping people in need from some of the most deprived backgrounds, supplying everything from food to nappies, clothes and toiletries to larger items including TVs, washers and fridges.
"I can't see people with no TV, no washer or fridge - what are they supposed to do during lockdown? They have no food, they are isolated, child poverty is on the rise and I have got to help them."
But he added he could not have done any of it without the huge support from the many individuals, businesses, community groups and general public he has received.
"The award is for all of them, for all of the groups, it's not for me - I'm just Steven Barton," he states modestly.
He paid special tribute to 'absolutley everyone' who has helped him in any way in his efforts to help others, including the Making A Difference community group, Mark Sidey, former footballer Mark Crossland, and Cllr Sam Gosling for agreeing to site the 'Barty Community Foodbank' container at the New Labour Club car park in Stalybridge.
Steven does not take food vouchers but instead will help families in need who visit him or whom he is made aware of.
He also had special gratitude for Nanu Patel who had guided him through the vast benefits to be gained from using social media in helping others. He had special thanks for the support he has received from Donna Thomas too, who founded the Anthony Seddon Fund in Ashton.
"Donna single handedly has got me connections and opened doors for me and fought my corner," he said.
He also thanked charity stalwarts Angela Wild and Pauline Town who have given their support, plus the teams from the local Tesco and Morrisons stores, for helping supply the foodbank, not forgetting smaller businesses like Magpie's Nest and Five-a-day and 'all the hair salons'.
He also had a special mention of thanks for Wildbank Primary and Gorse Hall Primary in Stalybridge.
In fact Steven was full of praise for just everyone who has helped him in any way at all - and has published a long list of people he would like to thank on his Facebook page.
If you can help Steven with donations, especially in the countdown to Christmas, then everything from a tin of beans to toys for Christmas - which will be his next big mission - will all be gratefully received and guaranteed to go to a good home.
"I've been doing a Christmas giveaway for the last few years and last year I reached just under 300 families, but I also help the NSPCC and the women's groups, women's centre and refuge - so I am appealing for toys for children now."
Steven concluded: "I just don't want to see children hungry or neglected - I have seen it first hand and it is heartbreaking and stays with you forever.
"But now with the lockdown it has been even more difficult, especially when it comes to people's mental health."
Items can be delivered direct to Steven at the foodbank - the foodbank itself is open Wednesday to Friday between 9.15am-11.15am or email stevenbarton70@hotmail.co.uk
Elected councillors for Stalybridge North Jan Jackson, Sam Gosling and Adrian Pearce sent a joint message of congratulations to Steven, stating: "We would like to congratulate Steve. This accolade is deserved of a selfless individual, who places others less fortunate above his own needs. The accolade could not be more deserved of a Stalybridge resident."
You can hear more from Steven on Thursday night's Reporter Show on Tameside Radio 103.6FM from 7pm to 9pm.