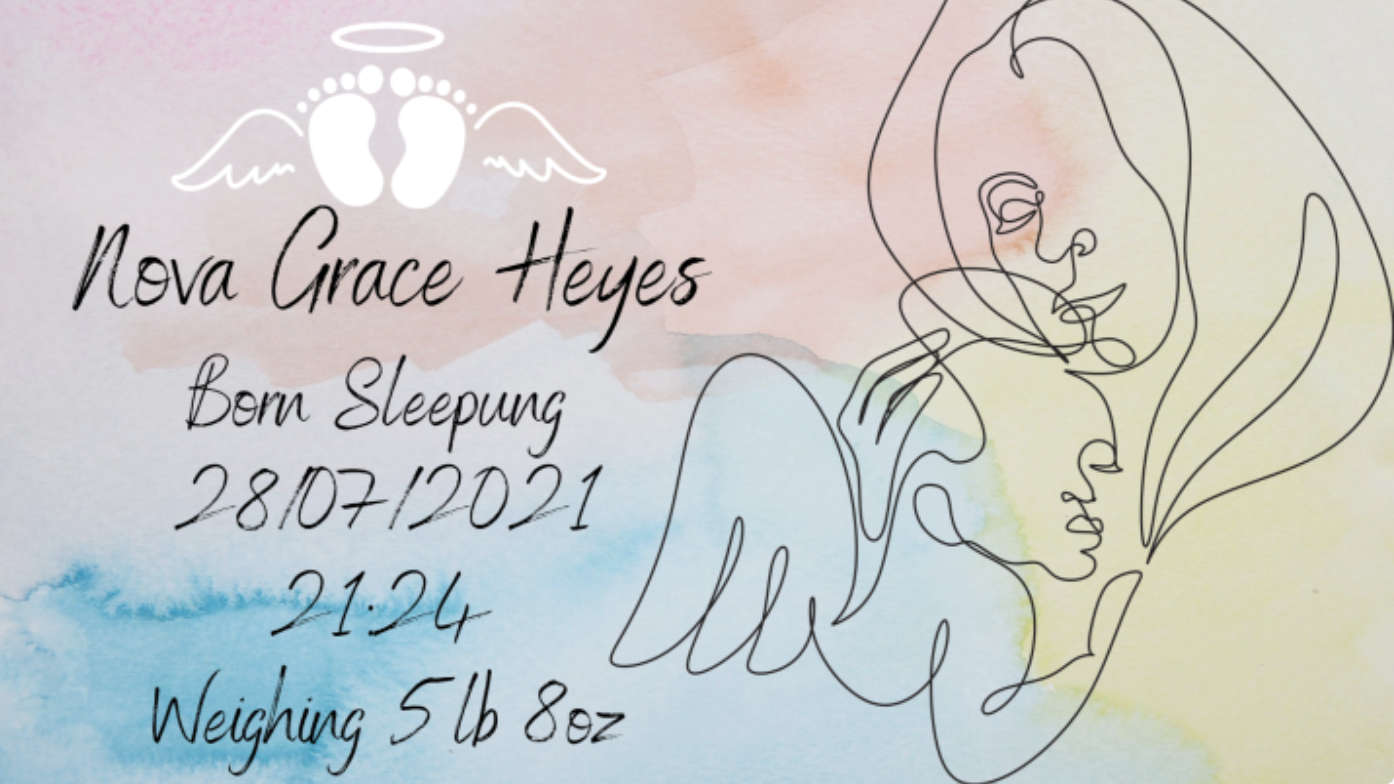 A young couple are hoping to raise £5,000 for Tameside Hospital's Harebell Suite in memory of their stillborn daughter, Nova Grace Heyes.
Childhood sweethearts, Sharnai and Charlie, found out they were going to have a baby on their anniversary.
In the past, they had been told it would be difficult to conceive because of Sharnai's endometriosis and earlier pregnancies for the couple had resulted in miscarriage.
Sharnai gave birth on July 28 at Tameside Hospital, just a day after finding out her daughter didn't have a heartbeat. Weighing 5lb and 8oz, they named her Nova Grace Heyes.
The couple remained in hospital for four days.
Sharnai said: "When she was born, we felt the same rush of love for her that any other parent would experience, wanting to look after her and hold her. We were even paranoid about hurting her, wanting to cradle her head and neck carefully.
"There was a cuddle cot donated to the hospital by another family that had gone through the same thing. This was an absolute godsend; it is a cold cot that allowed us to spend as much time with her as we wanted by slowing down the processes that naturally occur.
"Our amazing bereavement midwife Toni brought in some moulding materials. We agreed to get a mould done of her hands and were able to get involved in the process with Charlie holding her and me cleaning her hands off after they had been dipped, the same thing I saw myself doing in the years to come after she had done messy play, or been in the park, or eaten food and gotten it everywhere. It was lovely to be able to do."
The specialist Suite at Tameside Hospital relies solely on donations. The hospital hopes to use funds to fit double beds into the rooms to allow parents to sleep together instead of having single beds and recliners.
Sharnai said: "I cannot imagine not having this facility and, not unlike some stories I've heard from women at other hospitals, we would have had to be in a room for all those hours next to screaming newborns.
"Another family, who unfortunately suffered the same loss, donated a camera. This was invaluable. We got some gorgeous photos, and we will be forever grateful for them. Each one of these keepsakes will help us heal."
Memory boxes are also gifted to bereaved parents from charity, 4Louis. Inside there are blankets, teddies, an angel figurine, a book and a key ring.
Through the couple's Gofundme page, they intend to donate a baby bath to the suite so a postpartum mum can bathe their child. They'd also like the money to go toward the renovation of the Suite and 4Louis.
Their Gofundme page has almost raised £2,000 already and you can donate at: https://www.gofundme.com/f/in-memory-of-our-sweet-angel-nova-grace-heyes?
Karen James, Tameside Hospital Chief Executive said: "It is impossible to imagine the raw grief that Sharnai and Charlie must be feeling. No parent wants to experience the joy of the expectation of a new baby followed by the utter sadness that stillbirth brings.
"How selfless they are to want to help others at this distressing time. The Harebell Suite is named from the flower that depicts constancy and everlasting love, and is situated in the Trust's Maternity Unit and is where we care for our bereaved parents, allowing them a private, dedicated space to grieve.
"Fundraising by staff, parents, families and the public enabled it to become a registered charity, and the money raised by kind-hearted people like Sharnai and Charlie is used to fund staff training and help to keep the Suite furbished in order to meet the needs of parents during this heartbreaking time."