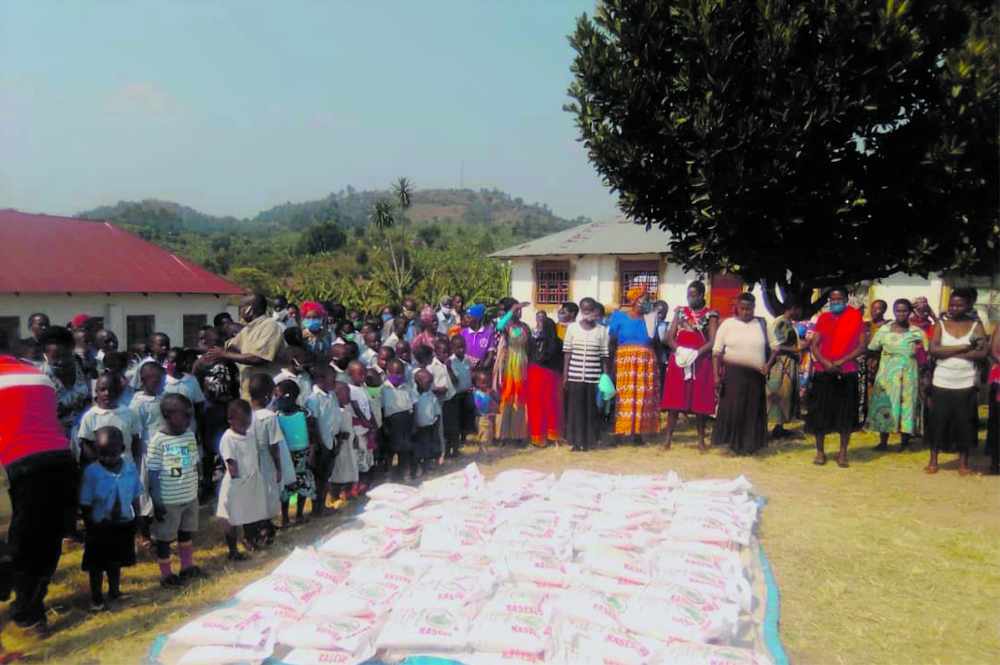 Members of the 1st Haughton Green Scout group have raised hundreds of pounds for African families and children.
With face-to-face scouting events presently on hold, the funds were raised through the staging of a virtual camp.
The young people slept in their gardens or created homemade shelters indoors, plus enjoyed a fun-packed night of entertainment.
The virtual camp included an opening ceremony followed by a family quiz on Zoom, a 'tour' of the tents plus traditional campfire songs before bed.
Everyone reportedly slept well, even those braving the rain outside.
The following morning the group held a camp closing ceremony.
The event has been hailed a huge success after raised more than £550, which has been donated to families and children in Uganda to purchase food and supplies during the COVID-19 Crisis.
Pictured above, some 100 children from the poorest families at Kambuga Primary School in Uganda received food and the scouting fundraiser has in all helped to feed approximately 600 people!
The scout group have since received the following heartfelt message from the headmaster of the school: "The parents and children have been grateful for the wonderful offer of food and they assured me that they will continue to pray for you all.
"I send my heartfelt appreciation to you, the scout boys and girls and anyone else who contributed.
"May the Lord continue to bless you and your families.
"Thank you so much for the wonderful work. Thank you, 1st Haughton Green... so, so much."
Main image:
HEARTFELT THANKS: A virtual camp fundraiser staged by 1st Haughton Green Scout Group has helped to feed 600 people in Africa, including children at the Kambuga Primary School in Uganda.