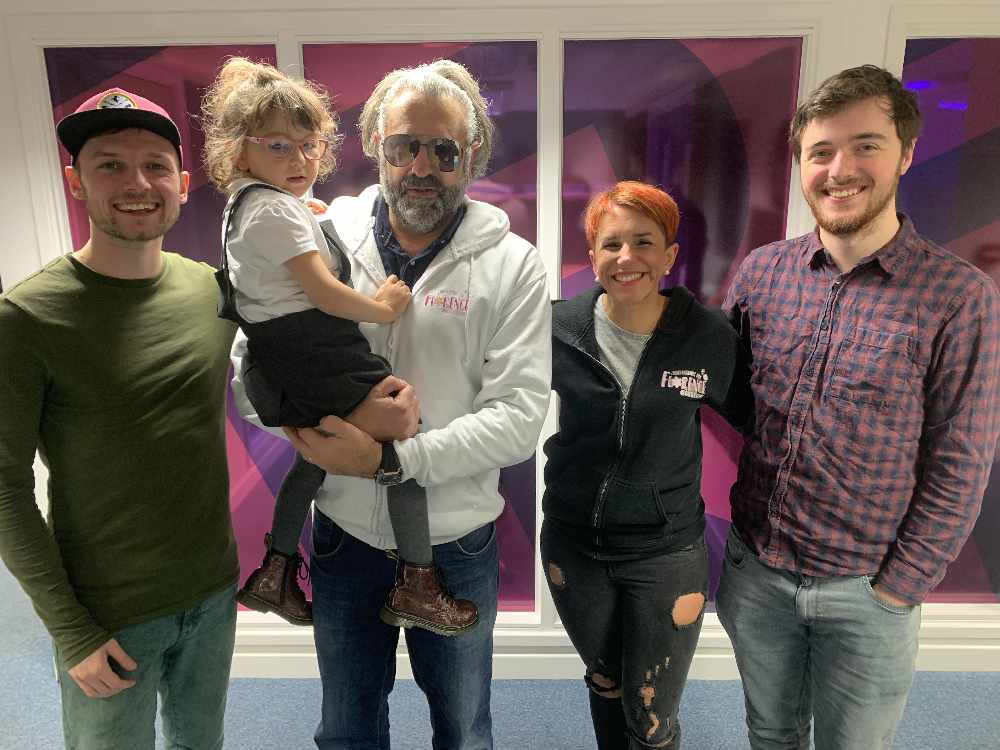 Tameside Radio breakfast presenters Scott and James will be Fundraising for Florence next year after accepting a daring challenge live on air.
The duo were joined in the studio by Jenny Croce, her daughter Florence and Massimino Malacrino, AKA the Italian Wolverine, during Tuesday's show.
Jenny and Massimino dared Scott and James to join them in Penryhn Quarry, Wales, in March next year, and experience 'Velocity 2'. It's the fastest zipwire in the world and the longest in Europe. The presenters excitedly accepted the challenge, with fundraising to begin in the New Year.
"We're super looking forward to this," James said. "Scott and I have been working together for quite a while, yet we've never actually taken on a challenge like this before. It'll be different! I'm looking forward to this one personally as it's the biggest zipline in Europe. What could possibly go wrong?"
Fundraising For Florence and The Italian Wolverine challenge Scott & James!

ICYMI: Yesterday, Scott & James were joined in the studio by Jenny Croce, her daughter Florence and Massimino Malacrino (AKA, The Italian Wolverine). They first met Jenny during our 'Town Weeks' campaign earlier this year and learned about 'Fundraising For Florence' - set up by Jenny for Florence, who suffers with with an incurable genetic disorder called GM1. Jenny, along with countless others are raising funds to undergo treatment in the USA. The guys, also joined by Tom Greggan of the Tameside Reporter, threw down a special challenge to our boys - to take on the dreaded Velocity Zip Wire - the world's fastest Zip Line, this coming March to raise much needed awareness and money for #curegm1 and #fundraisingforflorence!

Posted by Tameside Radio on Thursday, November 21, 2019
Fundraising for Florence has raised around £55,000 over the last three years, ever since she was diagnosed with a degenerative condition known as GM1 in November 2016.
Florence, now aged five, from Stalybridge, isn't expected to live past the age of 10. But her family and friends have been determined to create as many memories as possible for her and her older brother Riccardo. They have also been raising money for the GM1 Foundation.
Scott said: "We had visited Jenny and Florence in Dukinfield earlier this year for our Town Weeks campaign and learned about their amazing story.
"Florence is an incredibly strong, brave and inspirational young lady so we're thrilled to be asked by Jenny and Massimino to get involved and take on the zipwire challenge. Bring it on!"