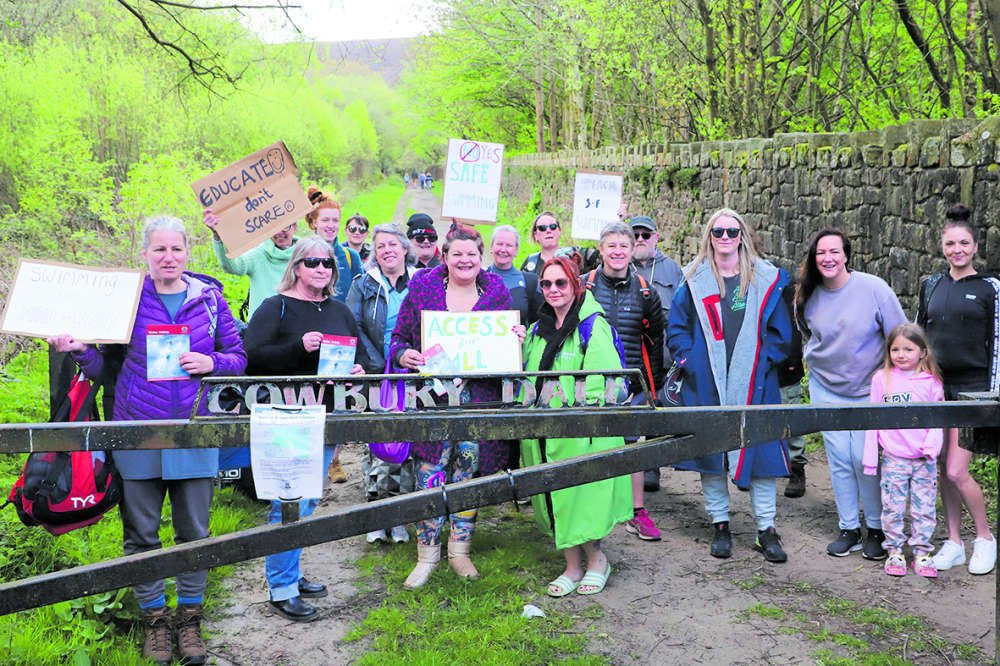 Campaigners marked a key date in British countryside history on Sunday as they marched to Buckton Vale Reservoir in Stalybridge.
The 'mass swimpass' was staged to highlight the limited access swimmers have to outdoor locations where they have the right to swim.
The Outdoor Swimming Society states: "If we had the right to swim in reservoirs, 2,000 more potential swimming spots would open up in England and Wales overnight."
The date of the 'swimpass' coincides with the Kinder Trespass – the campaign for the right to roam the countryside.
On April 24, 1932, around 400 walkers from three different areas of the Peak District descended on Kinder Scout and made their way to the peak. It was an act of trespass, and the walkers were met by gamekeepers.
Scuffles broke out and the resulting media coverage – and the prison sentences that followed for violence – are widely credited with being a defining moment in the story of access to the countryside, with the establishment of our National Parks coming 17 years later.
The Outdoor Swimming Society says that swimmers cannot get uncontested access to 97 per cent of the nation's rivers, and access to lakes and reservoirs is patchy and minimal.
The campaigners say 'No Swimming' signs were put up at Buckton Vale Reservoir with no consultation or discussion with swimmers.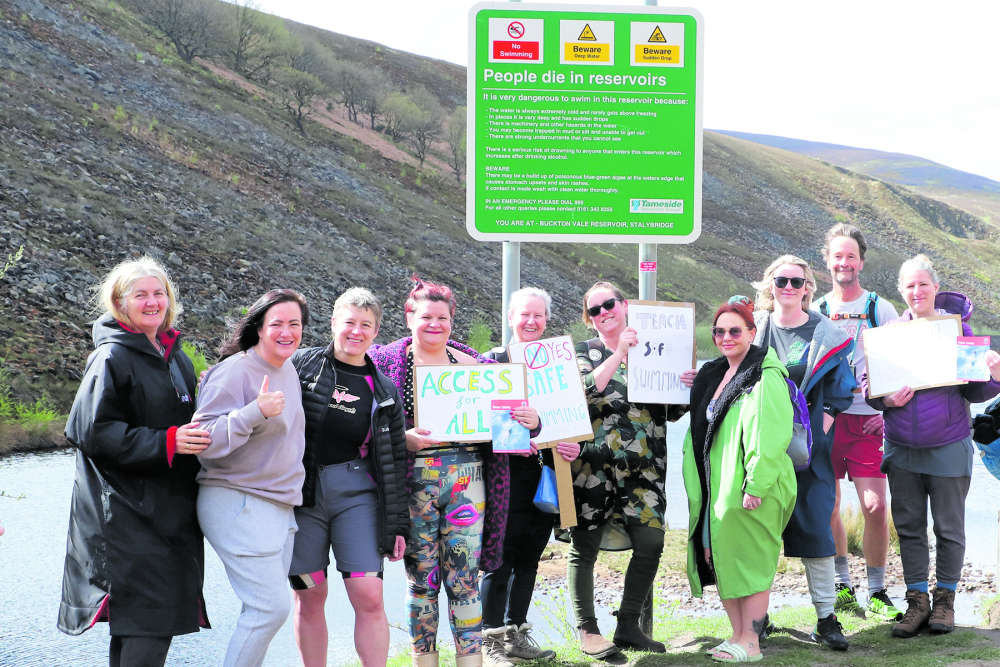 In response to the protest, a Tameside Council spokesperson said: "The no swimming warning signs were put up last year but are regularly reviewed, cleaned and refreshed when necessary.
"Every year people fatally drown in open water – people have unfortunately drowned in open water in Tameside – so it is important everyone is aware of the dangers and encouraged to take water safety advice seriously. Open water swimming at uncontrolled sites can also send a dangerous message and false sense of safety to younger, less experienced and more vulnerable swimmers. We work closely with Greater Manchester Fire and Rescue Service (GMFRS) and other partners to raise awareness of the safety messages.
"Secondly there are no control measures in place over water quality and no rescue equipment at the reservoir. There are lots of alternative places where people can swim in open water in a controlled and safe environment."
The council issued the following – when you are out and about around Greater Manchester's waterways you can help yourself to stay safe by heeding the following GMFRS advice:
• Never jumping into or swimming in open water (including reservoirs, rivers, canals and ponds).
• Cold Water Shock can kill in 60 seconds, you never know what's lurking beneath the surface, and under-water currents can be deadly.
• Letting someone know where you are going and when you are coming back, if possible.
• Taking any warning or safety signs seriously.
• Looking out for hazards around water and sticking to proper pathways.
• Never entering the water to rescue your dog - who will rescue you?
Images by Nigel Wood
Read more from the Tameside Reporter
Click here for more of the latest news
Click here to read the latest edition of the paper online
Click here to find out where you can pick up a copy of the paper