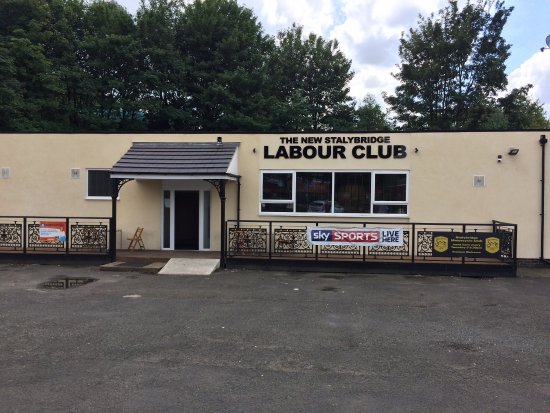 A popular music venue is undergoing a rebrand next week and heralding the new era with a charity concert packed with local talent.
The live music venue at The New Stalybridge Labour Club will be known as 'The Social' from Friday, February 7, when the 200 capacity (standing) venue will host a 'Rock the Foodbank' concert.
Stalybridge North councillor and Labour Club manager Sam Gosling said: "The last few weeks have seen sell-out shows from The Threetles, Manchester SKA Foundation and Old Red Eyes.
"People are starting to see us as a live music venue, so we have decided to rename it as The Social, where we'll have live music every Friday night at Tameside's newest gig venue.
"It will still be The New Stalybridge Labour Club, which will host functions, wedding receptions etc and we've still got the bar for the football. But the gig venue, is going to be called The Social as of the February 7, which will be the Rock the Foodbank night."
The charity concert will be headlined by The Scuttlers, who recently played the O2 Ritz in Manchester in support of The Blinders. They're joined on the line-up by Stepford Wives, Oceans on Mars, Good for Gordon, Stanleys, Last Race Home and Oliver Vawdrey.
Hyde band Narrow Margin will also be performing in a special guest slot announced this week. The five-piece broke the top ten of the Physical Singles chart last week with their new single, 'Kids Don't Dance'.
Admission is just £10 on the night and all ticket money will be donated to the Tameside East Foodbank. Last year's Rock the Foodbank gig raised over £1,000.
To celebrate the launch of The Social, two new beers will be exclusively available. The Social has partnered with Donkeystone Brewery in Greenfield to create The Social lager and The Social IPA and there will be ample opportunity to sample them.
"When it comes to The Social, we've got lots of bands lined up," Sam added.
"We've got Courtbetweeners, the biggest Courteeners tribute, as well as Oasis, Stone Roses, Bob Marley, Nirvana, Fleetwood Mac and Guns n Roses tributes.
"We've also got a Battle of the Bands event for the Made in Manchester festival, which will be on a big stage outside in the car park. There is lots to look forward to."
For more information, visit www.facebook.com/thenewstalybridgelabourclub.