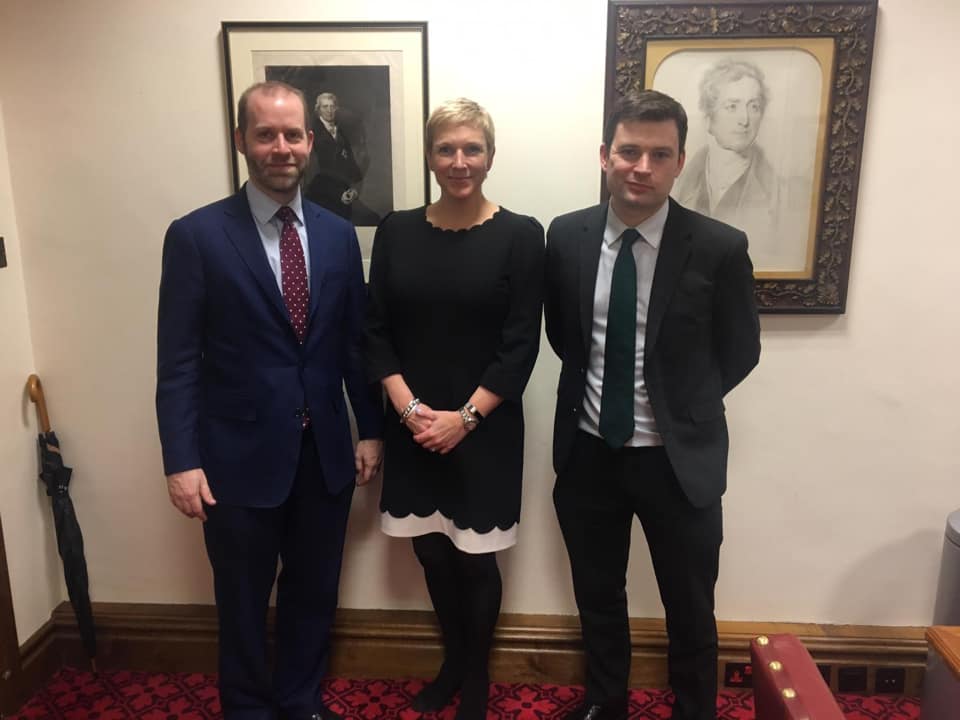 High Peak MP Robert Largan and Stalybridge and Hyde MP Jonathan Reynolds met with the Roads Minister, Baroness Vere, in their continuing push to get the Mottram Bypass & Glossop Spur built.
Despite being from different political parties, the two MPs have been working closely on the issue since Mr Largan was elected in December, and the meeting follows the announcement by the Government that a formal planning application will be submitted later this year.
At the meeting, the MPs pushed for construction of the bypass to start as soon as possible, and Mr Largan also made the case for a full traffic solution for Tintwistle as well.
Commenting after the meeting, Robert Largan MP said: "It was good to meet and raise the importance of the bypass with the Roads Minister and it's really good and positive to work on this issue on a cross-party basis to finally get things moving.
"I'm also very aware that the current plans don't help Tintwistle, and I took the opportunity to make this clear to the Roads Minister and push for a full traffic solution for the village as well.
"The bypass has been promised for more than 50 years.
"These plans mean we're closer than we've ever been to getting it built and I won't stop fighting for our area to finally get the investment that has been promised."
Following Wednesday's Budget delivered by Chancellor Rishi Sunak in the House of Commons, Mr Largan tweeted the following update:
Pleased the Government make clear in the Road Investment Strategy, published with the Budget, that they're absolutely committed to building the Mottram Bypass & Glossop Spur. We've heard promises before & been let down but great to see the Gov's commitment in black & white. pic.twitter.com/aaF9SFaZpk

— Robert Largan MP (@robertlargan) March 11, 2020
Mr Reynolds said: "Following up on my latest transport question in the House of Commons, I met with Roads Minsiter Baroness Vere and High Peak MP Robert Largan to discuss the Mottram Bypass.
"I stressed the need for: 1) The timetable not to slip, 2) Ministerial decisions to be made as quickly as possible, and 3) Further progress with the Hollingworth-Tintwistle section to be confirmed during the upcoming Budget, and forthcoming Road Investment Strategy 2 (RIS2).
"As ever I will keep you updated on progress. Let's get this crucial road built, and improve our journey times, air quality, respiratory health, and the local economy."

Main image:
TALKS: MPs Jonathan Reynolds, left, and Robert Largan meet with Roads Minister Baroness Vere.