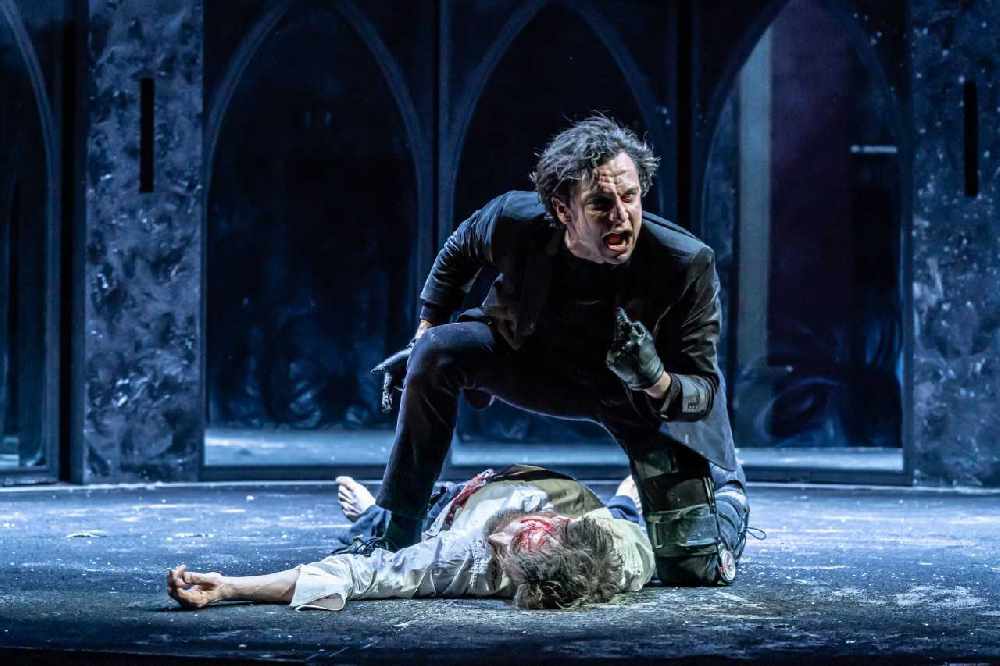 Tom Mothersdale as Richard III
Peaky Blinders star Tom Mothersdale was magnificent in the iconic role of Richard III by William Shakespeare at Home Theatre in the highly acclaimed co-production between Headlong, Alexandra Palace and Bristol Old Vic with Royal & Derngate Northampton and Oxford Playhouse.
Directed by Associate artist at Headlong, John Haidar, this magestic production also featured a compelling cast.
Mothersdale's performance as the Duke of Gloucester was captivating, charismatic and enigmatic. His portrayal of Richard's mesmerising Machiavellian character was every bit as sinister and grotesque, but entranced the audience with his powerful physical presence.
Dominating his kingdom in a campaign of manipulation and murder to achieve the ultimate goal of the golden crown, suspended from above and sliding further down as each barrier to the throne was murderously removed by Richard. Unhinged and determined, Richard slaughtered everyone in his path until he was finally crowned King, but hidden away beneath the ambition of his desires, he yearned for admiration, acceptance and love.
His wooing of Lady Anne (Leila Mimmack) was unnerving after killing her husband Edward. Mimmack was strong in the role and the chemistry between them was commanding.
The symbolism of mirrors featured throughout the production, revolving and reflecting were a constant narcissistic reference to his obsession with his appearance and self-hatred through the looking glass.
The language of the play is also structured in a mirroring effect of words as in "A horse, a horse! My kingdom for a horse!".
Decades of civil war ripped apart England with the War of the Roses between the Houses of Lancaster and York and the fight scenes were convincingly portrayed. The ghostly images of the victims murdered by Richard, the tragedy of the two Princes in the Tower was emotive and the demise of Richard was breath-taking.
This production received a well-deserved standing ovation and the excellent cast included Stefan Adegbola (Buckingham), Derbhle Crotty (Elizabeth), Heledd Gwynn (Hastings/Ratcliffe), Tom Kanji (Clarence/Catesby), Michael Matus (Edward/Stanley), Leila Mimmack (Anne/Norfolk), Eileen Nicholas (Duchess of York), Caleb Roberts (Richmond/ Messenger) and John Sackville (Henry).
The stage design, movement direction, costume, lighting and sound must also be credited in creating an atmospheric and powerful production.
For further information about Home productions visit https://homemcr.org/
Review by Denise Evans
Pictured - Tom Mothersdale (Richard) and John Sackville (Henry) in Richard III - Photo by Marc Brenner.