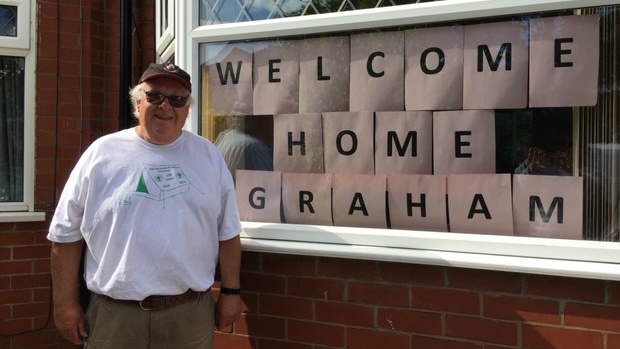 Retired teacher Graham Curtis completed a mammoth 500-mile "virtual" walk from his Audenshaw home to Bournemouth and back - just in time to see his boyhood club return to Premier League action.
Neighbours in Lansdowne Avenue came out in force to cheer on the 68-year-old during the final leg of his epic journey, which has raised almost £2,000 for his local scout group.
He started walking back in March as a way of relieving the stress of lockdown, taking on a daily six-mile route around his estate.
But, after two weeks, the treasurer of 250th St Mary's (Manchester) Scout group in Droylsden decided to put his efforts to good use.
"We had to cancel our annual bedding plant sale, which is our biggest fundraiser of the year, so I thought maybe I could make a bob or two for them," he said.
"It just grew a life of its own after that."
Graham logged his progress on neighbourhood app Next Door, posting pictures of his virtual tent pitched at landmarks along the way as he clocked up the miles.
When he finally arrived at the Vitality Stadium - the home of AFC Bournemouth, his initial objective - he had a picture mocked up of his tent pitched on the centre circle.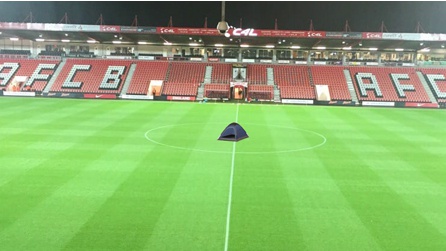 After making it there in mid-May, and with no sign of the lockdown being eased, he decided just to turn around and walk back.
And, in a "complete fluke", he walked the final six miles of the 501-mile route on Saturday, returning home just before Bournemouth kicked off against Crystal Palace live on BBC One for their first match since the start of lockdown.
"That was absolutely not planned at all, it's crazy isn't it?," he added.
"When I first started on March 29 it was before even Captain Tom got going. So to finish just before my team got back underway, I could not have timed that."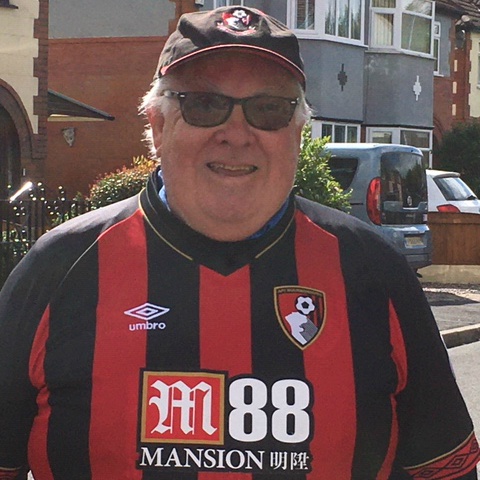 Beloved Cherries fan Graham wearing his Bournemouth home shirt
Graham moved to Manchester in 1970 to study at Didsbury College and went on to teach maths at Littlemoss High School for more than 20 years.
He is also a former chair of governors at Aldwyn Primary School, and, after working so hard for the local community throughout his teaching career, was touched to see so many old friends and pupils come out to cheer him.
"I have to say, the people on the estate have been absolutely fabulous," added the dad-of-two, who was greeted at the finish line by a crowd of 20 neighbours, a "Welcome Home Graham" banner and homemade cake. "It has been a brilliant experience, really humbling to have this kind of support.
"One of the things that struck me was the number of former pupils out on the street cheering me on. I didn't realise so many of them lived on my estate, so it has been great to see so many old faces."