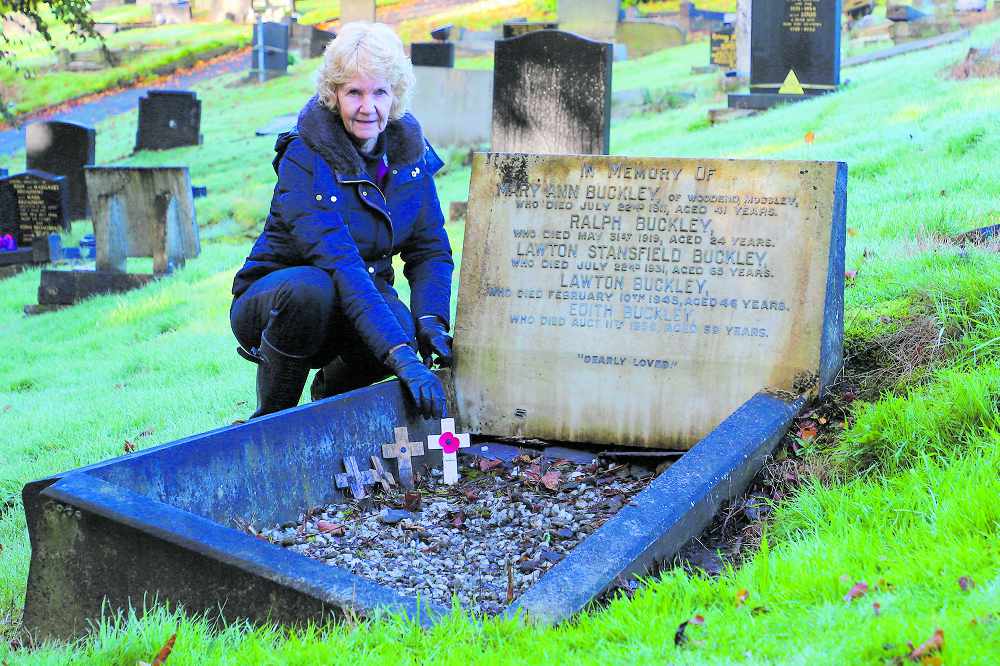 Kathryn Young has fought for four years to have the final resting place of Sgt Ralph Buckley, in Mossley Cemetery, recognised by the Commonwealth War Graves Commission.
Now, thanks to her efforts, Sgt Buckley's grave has been deemed as a Commonwealth War Grave.
Ralph was born in Mossley on October 18, 1894, to parents Mary and Lawton Buckley, who were married in Ashton in 1888.
He lived with his parents and brothers William, Lawton and John, and sisters Louisa, Hannah, Edith and Emma Victoria at 361 Manchester Road in Mossley, which was his father's grocery shop.
At the age of 16, Ralph was employed as a book-keeper for a cotton spinner and enlisted on January 13, 1916. He was assigned to the 3rd Cheshire Yeomanry, before being transferred to the 4th (extra reserve) Battalion of the Manchester Regiment on September 9, 1916.
He was promoted three times after being assigned to the 20th Battalion of the same regiment, rising to sergeant on April 12, 1917.
Ralph served with the British Expeditionary Forces in France from August 11, 1916 to May 14, 1917. He was discharged from the army on August 8, 1917, as he was found to be physically unfit for further service.
His discharging officer described him as a 'very good character.'
Ralph had damage to the mitral valve in his heart, which was thought to be permanent and attributed to his war service. He was discharged to a home address on Stanley Street, Chadderton where his sister Hannah lived.
During 1916 his battalion had been involved in The Battle of Albert, The Battle of Bazentin, The Battle of Delville Wood, The Battle of Guillemont and Operations on the Ancre. They saw further action in 1917 during the German retreat to the Hindenburg Line and the Arras offensive. They fought in The Battle of Polygon Wood, The Battle of Broodseinde, The Battle of Poelcapelle and The Second Battle of Passchendaele.
Sgt Buckley died on May 31, 1919, at Manchester Royal Infirmary, at the age of 24. He died of exophthalmic goitre which he had suffered from for two years and cardiac muscle failure. He was buried in Mossley Cemetery.
His death certificate stated that he was an army pensioner and his sister Hannah was present at his death. He did not have a CWGC war grave when he died, though Ralph served and died within the qualifying period to merit one.
Kathryn, who is retired and lives in Carrbrook, said she first discovered Ralph's story a few years ago and decided to give him the recognition he deserved.
She explained: "I have been interested in war graves for many years and from around 2015 began photographing them all over the Manchester area and putting them on to findagrave.com.
"In 2016, I met Rita Vaughan a local historian in Mossley.
"Rita had written a book entitled 'Remember All The Boys' about the fallen WWI men with any sort of Mossley connection.
"She completed the book back in 2011, but between us we decided it would be a good idea to bring it up to date which I did all the research for and produced the 2018 books of remembrance, now held at St George's Church in Mossley and the Local Studies Library in Ashton.
"Back in 2011, Rita had found Ralph Buckley's name on the Abney Church war memorial (now held at St John The Baptist Church in Mossley) but he didn't appear to feature in any CWGC record anywhere.
"This is not unheard of as some men were included on church war memorials then returned from the war after being missing or wounded.
"Ralph Buckley sadly died on May 31, 1919 (well within the criteria to be included as a war death).
"I found his grave from the TMBC burial records and was pleased to find he had a headstone. It was filthy and almost black when I first found it, but it's a bit brighter now I've cleaned it up a bit with some special headstone cleaner.
"I began correspondence with CWGC in 2016 via a project called 'In From The Cold'.
"It took many months to investigate on their side and, at the end of 2019, they accepted he was a war death but were yet to acknowledge the grave was in Mossley Cemetery.
"Within the last two months this has finally happened. CWGC have informed me that the headstone currently in place is deemed adequate at the moment, so I've cleaned it up further.
"I'm just glad that this chap finally has the recognition he deserves and that the grave will be looked after in the future should it fall into disrepair again."
Kathryn added that the main reason she became interested in war graves was while researching her family history.
She came across a great uncle whose headstone had the wrong death date on it and that became her first quest to resolve.
Private Stanley Whitehead now has a bright new CWGC headstone in Netley Military Cemetery in Southampton.