Ashton-under-Lyne MP Angela Rayner has been elected as the new deputy leader of the Labour Party.
The shadow education secretary - who serves the constituencies of Ashton, Droylsden and Failsworth - won the contest with 52.6 per cent of the vote in the third round.
Angela came out on top ahead of colleagues Ian Murray, Dawn Butler, Richard Burgon and Dr Rosena Allin-Khan. See a full breakdown of the results here.
The 40-year-old tweeted after the result was confirmed on Saturday morning: "Thank you to everyone from the bottom of my heart, I promise I will do everything to repay your trust! I know we face a long and difficult road ahead but it's our responsibility to offer the better future that the citizens of our country deserve."
Thank you to everyone from the bottom of my heart, I promise I will do everything to repay your trust!✊I know we face a long and difficult road ahead but it's our responsibility to offer the better future that the citizens of our country deserve❤️ pic.twitter.com/ku8bpeqLGc

— Angela Rayner 🌈 (@AngelaRayner) April 4, 2020
She will be working alongside Sir Keir Starmer - who succeeds Jeremy Corbyn as the party's new leader after earning 56.2 per cent of the final vote in the first round, ahead of Greater Manchester MPs Rebecca Long-Bailey (Salford and Eccles) with 27.6 per cent and Lisa Nandy (Wigan) with 16.2 per cent.
Rayner's reaction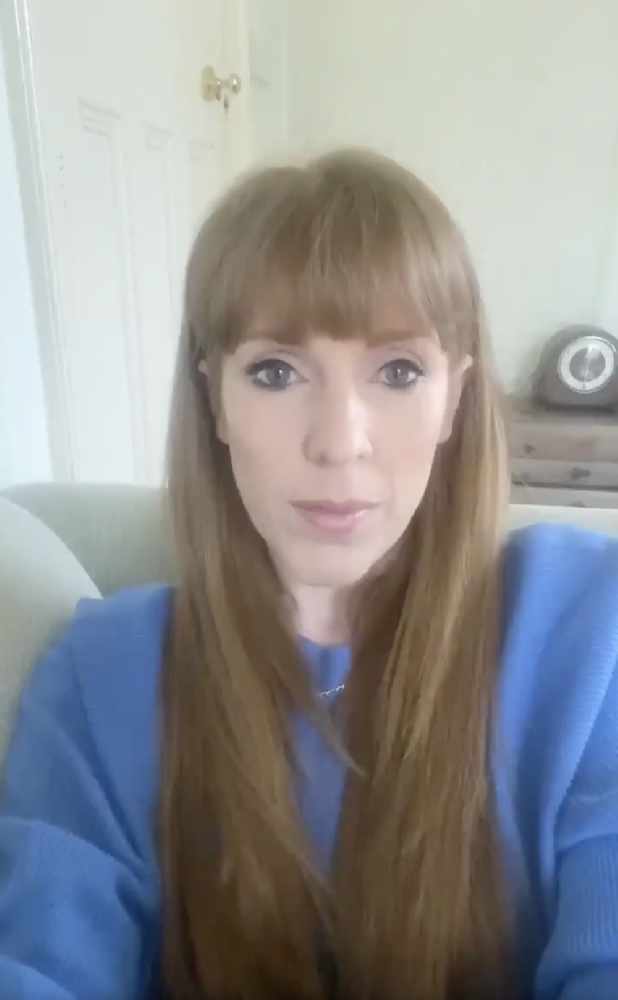 Following her election, Ms Rayner - who is still currently recovering from coronavirus at home - has issued a lengthy statement to thank everyone for their support and outline what her priorities will now be going forward. You can also watch a video message at the top of this page.
Angela says: "I want to thank everyone who took part in this election, and all those who have supported me through the campaign. I promise that I will do everything I can to repay your trust.
"Things have dramatically changed in our country in recent months but our values remain the same, and more important than ever.
"Those are the values we will reflect in our actions as an opposition and a movement – standing up for our public services, for our workers and carers, and for a society in which people work together and look after one another.
"Together, we must rebuild and reconnect with communities right across Britain who need our support now, more than ever before.
"I know we face a long and difficult road ahead but we must unite, both in the face of this crisis and to offer the better future that the citizens of our country deserve.
"I also want to offer my congratulations to Keir. This was a long campaign and by the end one conducted in extraordinary circumstances. The hard work begins today, and Keir will have my full support in both getting Labour on the path back to government and in being a voice for those who need us during this national crisis.
"We must make sure the government delivers on its promises, and acts faster to provide the protection frontline workers need."
"My top priority will always be the people of Ashton, Droylsden and Failsworth who it has been my pleasure and privilege to serve for the past five years. Getting elected as MP for Ashton-under-Lyne is the greatest honour of my life and I will always fight to get the best deal for the area that I love.
"The way our communities have pulled together to help and support each other during the coronavirus outbreak has made me so proud and even more certain that this is the best place to raise my sons.
"I would like to thank the dedicated staff at Tameside and Oldham Councils for their incredible efforts to keep vital services running at this difficult time under immense pressure.
"I would also like to thank each and every key worker - from those on the NHS frontline at Tameside Hospital and the Royal Oldham Hospital to the supermarket staff keeping us fed and the school staff looking after the children whose parents are needed elsewhere to the foodbank volunteers making sure our most vulnerable residents are cared for – you are all playing a vital part in the nation's fight against this global pandemic."
How colleagues have responded
Angela's fellow Tameside MPs and Labour colleagues have given their congratulations to the new leadership team.
Denton MP Andrew Gwynne tweeted:
Amazing news... well done to @Keir_Starmer and @AngelaRayner our new @UKLabour Leader and Deputy Leader. Proud to nominate and support both of you. Proud my @DentonReddish CLP did too. Now let's unite to win the country.#AnotherFutureIsPossible pic.twitter.com/r9BSCwtxsY

— Andrew Gwynne MP (@GwynneMP) April 4, 2020
Gwynne later said in a more detailed statement: "I backed Keir Starmer and Angela Rayner as the team that could bring both our party and our country back together and I am absolutely delighted that Labour members, supporters and affiliates have elected them as our new leader and deputy leader.
"With Keir and Angela leading our party, I believe that we are on the road back to becoming a credible opposition, able to speak to the country and to secure the Labour Government that Britain so desperately needs.
"The Coronavirus crisis is obviously the first priority for the country right now and I am glad that Keir has committed to working with the Government to support our country through this period. His talent, authority and expertise will prove indispensable in the weeks and months to come.
"As a neighbouring MP, I am particularly pleased that my good friend Angela Rayner will be a voice from Tameside at the very top of our party."
Stalybridge and Hyde MP Jonathan Reynolds also took to Twitter:
Absolutely delighted for @Keir_Starmer and @AngelaRayner. Much hard work ahead but this is the right team to lead it

— Jonathan Reynolds (@jreynoldsMP) April 4, 2020
Reynolds added in a Facebook post: "Congratulations to my brilliant colleagues Sir Keir Starmer and Tameside's own Angela Rayner on their election as leader and deputy leader of the Labour Party.
"The challenge for Labour is great but this is absolutely the right team to lead it. Labour have shown we are ready now to unite and fight. I am proud to be part of it."
Oldham West and Royton's Labour MP Jim McMahon tweeted:
Just amazing @Keir_Starmer and many congratulations to @AngelaRayner #AnotherFutureIsPossible @UKLabour 🌹👏👏👏👏👏⤵️ https://t.co/4HMlFGs3jd pic.twitter.com/fqN1wfKLEi

— Jim McMahon MP (@JimfromOldham) April 4, 2020
Labour's former High Peak MP Ruth George - who is now a county councillor for Whaley Bridge, Furness Vale, Chinley, Buxworth, Combs, Whitehough & Chapel Milton - has also expressed her delight in the appointments.
She posted on Facebook: "I'm very pleased to see the two candidates who I support elected as Leader and Deputy Leader of the Labour Party. We need wise heads, sensible politics and positive collaboration to get us through this emergency together.
"Keir and Angela are committed to this and I look forward to their leadership helping our country get to grips with this crisis. Well done to everyone who took part in the election, in particular all the new Labour members locally and nationally who joined or rejoined our party.
"I look forward to welcoming you and working together locally as well as nationally to tackle the problems we're all faced with."
How she's got here and what she's promised
The position of deputy leader had been vacant since Tom Watson stood down at the general election back in December.
The news of her election has been widely welcomed on social media from Labour party members and beyond.
Ms Rayner built a commanding early lead in the leadership campaign which she sustained throughout the 12-week contest. She had been the frontrunner throughout the campaign, having received the most nominations from MPs, constituency Labour parties and trade unions.
While campaigning, she promised to "make the case for everyday socialism rooted in people's lives". She also said she wants more funding for the NHS and social care, along with the establishment of a "National Education Service".
Ms Rayner also says she wants to "rebuild" the Labour movement over the next five years, including a "radical shake up" of campaigning with activist-led community organising, more training and frontline support all year round.
Her meteoric rise in politics continues. The mother-of-three's political career began when she became a trade union representative for Unison while working as a care worker in Stockport.
After being elected as Ashton-under-Lyne MP in 2015, she quickly rose from being a junior shadow minister to being appointed shadow education secretary in June 2016.