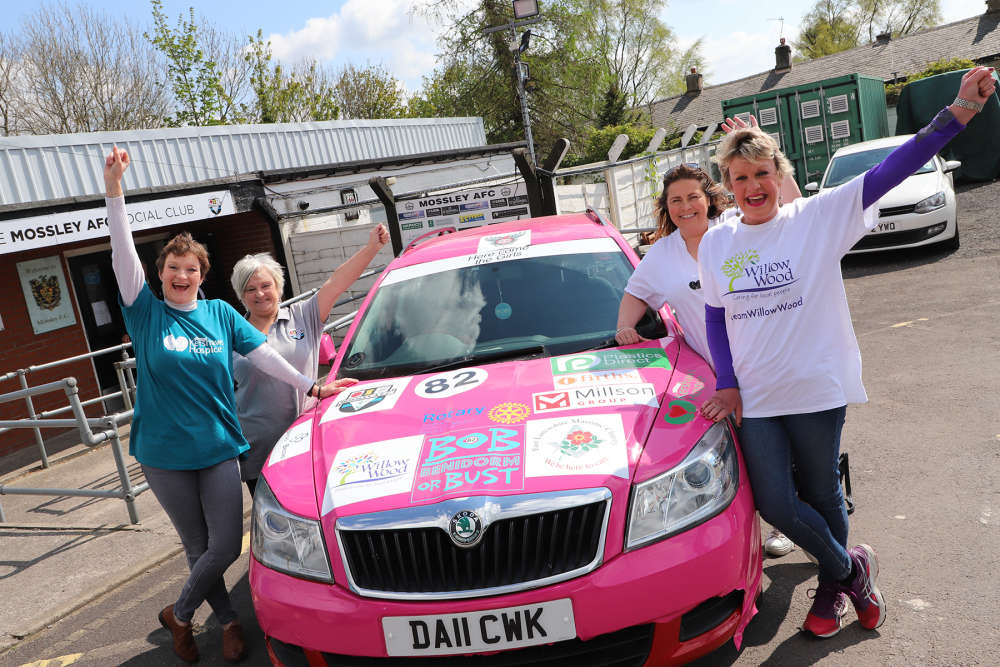 TOP GEAR: Team members, including Tracey (left) and Joanne (right) fundraising at Mossley FC before setting off on the Benidorm Or Bust Rally just a few months ago.
Four friends who 'rallied' across the continent to Spain have raised more than £16,000 for two local hospices, it can be revealed.
As previously reported, the all-girl team set off from Greenfield back in May to take part in the Benidorm or Bust charity rally.
They set themselves the target of raising £10,000 for Ashton's Willow Wood and Oldham's Dr Kershaws hospices - but had already overtaken that sum to raise more than £11,000 by the time they had set off.
Joanne Magilton, Tracey Rontree, Louise Kershaw and Lisa Watson made up the team who drove to Benidorm.
Team member Tracey Rontree, from Mossley, said: "We were going to do the rally in May 2020, but of course it was postponed because of Covid, then it was pulled in September 2020 and May 2021 too, but we eventually did it in May this year.
"It was hard initially to get momentum going again but we had a meeting and planned a number of fundraisers including a beach party to raise all the funds - we did all kinds of things and were out and about bucket shaking - it was hard work but so rewarding."
Saddleworth-based actor John Henshaw also leant his support to the fundraising efforts.
Tracey added: "The drive to Benidorm was an absolutely amazing experience - it was incredible - in our bright pink Skoda with the theme Calendar Girls and all the dates on the calendars on the car we sold off for minimum donations to raise more funds.
Joanne added: "We have unbelievably smashed our target and our total stands at £16,259.30 - to say we are chuffed to bits is an understatement.
"We sold our beloved BOB82 Pink Skoda – who is now red again and he is now delivering parcels in the Shaw and Royton, Oldham area and he is in fine fettle after his adventures to Spain and back.
"Dr Kershaws and Willow Wood hospices will receive £8129.65 each.
"Thanks again to everyone – believe or not this massive amount will run each hospice for one day each – so please consider your local hospices if they are out fundraising anywhere near you they are amazing places who take care not just of the patients but their families as well in very difficult times."
You can tune into The Reporter Show on Tameside Radio 103.6FM tonight (Thursday) from 7pm to hear more from Tracey about the rally.