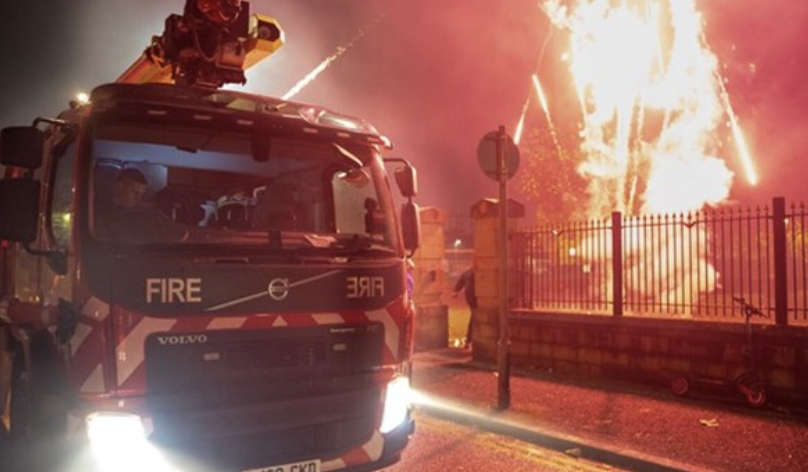 Firefighters are urging the public to help prevent anti-social behaviour and attacks on emergency services workers over the bonfire night weekend.
Greater Manchester Fire and Rescue Service (GMFRS) and Greater Manchester Police (GMP) figures from last year revealed that 15 firefighters were attacked, the emergency services received 984 hoax calls and more than 1,360 blazes were started deliberately.
And, while attacks on firefighters have reduced this year, the number of hoax calls and arsons is on the rise.
A spokesman for GMFRS said: "Hoax calls move our staff and resources away from genuine incidents where lives may be in danger. The Bonfire Night period is incredibly busy for our staff and deliberate fire setting adds to the demands on our service.
"Once again we're joining forces with our emergency service partners at Greater Manchester Police (GMP), North West Ambulance Service (NWAS) and others to ask for the public's help in preventing incidents.
"Assaults, anti-social behaviour and arson will not be tolerated and offenders could be jailed or fined."
The Bang Out Of Order campaign aims to highlight the consequences of anti-social behaviour, encourage parents to have conversations with their children about their behaviour during the Bonfire Night period, and inform residents about the ways to report anti-social behaviour incidents.
If you are concerned about anti-social behaviour you can contact Greater Manchester Police on 101, use their online Live Chat service, or call Crimestoppers anonymously on 0800 555 111. If you believe there is a risk to life or property, always call 999.
GMFRS' Director of Prevention and Protection, Assistant Chief Fire Officer Leon Parkes, said: "I am encouraging everyone to support the emergency services during this Halloween and Bonfire Night period.
"This is an incredibly busy period for our staff. They deal with many dangerous incidents and they should never feel under threat of attack or be sent to a hoax call when we're so busy with real incidents. Setting fires, throwing fireworks and making hoax calls can cost lives and keep our firefighters away from dealing with life-threatening incidents. These actions are bang out of order and will not be tolerated.
"Please speak to your children and young people about the consequences of anti-social behaviour and attacks on emergency service workers who are just doing their jobs and working in potentially dangerous situations to save others. No one should be attacked for trying to keep you, your families and your communities safe.
"I remind people that there is clear legislation in place to protect all our emergency workers, and we will pursue prosecution for anyone who seeks to attack our staff, which can result in a prison sentence."
Inspector Beverly Catterall, Greater Manchester Police's Anti-Social Behaviour Tactical Lead, said: "As a partnership we are committed to tackling and reducing instances of anti-social behaviour that unfortunately occur at this time of year, as we understand how distressing this type of behaviour can be and the lasting impact it can have on individuals, as well as the wider community.
"Halloween and Bonfire Night are fun occasions for many, and we'd like people to enjoy themselves, but also to celebrate safely and behave in a responsible manner.
"We would encourage parents to be aware of what your children are up to and where possible, accompany them if they are out trick or treating, to ensure they are safe and respectful of our communities. In addition, help them understand that intentionally causing fear, alarm or distress is considered to be an offence under the public order act.
"We'd also like to reassure residents that there will be increased patrols across all districts with our officers continuing to be visible in our communities in the run up to, and during this period, to help prevent and detect anti-social behaviour."
NWAS Operations Manager, Sarah Scullion, said: "Anti-social behaviour can have a lasting impact on our staff and our emergency service colleagues, who dedicate themselves to attending to people who need help. Not only could you end up with a criminal record, but you could seriously injure those that are there for you in your time of need.
"At this time of year, unfortunately, we deal with patients who have preventable injuries, such as burns from fireworks, which in many cases can have life-changing consequences. So, we urge people to please think twice about taking part in unofficial events around Bonfire Night. We do want people to have fun but urge everyone to put safety first and always treat our staff with respect."
Greater Manchester's Deputy Mayor for Policing, Crime, Criminal Justice and Fire, Kate Green, said: "Please respect our emergency workers this Bonfire Night period. Day in, day out they put their lives on the line to keep you safe and they should never be attacked.
"Our services are incredibly busy all year round, but the Bonfire period is exceptionally busy. We can all take simple steps to hold safe events and ensure that our emergency workers are free to attend genuine incidents that require our life-saving help.
"We want everyone to enjoy the Halloween and Bonfire period safely. If your child is planning to go out during this period, make sure you know where they are, what they are doing and how to contact them."