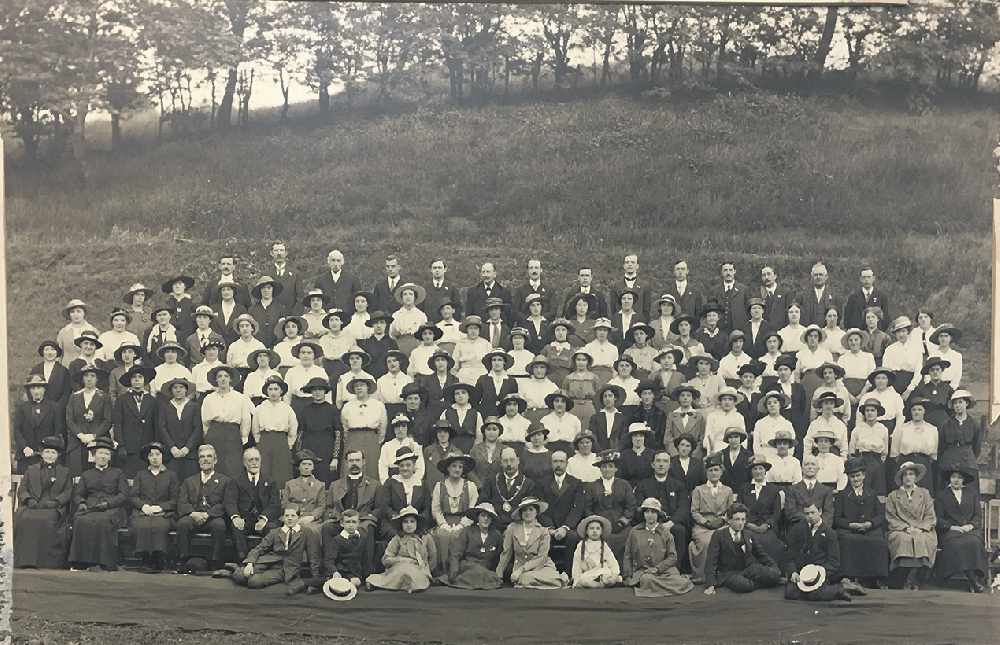 Australia would seem an unlikely place to find a discarded, century-old picture from Hyde yet that's exactly where this photo turned up. 
Even though it's almost 3ft wide and 2ft deep (82x64cm), and mounted on thick card, it was found by the roadside in the Sydney suburb of Newtown and from there made its way home to Tameside Local Studies and Archives via the State Library of New South Wales.
It's entitled "The Great War, the National Committee for Relief in Belgium, Hyde Branch inaugurated by the Mayor, Cllr S Welch JP".
At the start of the First World War there was a huge outpouring of sympathy for Belgians who were displaced as a result of the German invasion of their country. Virtually every town in Britain provided work and shelter for refugees.
In Hyde, accommodation was found at Birches (Lousy Thorn) Farm, between Lord Derby Road and Werneth Low Road, at 120 Muslin Street (now Talbot Road) and at Rosemount Sunday School, Bennett Street, where five classrooms were turned into bedrooms.
Stanley Welch, who was Mayor of Hyde from 1914 to 1916, was a partner in Jacobsen, Welch and Co which manufactured Waldorf stationery at Newton Mill, Ashton Road.
Jill Morris, senior library assistant at Tameside Local Studies and Archives, said: "The photo was taken to the New South Wales state library. Staff there asked us if we would like the picture and we said 'yes, we'll have it'.
"When it arrived we couldn't believe that everything was so clear. The faces looked like they were photographed within the last few weeks and not 100 years ago."
The picture, which appears to show Belgian refugees as well as Hyde dignitaries, looks as though it may have been taken at the Waldorf playing fields behind the Rising Moon, Matley Lane.
Information about what happened in Tameside during the First World War can be found in newspapers which are available on microfilm at Tameside Local Studies and Archives Centre, Cotton Street, Ashton – 0161 342 4242.