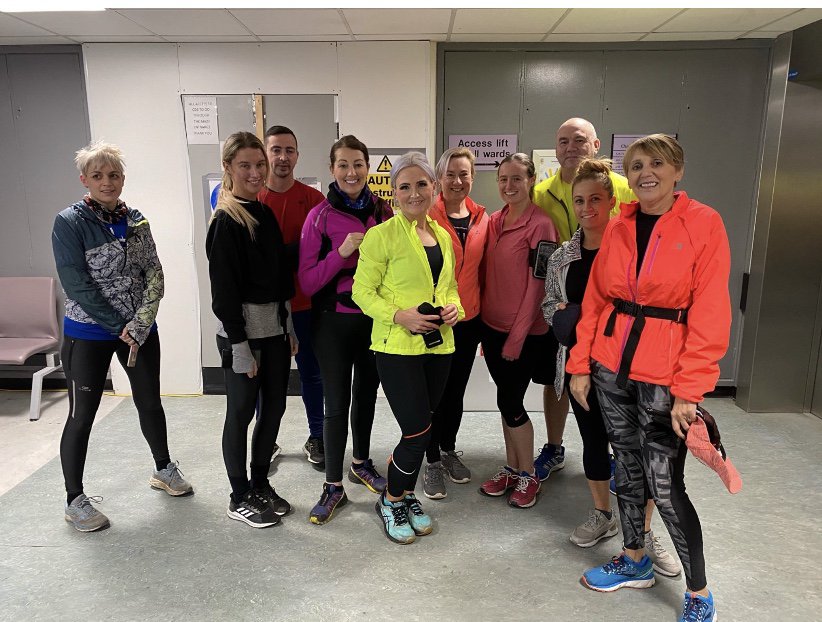 Meet the wonderful staff from Tameside Hospital who are running off the pounds and raising pounds for the £1m CT Scanner Appeal. 
Johanna Shaw, Janice Pollard, Wendy Scholes, Kerrie Threadgold, Chris Threadgold, Sarah Ingram, Mike Lee, Natalie Washington, Rebecca Jones and Jemma Howarth meet every Wednesday for a run or walk around the local area. Everyone donates £1 per run, so the team have a nice collection mounting up to donate to the appeal.
Johanna explained: "In January I wanted to involve my colleagues in a get healthy campaign so decided to circulate this on our Trust Facebook for a run walk group.
"Immediately I had a good response, and since January we have gathered together to participate.
"We all have our personal reasons for supporting the Scanner Appeal, but most importantly we are all dedicated to our roles within the Trust and all want the best services available to our patients.
"We want more people to get involved. Some of our ladies had never run before but are now running 5k a week."
You can contact Angie Wild, Head of Fundraising, if you're planning your own fundraising event or if you would like to know what others are doing to support the Scanner Appeal. Just email her on angie.wild@tgh.nhs.uk
If you would like to donate to the appeal directly, you can also do so via the JustGiving page at https://www.justgiving.com/campaign/tangscanner
Main image:
ON THE RUN: Some of staff who are losing lbs by raising £££s for the appeal.