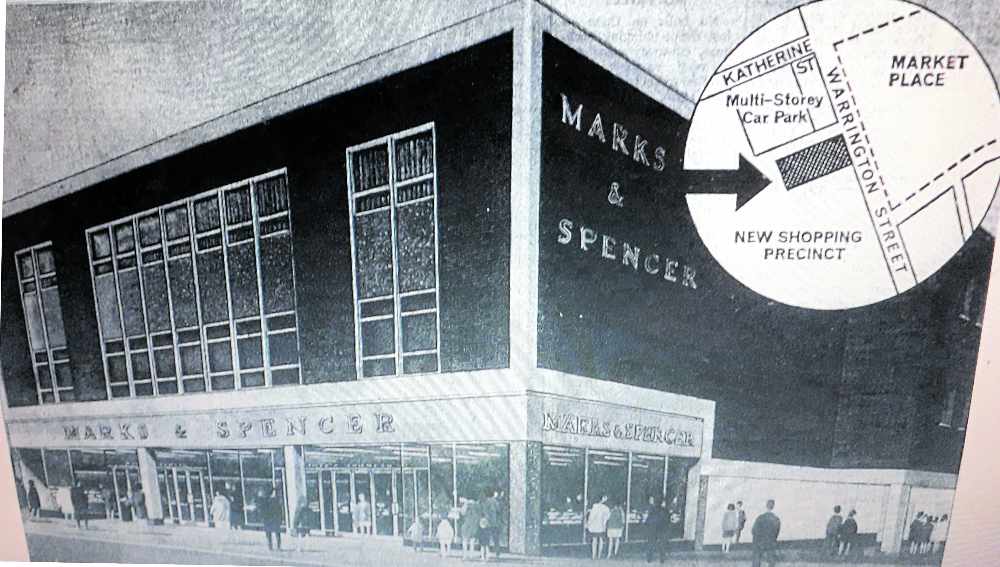 After a two year wait, Ashton's new shopping precinct finally had its flagship store.
Marks and Spencer took over a prime spot in the heart of the town where the Ashton Reporter head office had stood since 1879.
The opening of the new store was announced in a full page advertisement which emphasised the M&S branding at the time.
'A message for St Michael fans: not long to wait now! From Wednesday September 17, you'll have your very own Marks and Spencer to walk in any time you like during your shopping week. Think what that means - St Michael fashions for all the family, St Michael foods, the family's favourites... all on one well planned, air conditioned floor.'
Meanwhile, traders were to be asked for their views on how to revive the fortunes of a once thriving shopping street.
Stamford Street used to be the pride of Ashton but now had 30 empty shops. Town clerk Mr G.A. Malone said many private landlords did not seem worried whether shops were let or not.
"When leases expire, owners push up the rents to such an extent the occupiers leave." The traders also claimed big name retailers were no longer interested in Stamford Street because large numbers of shoppers had been lured away by the new precinct.
Some of the other advertisements in the Reporter and North Cheshire Herald were: Ashton Discount Warehouse could supply you with a new bathroom suite - traditional white for £31-10 shillings or in a choice of colours: pink, primrose, blue or turquoise £39-10.
Jays store, Market Place, Hyde was offering £10 for your old bed regardless of its condition when you purchased a magnificent, long life Diamond pendant divan set.
A series of TV and newspaper ads promoted the advantages of high speed gas fires and cookers. North Western Gas Board showrooms in several towns also launched a special offer: 'Buy a new gas fire and get money-saving vouchers on purchases ranging from pots and pans to a car or a caravan.'