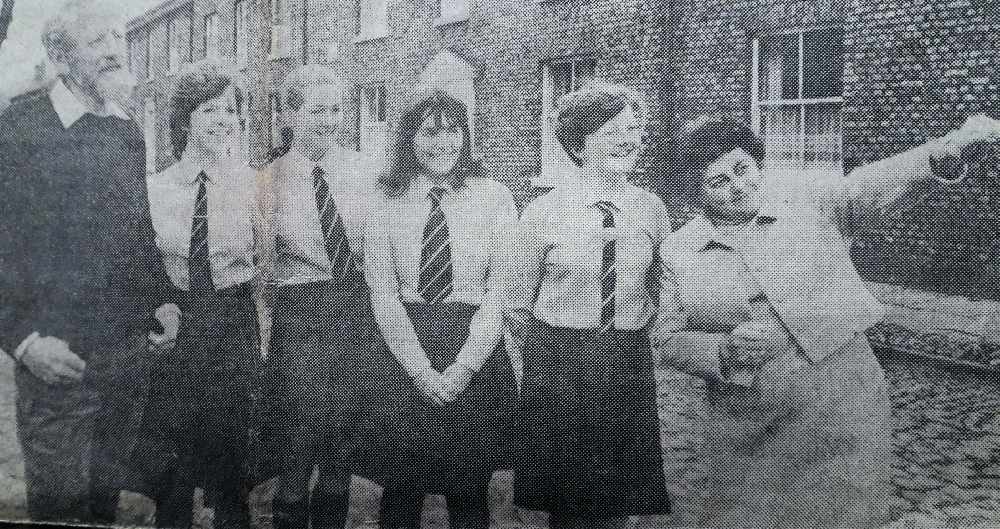 It was a case of 'don't mention the daffodils' when a modern day descendant of poet William Wordsworth visited Fairfield High School in 1983.
Having mentioned he was fed up of constant references to 'wandering lonely as a cloud' and 'hosts of golden daffodils', lecturer and actor Richard Wordsworth delighted the 150-strong audience with a recitation of some of his great, great grandfather's lesser known poems. Head of English Miss Eilen Mullenger invited Richard after seeing him on TV.
"His acting ability is superb, absolutely full of vitality, energy and enthusiasm. The girls thought he was fantastic."
He made the trip from his home in Grasmere to meet the fifth formers and discussed topics from their O Level set texts to his ancestor's literary friends Samuel Taylor Coleridge and Thomas De Quincey.
In the photo from our archives, Miss Mullenger showed Richard one of the historic buildings in Fairfield Square which dates from the same period his great great grandfather was writing.
With them were pupils Jillian Lomas, Joanne Gregson, both from Audenshaw, Tracy Fitton from Droylsden and Janet Warburton from Denton.