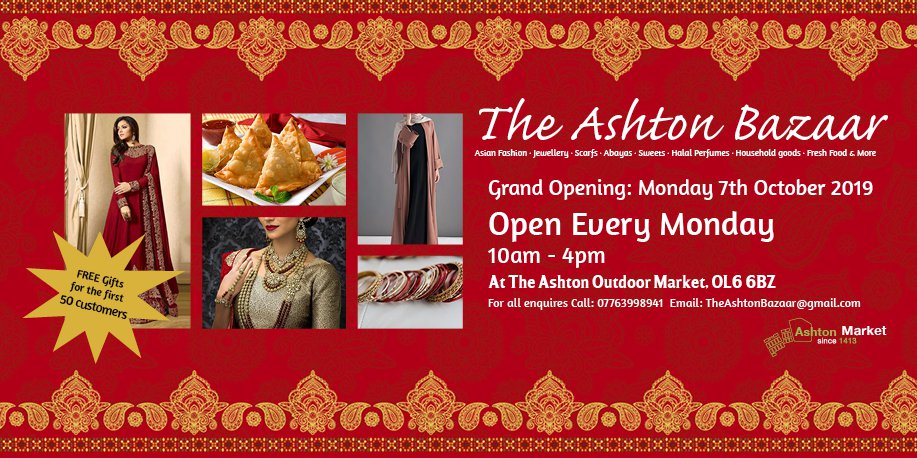 A new speciality market is being launched at Ashton Market ground from next week [7 October].
The council say the Asian-themed Ashton Bazaar will be a "vibrant and colourful events that's set to attract new shoppers to the town centre."
It will be officially opened by The Civic Mayor of Tameside at 11am with entertainment including asian music and dancing.
It was take place on the fixed stalls every Monday from 10am until 4pm with sixty businesses selling a wide range of goods. There'll be fashion and food for abayas, footwear, scarfs and jewellery to fresh food and sweets, as well as perfume and household items.
The council say it: "will be unique in the area, attracting customers who currently shop elsewhere and increasing footfall to the town centre in a boost for local businesses."
It's being operated by those who already hold the successful weekly bazaar in Rotherham, where it's the markets busiest day.
Monday is currently Ashton market's slowest day so it's hoped that the initiative will renew interest.
Cllr Allison Gwynne, Tameside Council Executive Member for Neighbourhood Services, said: "The new bazaar will be a fantastic addition to Ashton Market offering a unique shopping experience for residents and visitors. It will be a vibrant and colourful event every Monday that will bring in customers who currently shop elsewhere, increasing footfall and boosting local businesses.
"It's proved popular in other towns and I encourage everyone to check it out and see what's available. The opening event promises to be a wonderful launch that will inject some entertainment and excitement into Monday's market."
Zohaib Hussain, the Bazaar event operator, said: "We've been looking to establish an event within Greater Manchester for some time and had started to look at Tameside and its neighbouring districts. Tameside's Market Service has a solid reputation throughout the industry and upon meeting with Tameside's Markets Manager it became immediately apparent that we shared a mutual passion about markets and supporting the communities we serve. I am confident that the Bazaar Market will bring additional vibrancy to Ashton town centre on a Monday, and if it receives the support that we hope it will, it will establish itself as a destination event for not only the local community but people across the region."