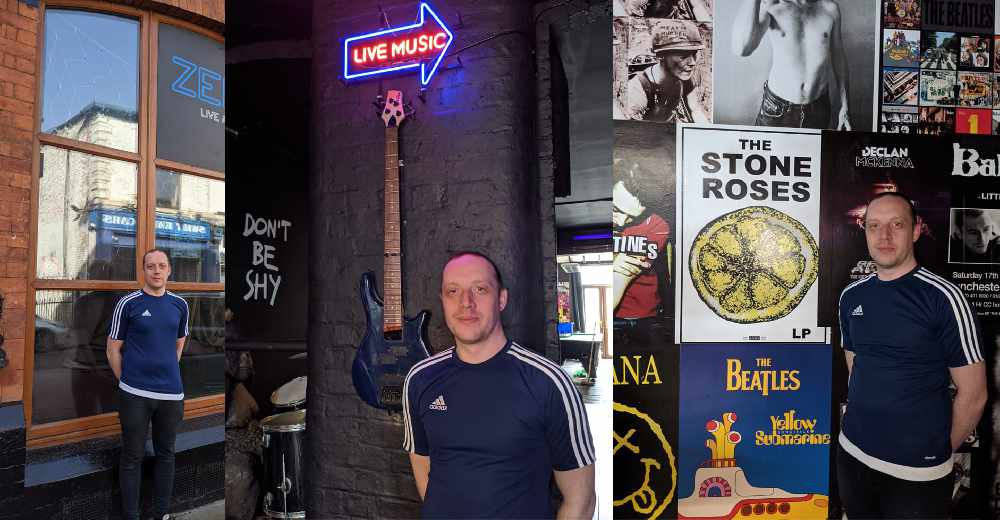 A Stalybridge councillor is looking to bring a bit of rock 'n' roll back to Stalybridge with the opening of a new venue.
Zeros Bar, set to open in the heart of the town once restrictions are lifted, wants to replicate the sound and feel of Manchester town centre favourites such as 42's Nightclub and Factory. It'll play everything from indie favourites like Oasis and Nirvana to new up and coming bands.
However, every Friday and Saturday night, it's set to play host to the boroughs most exciting new bands, giving them a place to play and perform.
It's something that's close to the heart of Sam Gosling, a local councillor and the man behind Stalybridge Labour Club's success over the last few years. Since stepping in to the venue three years ago, they've put on a host of gigs and music nights, much to the delight of locals.
Now he's hoping to replicate that success with his latest venture, Zeros Bar.
"I was having a thing during lockdown, and I was getting a little bit frustrated, like I was ready to move on. I've done what I needed to do at the Labour Club.
"I was looking for my own bar and I had a conversation with the owner of this building. He's trusting me to create a venue for him.
"The idea of Zeros Bar is that it's going to be a live music venue. It's got an indie theme.
"It's going to be live music every Friday or Saturday night and there'll be bands playing original music all with free entry. You're going to see brand new music every weekend in Tameside."
With venues closing at a high rate even before the pandemic took hold, Sam is hoping that it will provide a place for up and coming acts to showcase their talents.
"It's hard for a new band to get bookings.
"I think there's a massive gap for having a place for new bands to play."
It couldn't come at a better time for Tameside, which is seeing an explosion of musical talent. Cobain Jones, a singer-songwriter from Stalybridge is just about to release his first EP while Sam is backing Freeda to be the next big Manchester rock band.
"Freeda are my favourite band at the moment. Then you've got Narrow Margin"
Sam is keen to praise the schools for the work they're doing in developing young musicians. New Revolution are a band from Hyde made up of pupils of Hyde High School. He said: "All these schools are putting on great music programmes at the moment.
"I can remember when I was at school and it was all theory, it wasn't a case of let's go and hit a drum, let's play guitars. That seems to have changed massively in schools now."
Plenty of people have already contacted Sam for spots, with stage time hard to come by.
The lockdown has had a huge impact on the hospitality sector, decimating pubs and bars across the country. Sam conceded that the middle of a worldwide pandemic may not be the best time to be undertaking such a venture and says that the bar has already had numerous setbacks. Despite that, he still can't wait to get going.
"It's frustrating. We took the decision to start the bar during the first lockdown and we thought we had plenty of time, we'll sort this out.
"Our original opening day was Halloween last year and then, obviously, the second lockdown cam into effect.
"It's just been a massive frustration for us. But it's given us time to tweak things. We've changed loads, there are things in there that just wouldn't have happened if we had opened in October, so it's been kind of a blessing in a way."
Opening night has been set for Friday 21 May, subject to government regulations with the line up to be announced shortly on social media.
Sam hopes that the opening night will be well supported, but wants to make the venue a 'local' with plenty of regulars.
"We want this place to be like a hub for musicians and young people.
"You won't pay to get in here, you'll see a live band every weekend.
"We've got the nightclub downstairs. It's an old school nightclub, we're going to turn that into Tameside's first and only indie nightclub."
For more information and to stay up to date with the latest from Zeros bar you can follow them on social media or visit www.zerosbar.co.uk