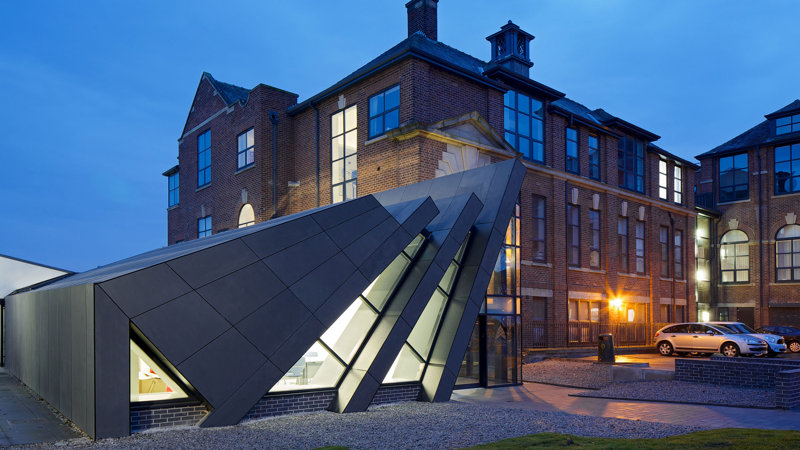 Despite the prime minister's announcement that classrooms must close to most children for the foreseeable future, January 4 marked a new start for two of Tameside's schools.
Both Longdendale and Rayner Stephens High School have joined the new Stamford Park Trust, becoming the first secondary schools to join the trust set up by Ashton Sixth Form College [ASFC] in February 2019.
In July, when they were still part of Aspire Plus Educational Trust, both schools received an inadequate grade from Ofsted.
However, Stamford Park Trust say plans are already afoot to bring teaching back up to standard.
Ashton Sixth Form College is already rated as "outstanding."
The move has already been approved by Vicky Beer, the Regional Schools' Commissioner and the Department for Education and has the full backing of Tameside Council.
Trust CEO and ASFC Principal Anton McGrath says that the focus is going to be on improving both schools and maintaining standards at the college and explained that it's a unique opportunity to link secondary and post-16 education.
"The aim is to work with partners within Tameside to improve the life chances of young people in the borough," he explained. "That's the reason we're doing this.
"We want to work collaboratively to get the best out of students and give them the best education led by outstanding teachers and giving them the chance to get great careers and lead successful lives."
ASFC work with students between the ages of 16 and 18, providing A-Level and BTEC courses, but Anton says that the new trust will help drive students' ambition earlier in their lives.
"It means we can start that ambitious agenda earlier in school life, right from Year 7," he says.
"We can give the student a leg up and see progression right through to college, higher education or apprenticeships. We're looking forward to working with Longdendale and Rayner Stephens. There's fantastic members of staff there and we're going to work with them to address the issues, helping and supporting them to get those right and making sure the students get the best education."
The trust was originally conceived by Anton's predecessor, Dr Janet Nevin, but as he explained, the trust's direction changed when the opportunity to work with Longdendale and Rayner Stephens came up.
"We were looking to find partners and Aspire Education Trust approached us to see if there was any possibility around working closer together. That work began before the Ofsted inspection.
"Over lockdown that accelerated and we worked with the board and came to the conclusion that this was the right decision for everybody.
"We then had to gain the support of the regional schools commissioner and we've always had the support of the council."
The council were key in making sure that the transfer went smoothly and Anton was quick to pay tribute to the help they'd given him: "They've been very supportive in moving us in this direction," he said.
"The commission accepted it's a good idea for Tameside and a vehicle for meeting the vision and values of the trust.
"It's been a journey and it's taken a long time, but it's over the line now and everything is official. I'm looking forward to working as Stamford Park Trust."
Cllr Leanne Feeley, Tameside Council's Executive Member for Lifelong Learning echoed Anton's thoughts, calling it an exciting new chapter for the two schools.
She said: "This is an exciting new chapter for Longdendale and Rayner Stephens High Schools, giving them the opportunity to benefit from Ashton Sixth Form College's learning, which is rated as outstanding by Ofsted.
"This collaboration under the Stamford Park Trust will support the academies' rapid improvements, helping improve the quality of education for our young people. The council will support them throughout their development as we strive to help students achieve their ambitions."
The college were keen to keep to their roots and to help students close to home.
Anton said: "We want to make sure we keep the Tameside family intact and work to support the young people here.
"We understand the communities we work in as well so it's been good to get the support of the executive side of the council and the officers as this is a local solution."
Stalybridge and Hyde MP Jonathan Reynolds was delighted to see the college leading in the community and in a statement said: "Quality education needs local organisations with the capacity and leadership to drive up standards. The new Stamford Park Trust, led by the outstanding Ashton Sixth Form College, is an opportunity to create the first class local education we need and deserve in Tameside."
Of course, with such big changes to school life many parents were naturally wary. Dukinfield's Rayner Stephens had already had one major overhaul recently, changing identity from Astley Sports College.
Anton continued said: "We did full consultation when we first started the process and got responses back from parents and staff. The only main concern was not changing uniforms because it was only done recently. We've said that we won't be doing anything like that, our main focus is improving learning and making sure it's as good as can be.
"In terms of staff and unions it's been overwhelmingly positive. Even this morning I did a session to all staff at the schools outlining our ethos and there's a lot of things we want to engender in them."
With the schools both having poor Ofsted ratings, Anton said there's already plans in place to tackle that.
"We've had a long look at the reports and put in place action plans. The pandemic hasn't helped and we'd like to have made quicker progress than we have, but that's out of our hands. We've made a few changes to the curriculum, particularly at Key Stage 4."
An executive principal has also been appointed to oversee the progress of both schools, and the trust say they will be given time and space to improve education and behaviour.
With the two schools coming onboard, Anton says the trust is not looking to expand in the immediate future. He explained: "That's enough for the moment, but we do have a strategic plan over the next three to five years.
"When we looked at becoming a trust we wanted to play our part in Tameside as a whole.
"Any school that shows interest is in our plan but its important to walk before we can run. There's hard work to be done and we've got to keep the college outstanding - we can't forget about the mothership.
"The focus over the next years is making sure the two schools have improved and are the best they can be whilst maintaining standards at ASFC."