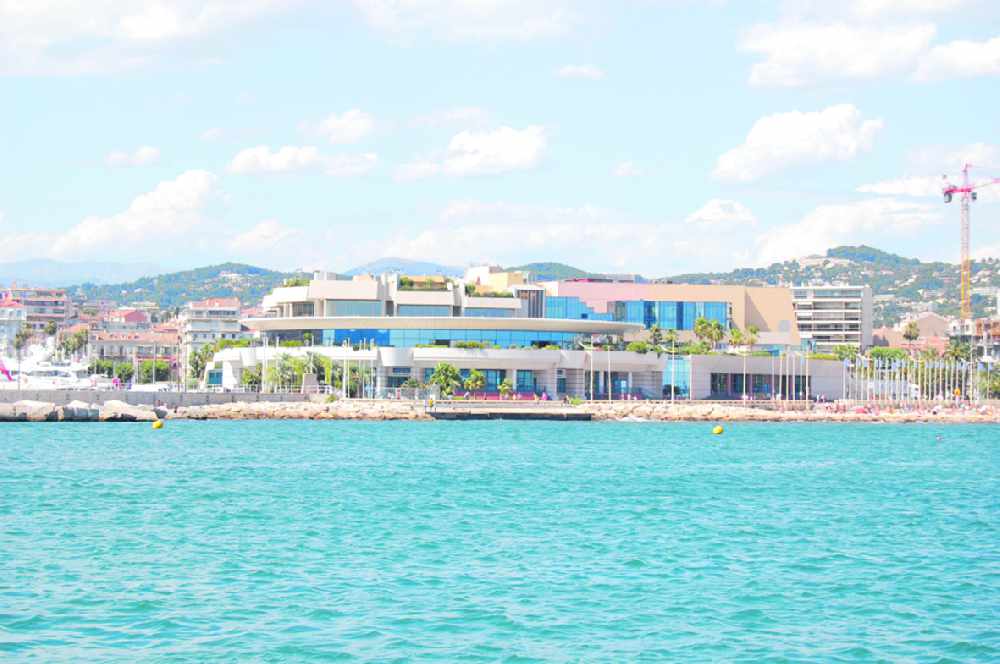 PROPERTY EVENT: The Palais des Festivals et des Congrès in Cannes is the venue for the trade show where Manchester always has a strong presence where musical branding plays a key part.
Ahead of Sunday evening's Music Therapy show on Tameside Radio, co-host Michael Taylor explores the connection between pop music and Manchester's economic boom...
I was reminded on several occasions last week that Manchester's musical legacy exists at a far deeper level than just the sounds we hear and the tunes we sing along to.
I had lunch with a mate of mine who was telling me about a book he's written that details the deep connection between pop music and Manchester's economic boom.
Many of the faces from the generation who mounted a coup against the city establishment in 1996 were from the music industry.
Pop and property are more closely linked than we realise. Not only did the music scenes of the '80s and '90s create cultural confidence in a city on the up, many of the faces and names from the music business extended their interests into property development and entrepreneurship.
The IRA bomb which destroyed part of the Arndale in 1996 was a catalyst for the city to respond to the challenge positively.
But it was a false start. The city establishment seemed stuck in a groove and was living a separate existence to the city that had spawned Madchester and a thriving street culture.
An alternative group gathered around Atlas Bar called the McEnroe Group imagined a smarter hipper vision, quoting the tennis star John McEnroe who famously screamed 'you cannot be serious' at an umpire.
Out of that scene, some big players emerged: Urban Splash, which pioneered loft living, was started by guys who used to run clubs; The A of ASK Developments, which has been responsible for loads of new buildings and spruced up parts of town, including Ashton Moss, is Andy Dodd, the manager of Simply Red.
One of the centrepieces of the business calendar is a property conference and exhibition held every year in Cannes on France's beautiful Cote d`Azur.
Called MIPIM, it's always had a strong presence from Manchester, which inevitably uses lots of musical branding to tell a story.
Peter Saville, who was responsible for the art and design of Factory Records in the '80s, was commandeered by the Town Hall to develop Manchester's brand at the show.
But I do find a lot of the use of Hacienda graphics a bit cringey, to be honest. It's fine to trade off your heritage, I get that, but it's been shut 30 years now.
I'd like the true essence of that era to really shine through.
I was hiking up a fell last week with a lad called Nathaniel Cassidy, who runs a creative agency in Preston called Three Man Factory.
His dad was Larry Cassidy, the driving force behind Section 25, a fantastic band from that Factory era, and who sadly passed away in 2010.
A Blackpool band, in truth, they nevertheless had a dramatic effect on the direction of music in that post-punk era.
You can't listen to a song like Looking From a Hilltop and fail to spot the direction of travel for the use of synths and computers in music and the influence on a whole generation that followed.
I mention this because Nathaniel has done so much with his life, and is doing, that is inspirational, and in a different sphere, but is in so many ways a fine tribute to his father.
He's looking forward, building up ideas, thinking ahead, not harking back.
It's unrelated to music, but I think the spirit of that music and that scene lives on in so many different ways than we sometimes think.
You can listen to Michael Taylor and Neil Summers on Music Therapy on Tameside Radio 103.6FM on Sunday evenings from 9pm to 11pm. Click here to subscribe and catch up on previous shows.
Read more from the Tameside Reporter
Click here for more of the latest news
Click here to read the latest edition of the paper online
Click here to find out where you can pick up a copy of the paper