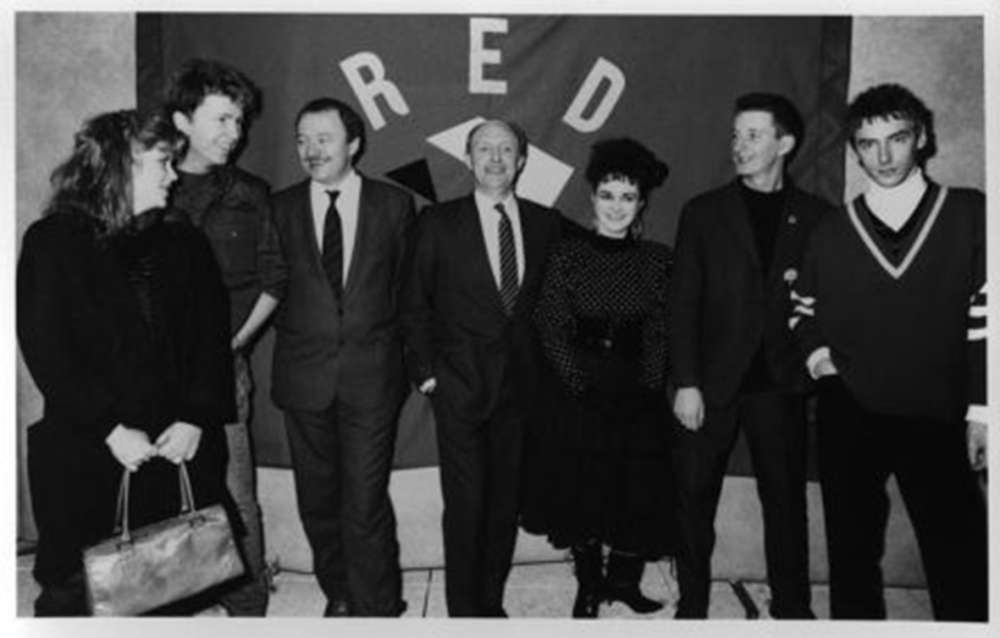 RED WEDGE: 1987 election drive. Image courtesy of Steve Rapport.
Before listening to Michael Taylor and Neil Summers on the Tameside Radio airwaves on Sunday evening during their Music Therapy show, have a read of their latest column for us...
We had a run of playing protest songs on our show a few weeks ago.
Partly it was because one of our favourite bands, The Specials, released a phenomenally good collection of covers called Protest Songs 1924-2021, taking in everything from early American folk to Bob Marley.
Probably the secret of a great protest tune is that it works as a song first and foremost, and creates that mood, stirring up a latent passion, stirring up a deep emotion. Much like a love song would.
When it starts to feel a bit embarrassing is when the audience feel lectured and talked down to. Or when an artist too overtly associates themselves with a political party.
As we know, most protest music comes from the left side of politics.
Pop stars emoting that they're Labour supporters is nothing new, but there's also a danger that they end up sounding like they've been used and drawn into an unfamiliar world.
The two examples of musicians who I liked claiming they were Conservatives are written in musical infamy.
Electronic music pioneer Gary Numan said he was a supporter of Margaret Thatcher and got slated in the music press for it.
Akin to a Twitter pile on today, he got dog's abuse and criticism often parcelled up with his perceived arrogance, which he has since explained was due to his Asperger's Syndrome. Thirty years later he described his Thatcher comment as 'a noose around my neck'.
Then there was Paul Weller who was irritated by the left wing posturing of the Clash and others on the London art school punk scene. In 1979 he said he was going to vote Conservative.
It was meant as a wind-up, but it still got brought up in interviews years later.
Weller later joined Red Wedge, an attempt by the Labour Party to get bands playing under their banner for the 1987 election.
Though Weller wanted to do something for people on strike, or the unemployed, the whole parade left a bad taste in the mouth.
Even on the political fringes, being too closely linked to a party can be damaging to a band's career.
The Redskins were a decent soulful guitar band with socialist politics. They were members of the far-left Socialist Workers Party, and enjoyed some success in the febrile atmosphere of the 1984 Miners' Strike. As soon as the strike ended, however, the point of the Redskins died too.
Similarly, an edgy Manchester guitar band called Easterhouse burst to the surface at the same time and were seized on by the slightly creepy Revolutionary Communist Party who envied the musical wing of their rival sect.
We played the blinding single Whistling in the Dark a couple of weeks ago and it remains one of the passionate and powerful pop tunes of that era. I wonder, did Easterhouse pay the price of their principles, or did they just make an unwise association?
So there's a lesson. Mix pop and protest by all means, but leave the parties alone.
You can listen to Michael Taylor and Neil Summers on Music Therapy on Tameside Radio 103.6FM on Sunday evenings from 9pm to 11pm. Click here to subscribe and catch up on previous shows.
Read more from the Tameside Reporter
Click here for more of the latest news
Click here to read the latest edition of the paper online
Click here to find out where you can pick up a copy of the paper