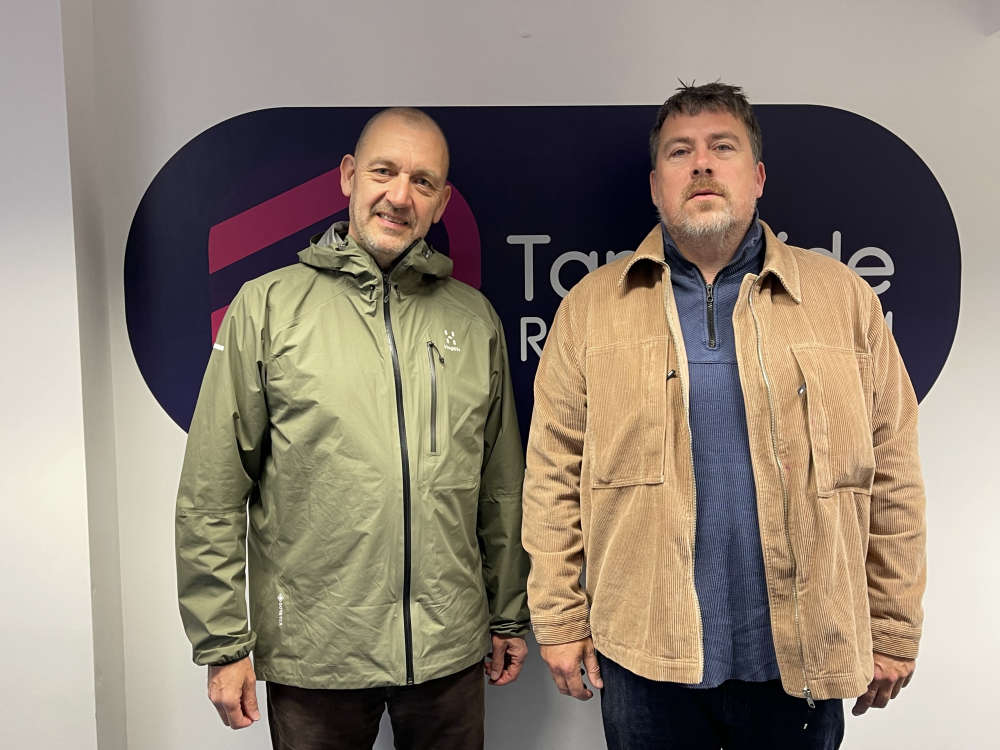 Michael Taylor (left) and Neil Summers.
Tune in from 9pm every Sunday on Tameside Radio 103.6FM to catch up with Michael Taylor and Neil Summers. Here's their latest column for the Tameside Reporter...
Why do places have a good feeling about them, while others seem stuck in a cycle of decline? Asks Michael Taylor.
What does music, sport and culture have to do with levelling up of a place?
The government spent 350 pages of a policy report mulling over this point, before sprinkling on some nonsense about medieval Florence.
Yet two of the neighbouring boroughs of Tameside have suffered conflicting fortunes in recent weeks, highlighted by the fortunes of their football teams.
Oldham Athletic have been relegated from the football league and into the National League. They also suffer the ignominy of being the first club to have played in the Premier League to then drop out of the 92.
They have been torn apart by terrible owners and a fractious relationship with their supporters.
Oldham has been dealt a bad hand lately with tensions coming to the fore again during the local election campaign, where Arooj Shah was the latest leader to lose her seat on the council.
I went to the launch of a review of Oldham's local economy recently where some home truths were aired.
Committed local leaders were honest enough to recognise what Oldham lacked, and some of that came down to a general sense of a direction.
According to experts from the University of Manchester, two of the important factors in how a town feels about itself is 'civic pride' and 'social fabric.' The latter feeds the former.
In contrast, Stockport County have won the National League and will be replacing Latics as part of their march back to becoming a proper football club again.
They have enjoyed sell-out match days, and it's no coincidence that the club is run by a local businessman, Mark Stott, who enjoys a good relationship with the council and the local community.
In the summer of 2019, a major concert at the Edgeley Park stadium, featuring local heroes Blossoms, symbolised Stockport's self-confidence.
It has a clear identity that is comfortable with its relationship with Manchester - Brooklyn to Manchester's Manhattan, the council leader Elise Wilson is fond of saying.
I don't exaggerate when I say that Blossoms have been a major cultural lift for Stockport. The band and their families are even using their cultural power to invest in new ventures in the town, clothes shops, bars, salons, and supporting other bands.
It's all about wanting to put something back into the town that has contributed so much to their own identity; they're not Blossoms from just outside Manchester, they are Blossoms from Stockport.
Manchester's onward march as a city attracting businesses and retaining graduates is because of its own rich cultural assets.
The city invested in an International Festival precisely to make it culturally attractive and known throughout the world. A rich musical history and two enormous global sporting brands add to the allure.
By the way, as well as sporting and musical assets, one of the other things that make people feel good about a place is lively independent media. Keep supporting Tameside Radio, we're very lucky to have it.
You can listen to Michael Taylor and Neil Summers on Music Therapy on Tameside Radio 103.6FM on Sunday evenings from 9pm to 11pm. Click here to subscribe and catch up on previous shows.
Read more from the Tameside Reporter