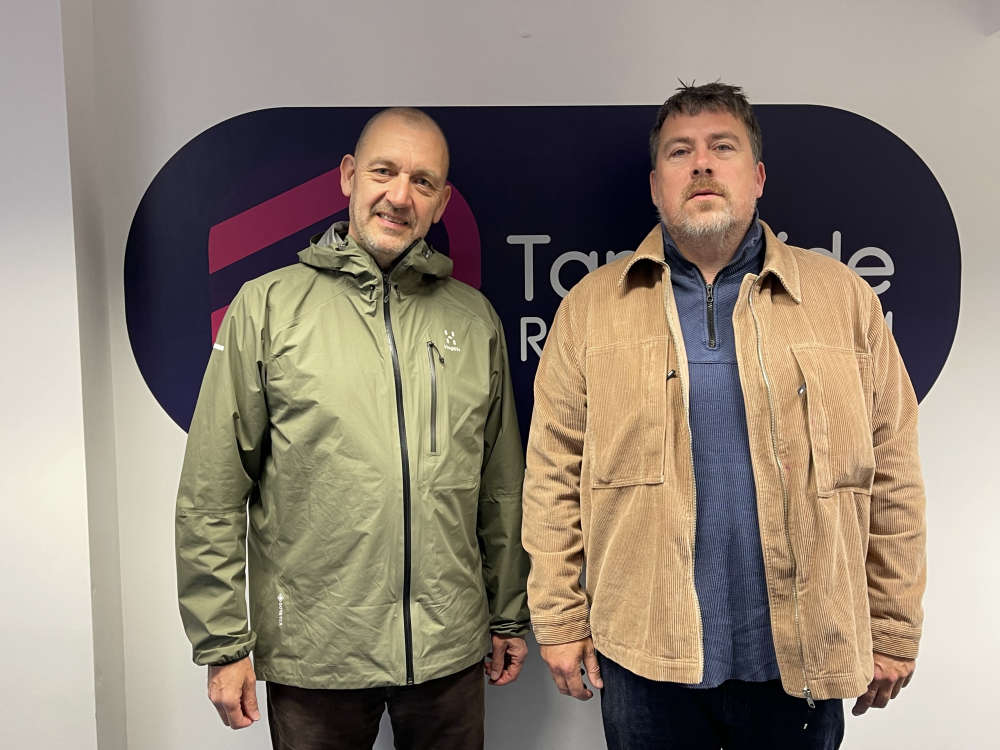 Michael Taylor (left) and Neil Summers.
Novels are the theme of the latest column by Michael Taylor, who presents Music Therapy with Neil Summers on Tameside Radio on Sunday evenings.
About this time seven years ago I had my debut novel published.
It was a dark comic thriller set in Alderley Edge about a prize idiot called Roger Cashmore who had more money than sense.
Called 40 By 40, it was primarily a send up of the whole dodgy business scene of Cheshire bling, and how it rubs alongside the footballer's wives and shady figures in organised crime.
I'm really proud to have done it, I'm not going to be falsely modest about that. I thought it was a good first effort and I was generally pleased with the reception.
The reviews in the press were all really positive, I got to the final of a first time writer's prize called Pulp Idol and I had some interest in developing it for telly.
Looking back it could have, should have, been so much bigger. It sold out a limited print run by a niche publisher in the Peak District run by a top guy called Stuart Wilkin. But I wasn't exactly batting off the agents and major publishers.
I think I've worked out why.
Novels need to be part of a popular type, to fit alongside something else that is successful. Much like music, really.
I had this advice from Jane Costello who has been a successful author of several 'chick lit' novels.
I've also noticed that authors like Tony Parsons and Chris Brookmyre have had to adapt their style to be much darker and more violent.
Tony's novels used to be centred on an emotionally fraught single father who works in TV. Now they centre on any tense single dad who is also a maverick cop not afraid to throw a few punches in the pursuit of justice.
Joseph Knox is also a fantastic literary writer, but his best stories are about a Manchester detective gone rogue. Having established himself he's had the smarts to do something clever with his most recent novel True Crime Story.
Last week I finished reading The Ballad of Hanging Lees, the final part of David Nolan's trilogy set in the dark triangle of Oldham, the Dark Peak and Saddleworth.
Like the books Black Moss and Mermaid's Pool before it, his latest tale brings together the stories of the first two in a really clever way interlinking with noncery, the Strangeways prison riot and GMP malevolence. They are all firmly part of an emerging trend of Manc Noir, every bit as raw and real as Scandi Noir or anything by Harlan Coben.
The central character is a journalist, but the bleakness of the moors and the foreboding local reservoirs also play a fairly important part of the story.
David Nolan also knows what he's talking about and has taken good advice; Neil Summers was a consultant on Mermaid's Pool on certain details of the 1989 rave scene. And he also wrote a compelling book about the notorious child abuser Alan Morris which gave him knowledge and insight about what goes on in such a historic abuse case.
I can see all three books making brilliant TV dramas, far more gritty than the Coben adaptations that were filmed around the North West, and we can help him have far better music.
These stories feel part of something, they touch a cultural nerve and they rattle along with real pace and energy. I wish David well, he's a great writer and top bloke and I'm not envious of his success at all.
However, I know what to do next time. Stick to what I know, but make it darker and like two of the writers I've mentioned, change my name to give it punch. Coming soon, Death on the Edge by Mick Taylor.
David Nolan's The Ballad of Hanging Lees is available now from Fahrenheit Press.
You can listen to Michael Taylor and Neil Summers on Music Therapy on Tameside Radio 103.6FM on Sunday evenings from 9pm to 11pm. Click here to subscribe and catch up on previous shows.
Read more from the Tameside Reporter
Click here for more of the latest news
Click here to read the latest edition of the paper online
Click here to find out where you can pick up a copy of the paper