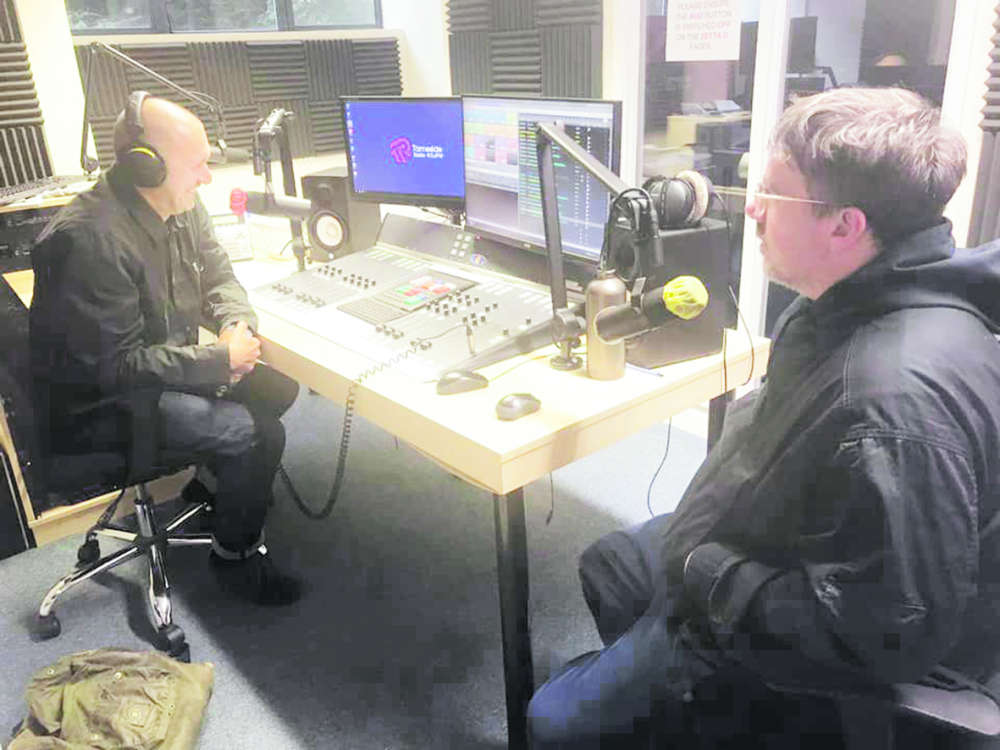 First year on air for Mike and Neil.
Tune in from 9pm every Sunday on Tameside Radio 103.6FM to catch up with Michael Taylor and Neil Summers. In the meantime, read their latest Tameside Reporter column...
This weekend represents a full year of Music Therapy on Tameside Radio. A year of me and Neil finding our way around a radio studio and all the other tricks we've picked up over the course of this year, and where we've been rescued from ourselves by producer Alex B Cann.
We've been pretty chuffed at the responses we've had. People seem to like the music we play, the requests we get show that people get what we're all about.
I first did a radio show when I was a wing man on the Drivetime evening programme on 6UVS FM in Perth, Western Australia, when I lived there in the late 1980s.
My co-host was Adil Bux, one of the best club DJs I've seen. He had a terrific knowledge of music and impeccable taste.
He's still a good mate to this day and when I was looking for a potential trusted partner to work with on this show I set Adil's high standard of musical knowledge as a minimum requirement. What I also needed was to work with someone who was an effortless broadcaster and a great communicator.
Neil has these qualities in abundance. His stories and experiences through a colourful life make for great radio and a number of useful triggers to find hidden musical gems to share with the listeners of Tameside and beyond.
We also needed a strong sense of what the show is about. I wasn't interested in doing a show constricted by a type of music.
I know it makes sense for some people to know that there's a show featuring Country and Western, Hip Hop, or Heavy Metal, which might be their personal preference.
We had three rules when we started. The first was a profound respect and love for Talk Talk and the spirit of Mark Hollis (RIP).
We'd have run out of new tracks to play if we'd held to an early pledge to always find a Talk Talk track, but it's been a fairly common feature. We keep finding remixes and reworkings of great tracks that are always worth a blast. Last week, for example, I found a mix of the epic Life's What You Make It.
Second, we were determined not to become overly nostalgic and reverential to a certain era of Manchester music. Both of us were there, we know what went down, but we'd rather tell a number of other stories of bands, clubs and big personalities that maybe don't get an airing.
Third, and finally, and most importantly of all, we have a firm policy that there's no such thing as a guilty pleasure.
Great music is found everywhere, and we'll play it as long as it fits with our Sunday night vibe.
The breakthrough in mentality for me was when Neil added Romeo and Juliet by Dire Straits to an early show.
It's a beautiful, heartbreaking, romantic song, with a great back story behind it. I've always secretly loved it. Now I just love it, and the same goes for a whole load of other tunes we're proud to be able to keep bringing you.
You can listen to Michael Taylor and Neil Summers on Music Therapy on Tameside Radio 103.6FM on Sunday evenings from 9pm to 11pm. Click here to subscribe and catch up on previous shows.
Read more from the Tameside Reporter
Click here for more of the latest news
Click here to read the latest edition of the paper online
Click here to find out where you can pick up a copy of the paper