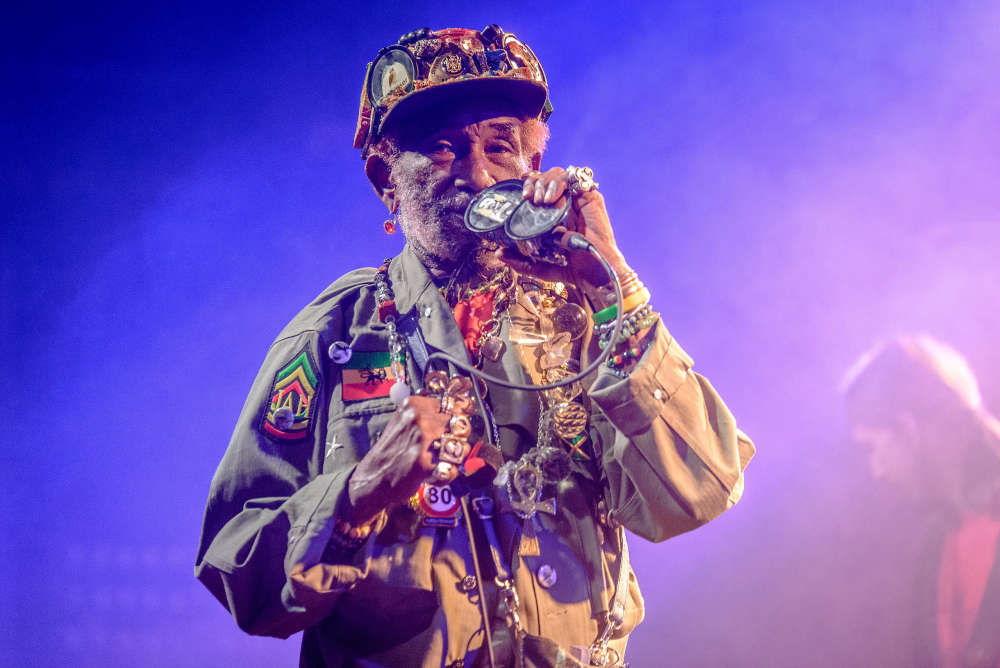 Tribute to Lee 'Scratch' Perry.
Tune in from 9pm every Sunday on Tameside Radio 103.6FM to catch up with Michael Taylor and Neil Summers. In the meantime, read their latest Tameside Reporter column...
When we started Music Therapy over a year ago, we had a pretty clear idea that we'd be playing laid back tunes and happy music. We wanted to share a rich mix of something basically optimistic that helps people to switch off a bit on a Sunday night.
It wasn't long before we started dropping in reggae tracks.
If you'd asked me at the start of this if I was a reggae fan, I'd probably have said, 'yes, it's alright'. It's certainly never been music that offends me or grates on me. I know that some of my favourite bands from the punk explosion - The Clash, mainly - owe an enormous debt to the pumping bassline and reggae beats, including their cover of Police and Thieves. In many ways they were the ultimate London band, taking in multi-cultural influences.
Our appreciation of our roots also reminds us of the role that bands like Aswad and Steel Pulse played in the Rock Against Racism movement of the late 1970s that really steered punk away from its potentially racist direction, that blended reggae with other close styles such as ska, which in turn influenced our record collections by introducing British kids to The Specials, Selector and Madness.
And, I'm not ashamed to admit that the Bob Marley and the Wailers cassette tape of the Legend collection was in my Sony Walkman during my summer holidays in the early 1980s. I'm even tempted to buy the new Ajax third kit, a sleek all-black number, with red gold and green adorning the three Adidas stripes, a tribute to Marley from the Ajax supporters who have made Three Little Birds their anthem.
Pretty quickly, as Neil and I put together our Music Therapy setlists for you every week, and the more we started to think about music that can really shape your mood, embrace rhythms of relaxation, then the more we went down the reggae route.
Absolutely at the centre of this immense body of music has been the work of Lee 'Scratch' Perry, who died this week near his home in Jamaica at the grand old age of 85. We can be sad at his passing, but also appreciate the incredible contribution he has made to music.
As well as performing in his own bands such as The Upsetters, he probably made his biggest mark as a producer, working across all genres of music as well as creating one almost single-handedly.
He pioneered the distinctive 'dub' reggae sound, creating an echoing beat, using samples and drum machines to add reverb, making an eerie and distinctive stripped-down sound. He would also later work with hip hop artists like the Beastie Boys and electronic music pioneers The Orb, amongst many, many others.
It was almost exactly five years ago that Neil spotted Scratch on Montagu Street in Compstall as he was heading for the Moovin' Festival, just over the hill from Werneth Low, a quirky event at Whitebottom Farm at Etherow Country Park over the August Bank Holiday weekend, where he was headlining.
There was nothing understated or ordinary about him. How he approached music, how he dressed and how he conducted himself, always pushing boundaries and making us appreciate the different, the odd and - let's be frank - the genius.
Rest easy, Scratch.
You can listen to Michael Taylor and Neil Summers on Music Therapy on Tameside Radio 103.6FM on Sunday evenings from 9pm to 11pm. Click here to subscribe and catch up on previous shows.
Read more from the Tameside Reporter
Click here for more of the latest news
Click here to read the latest edition of the paper online
Click here to find out where you can pick up a copy of the paper