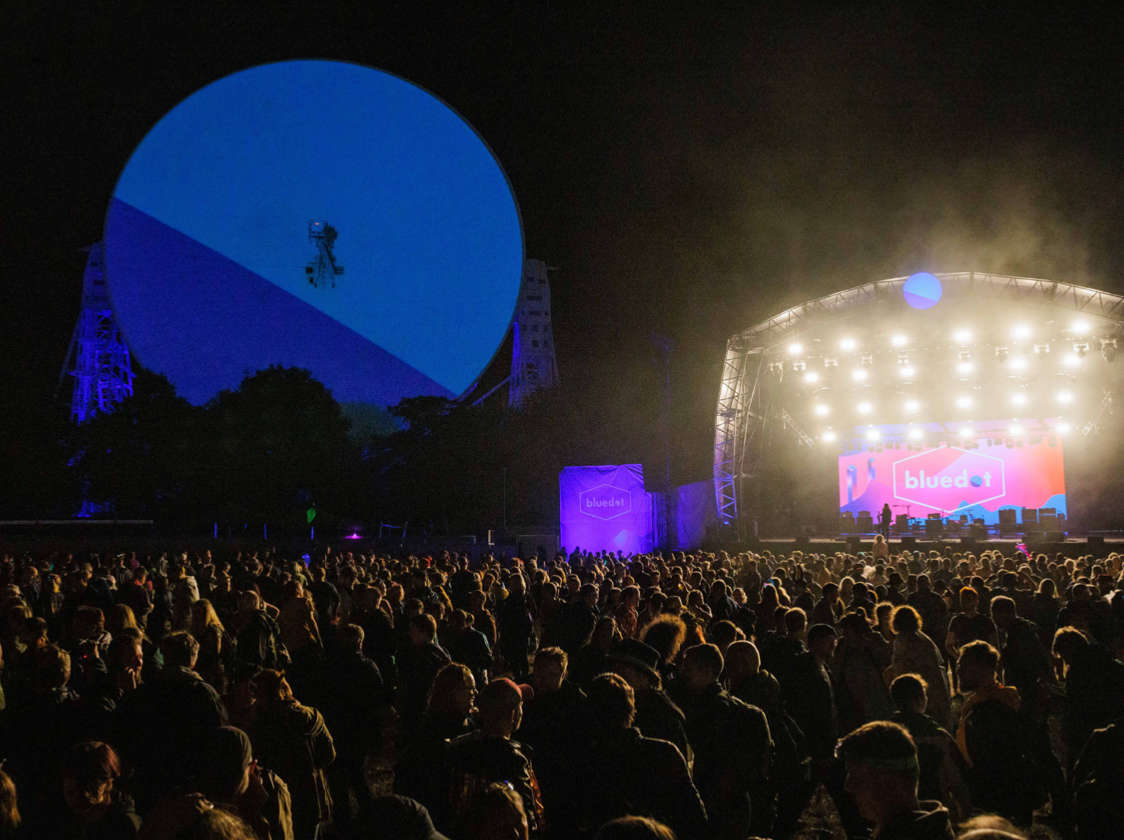 BLUEDOT: Mogwai in performance at the festival at Jodrell Bank. Picture by Jody Hartley.
Michael Taylor, who presents Music Therapy with Neil Summers on Tameside Radio on Sundays, has been to Bluedot - an intergalactic festival of music, art and discovery...
Bluedot was everything and more that you can expect from a festival of music, science and the North.
We know about the music from the eclectic and imaginative line-up from beginning to end. I was really looking forward to seeing Scottish space rockers Mogwai.
I was neither disappointed, nor surprised when they lit up the night sky and the Lovell telescope with a cosmic experience on Saturday night.
It had me shaking from the ground beneath my feet to the depleted hairs on the back of my neck.
For a quiet band, Mogwai are incredibly loud. A factor that the band's Stuart Braithwaite mentioned earlier in the day when he sat down with North West regional treasure John Robb for a Listening party run-through of their 2021 NUMBER ONE ALBUM As the Love Continues.
Festivals not only give you those moments of affirmation, but also serendipity. The chance to step out of your comfort zone and go and stumble across someone new and exciting.
Yard Act from Leeds - a kind of Arctic Monkeys meets John Cooper Clarke - were great and I'm looking forward to more from Lanterns on the Lake, a Newcastle five-piece that we enjoyed on Saturday afternoon.
But we also discovered this hilarious comedian with a self-explanatory show simply called Andrew O'Neill's History of Heavy Metal, one of the most original stand-up shows I've ever seen.
Andrew also got me thinking a lot more about the whole transgender issue, identifying as 'gender progressive' and contributing to a comfortable environment for people who might find the world a very hostile place.
Andrew's show, like the whole festival, was very LGBTQ+ friendly.
People clearly felt much more comfortable being their true selves in a way you don't experience in everyday situations.
This is resolutely no threat to me, so has only served to remind me of the work to be done in creating safer spaces everywhere.
Speaking of safe space, we watched a live talk by astronaut Tim Peake from outside his massive circus tent, so popular was he, as one of many science shows on the line-up, including really cool exhibitions and demos from amazing people like the British Antarctica Survey team.
The North bit was also provided by the overcast skies and the drizzle on a Sunday afternoon, and by the people of the North.
I can imagine Chorlton and Didsbury were fairly quiet over the weekend. I kept spotting people I know from when I worked on Manchester's Oxford Road.
Doing that double take from seeing someone you usually see in a tweed jacket with the leather patches on the arm, in shorts and one of those military-style caps that middle-aged blokes wear to festivals, carting around a troop of kids, while scoffing a plate of Sri Lankan spicy fish.
I've said before how the mud, drunks and flying bottles of urine I suffered U2 at Milton Keynes Bowl in 1985 almost put me off summer festivals for life.
But the worst thing you were at risk of getting hit with was a waft of powder paint from some daft bloke in a lab coat with glitter on his face.
Yes, the Blue Dot crowd were, for the most part, the white middle-class element of the top half of our country.
The strong presence of academic science, which rightly should be as ingrained in the fabric of the North as mining, steel and Cottonopolis. And music. A potent combination.
You can listen to Michael Taylor and Neil Summers on Music Therapy on Tameside Radio 103.6FM on Sunday evenings from 9pm to 11pm. Click here to subscribe and catch up on previous shows.
Read more from the Tameside Reporter
Click here for more of the latest news
Click here to read the latest edition of the paper online
Click here to find out where you can pick up a copy of the paper