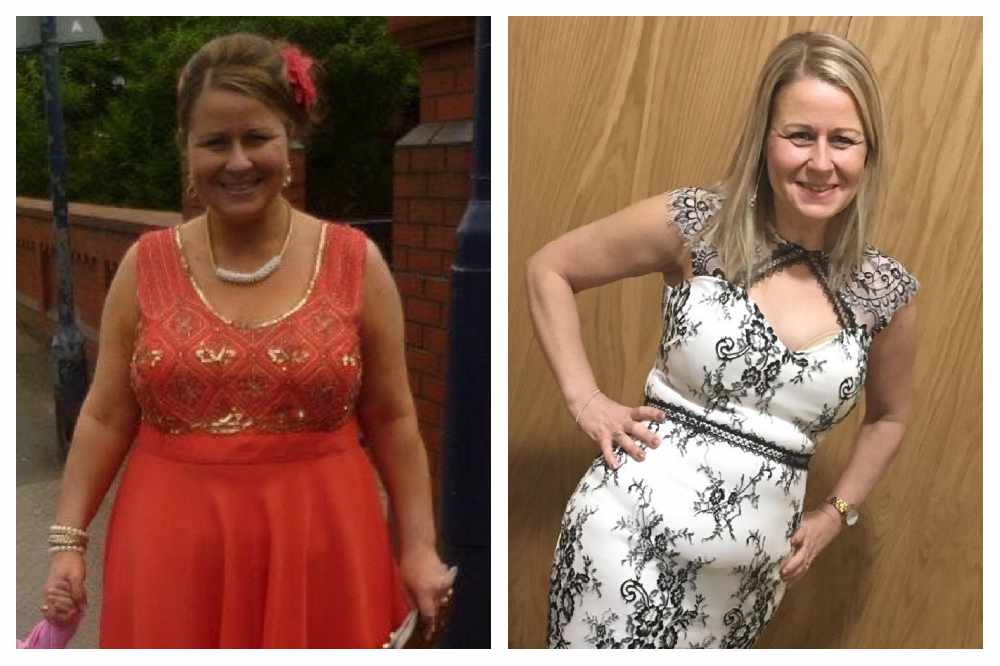 A mother-of-one from Ashton is entering the new year in good spirits and helping others to lose weight, after shedding more than three stone during an intense and emotional journey.  
Jo Leah has been itching to shout about her success since first setting out on achieving her goal.
"I've had a few pit stops, I've broken down along the way and occasionally got a little bit lost, but what is most important is that I've carried on travelling," she said. "Now I've arrived and I'm loving the view, I'm ready to show others the way."
Jo, who has an 11-year-old boy called James, began being frustrated about her weight at an early age.
Part of a big family, the now 44-year-old, who lives on Stockport Road, grew up on hearty meals served up with mounds of bread and butter, as well as stodgy homemade puddings.
Her first 'diet' was in her teens and, through high school, her weight varied from a size 12 to 18 and she often struggled to have the confidence to join in with social gatherings.
After joining WW (formerly Weight Watchers) back in 1999, Jo 'embraced' the plan and also committed to becoming a helper, which she says stopped her from hiding from the scales and aided her to reach her goal - something she said felt 'amazing'.
She said: "I got my confidence back, I enjoyed shopping and having my photograph taken. Life was fab."
Maintaining her goal for seven years, Jo married her husband Paul wearing a size 12 dress, but says her happiness came crashing down after the loss of her grandad, who passed away at 97 years of age in 2007. Turning to food for comfort, her weight crept up once again.
But moving forward to June 2015 and now a mum to James - who was born in October 2008, she 'got her head in gear' in her own words and shifted her mindset.
"I am not on a diet, it's about balance, a lifestyle and food not being a comfort, a treat, a sin or guilt stack but something to truly enjoy within reason," she said.
Jo admitted that her weight-loss journey had been up and down both before and after her pregnancy, describing attending meetings in Audenshaw as "a walk of shame".
But she soon got back on track, weighing 10 stone 5.5lb in February 2016.
"My start weight was 13st 6.5 and I am currently 10st 8.6 after a summer of fun and over indulging," Jo said. "I have gained just 3lb thanks to days on plan when I could fit them in and plenty of walking.
"I'm no gym bunny - being a busy, working mum I haven't the time, plus I find it boring! Losing weight has given me my confidence which in turn, has helped me to support others more. I absolutely love clothes and it's a massive plus and a pleasurable experience deciding what to wear, whether it's a night out, weekends off or even getting those compliments in nice work wear."
Sharing her success on social media, Jo is keen to help motivate and support others - especially at the time of year where many people have a new year resolution to lose weight.
"I use Facebook, WW Connect and Instagram to share my weight-loss journey," she said. "I share good photos and before/after photos of myself. I like to motivate others and reinforce that WW really does work and how three-and-a-half years after getting to my goal weight, it's just a way of life for me.
"My meals are interesting, tasty and varied. I am never hungry and having the odd takeaway, meal out or occasionally 'falling off the wagon' does not undo my success.
"I've maintained my weight without obsessing or missing out on precious time with family and friends. My self-esteem is finally where I want it to be – I'm happy in my own skin and I also feel in a place where I can motivate others."
Jo's WW Coach Jacki Murphy said: "I am so proud of Jo. She is a true ambassador for WW and how to maintain weight loss. She is a huge inspiration to members in the workshop and is always ready to offer help, support and advice. Jo shares her story on Instagram too, regularly posting how activity and great healthy food is now a part of her and her family's life. She has turned her mindset around and is a true example of being fit and healthy for life."
WW Workshops are held at Audenshaw's Ryecroft Hall on Thursday evenings at 6pm and Friday mornings at 9.30am. To find out more, visit www.weightwatchers.com/uk.
Main image:
Jo Leah before her weight loss (left) and after (right).