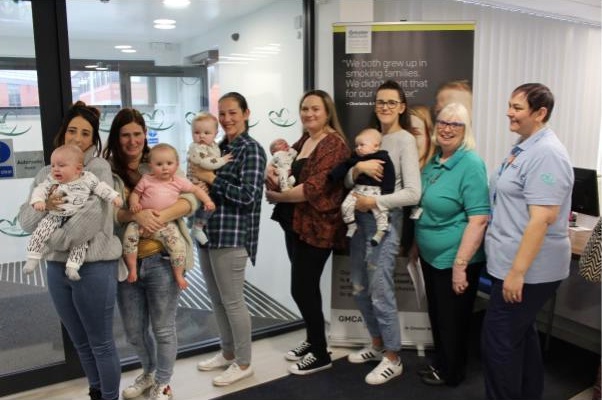 Five local mums have celebrated going smoke-free for the sake of their babies and their own health.
The women, who all recently gave birth at Tameside Hospital, took the decision early in their pregnancies that they had to kick the habit of smoking.
With the help and guidance of specially training midwives, the ladies were helped and guided through the process, which, at such a crucial time in their lives, proved to be hugely beneficial.
Della Kennerley, 34, from Ashton and mum to seven-month-old Ronnie, said: "Without the help of the programme here, there's no way I would have been able to do this. They don't judge, they don't give you a hard time if you are struggling with staying off the cigarettes, they just gently guide you, encourage and motivate you and that's been a brilliant experience for me."
She added: "I have been smoke-free for 10 months now. I had tried previously and not been able to do it, but this time, with the help of the programme, I've done it and I'm so happy."
Kayleigh Harrison, 30, from Droylsden and mum to five-week-old Alice, said: "I stopped, with the help of the service at Tameside Hospital, in April 2019. I have seen huge benefits – I feel like I can smell more and taste more, but more importantly, it's of great benefit to Alice."
Danielle Lewis, 29, from Denton and mum to 11-month-old Melody, said she stopped for her children and health reasons but has found many other positives.
She said: "You can quickly see the financial benefits, I can take the kids to the cinema now with the money I used to spend on cigarettes, it's unbelievable how many more things you can do, as a family, whereas when I was smoking that extra cash wasn't there."
The service offered by Tameside Hospital has been greatly received by local mums who want to kick the habit.
Indeed, Tameside's rate for smoking at the time of delivery (of the baby) has fallen, from 16 per cent in 2018 to 9.7 per cent in October 2019.
Chris Bassett, a midwife who leads the programme, said: "It's great to have so many success stories at the end of the programme. These ladies have been very brave and put their babies first, which is fantastic.
"They've shown resilience and determination and, as is visible now, they're reaping the benefits, as are their children. We are part of a Greater Manchester-wide programme which aims to have the smoking rate of mums at the point of delivery down to six per cent by 2022."
Chris added: "Research tells us that if we can achieve this stop smoking goal by 16 week of pregnancy then baby's will be as healthy as if mum had never smoked."
The stop smoking service offered to pregnant women at Tameside Hospital is free and part of the antenatal package of services delivered by the Trust.
For more information on the service and how you can participate, contact the clinic on 0161 922 6000 or speak to someone at your next visit.
Main image:
Five local mums gathered at Tameside Hospital's Antenatal Clinic recently after using the hospital's service to stop smoking.