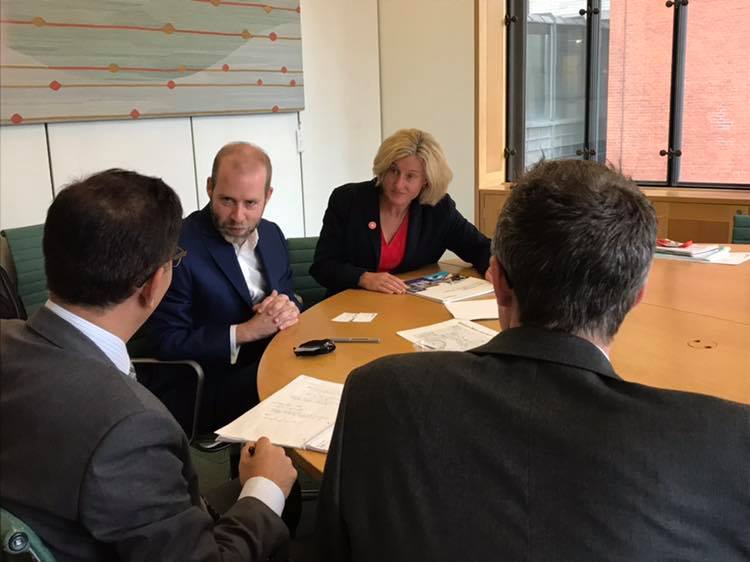 MPs Jonathan Reynolds and Ruth George have met with Highways England this week to ascertain the latest situation regarding the Longdendale Bypass.
Stalybridge and Hyde MP Reynolds said there is "real progress" being made and claims the long-overdue bypass is 'closer to being sorted than ever before'.
He reported after Monday's meeting - which was set up several months ago - that Highways England are formulating updated plans for the Mottram section of the project, which will be submitted next year ahead of work commencing in 2021.
However, the Hollingworth part of the bypass is still some way away from being finalised, but is "still on the agenda and work is still being done on it".
Reynolds said in a statement: "The Mottram part of the project, which the Government have approved, is currently having some technical details about the air quality impact worked out. Highways England have said we should receive these updated plans around the end of this year. The Development Consent Order (which is basically planning permission) would be submitted in 2020, and work should begin in 2021.
"This first leg represents an investment in Mottram of a quarter of a billion pounds - an unprecedented sum but what is needed after years of waiting. However, people will know that my position is and always will be that we need a full bypass around Mottram and Hollingworth."
He went on: "The Hollingworth leg of the project is even more expensive and in the past has struggled to gain favour by the civil servants who score these projects for a cost-benefit analysis. However, in line with how we got the Mottram side reinstated, we are making this about the whole transport corridor between Greater Manchester and South Yorkshire.
"Highways England are therefore looking at the nine key parts of the route between these two points, meaning the Hollingworth leg is being considered alongside potential additional measures like a new tunnel under the top of Woodhead. The main thing is it's still on the agenda and work is still being done on it, hopefully giving us a case we can then lobby the Government to approve.
"I would clearly prefer the whole thing getting built in one go, but the main thing is we are making real progress and closer to sorting this out than we've ever been before. I know there have been so many false dawns that people will only believe it when they can see shovels in the ground, but we are getting there."
High Peak MP George is also pleased with the progress being made, as the Highways England team continue to assess how the bypass will be incorporated into Tintwistle and Hollingworth.
"I'm pleased this will now be looked at as part of the whole strategic upgrade of the roads between Manchester and Sheffield," she said in a statement of her own.
"They're now looking at which segments of the road would be best to build first and I've asked that the cost savings of building the junction with the Mottram bypass at the same time be taken into account.
"It's at a much earlier stage of development to Mottram, where the final plans will be laid next year, but it's good to be able to push for longer-term decisions."
Plans to open a train station in Gamesley, which is now part of the Greater Manchester Strategic Plan, were also discussed.
"Highways England have also agreed to meet about the case for Gamesley station, as part of an overall package to improve journeys and congestion in Glossopdale," Ruth added.
"It's quite radical for a roads department, but I've been trying to get departments to work across boundaries. It's what we will all have to do to tackle air quality and climate change."
A spokesperson for Highways England said: "We have been monitoring and gathering more air quality data which will help with the scheme design. The gathering and analysis of the data has had an impact on our initial construction date of March 2020.
"It is vitally important we have this data in place before we can carry out a further consultation with the public. We will then submit a development consent order for permission to start construction work in winter 2021/22."