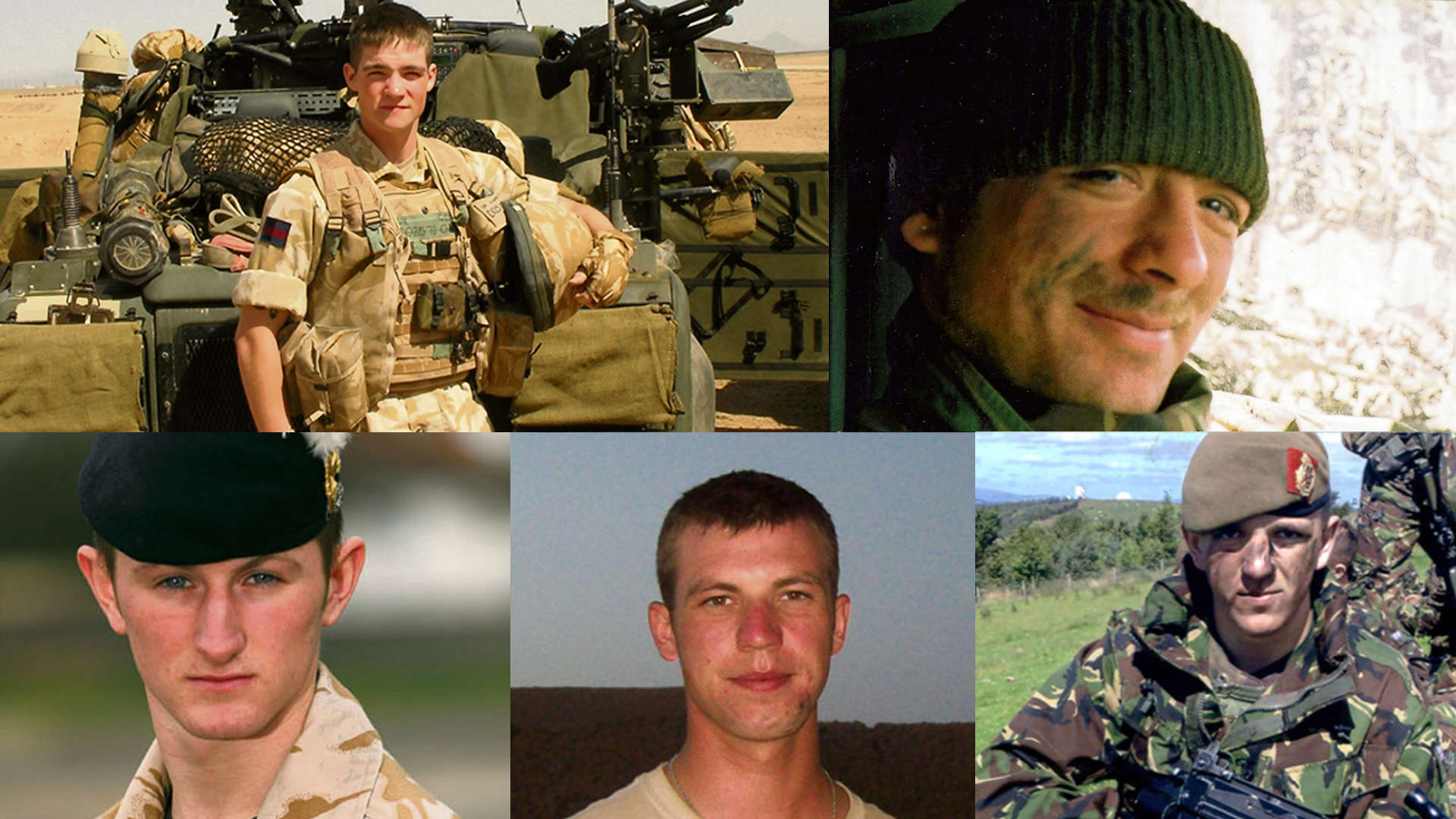 (clockwise from top left) Tony Downes, Andrew Breeze, Sean Dawson, Harvey Holmes and Joseph Etchells.
'They did not die in vain'. That's the message from Stalybridge and Hyde MP Jonathan Reynolds about five soldiers from Tameside who lost their lives in the Afghanistan conflict.
It comes after the Taliban marched into the capital Kabul and seized control last Sunday.
Lance Corporal Andrew Breeze, Kingsman Sean Dawson, Guardsman Neil 'Tony' Downes, Corporal Joseph Etchells and Corporal Harvey Holmes all lost their lives whilst serving with the armed forces in Afghanistan as the UK joined a NATO-led coalition to remove terrorist group Al-Qaeda from the country.
This week, the Labour MP expressed his sense of "anger and grief" at how the situation in the country had deteriorated so quickly.
He said: "We cannot overstate how significant this has been or how shocking it has been.
"I've got to be honest I do feel a sense of anger and grief because I don't think this has ended in a way which is worthy of the sacrifice that a lot of people in this country made in Afghanistan, particularly people from Tameside - constituents and family members who I know very well."
But whilst the Taliban have taken back the country, the MP said that the core mission - to expel Al-Qaeda - had been completed.
He said: "I don't agree with people who say their service was in vain because I would remind people that the mission our armed forces had in Afghanistan was to remove the Al-Qadea presence from Afghanistan which was being harboured by the Taliban regime and they did that.
"There has not been an attack from Al-Qadea from Afghanistan in the way that we saw with 9/11 since then.
"With the success of the military side of the mission they opened up the space for a political process to take place to stabilise the country. That space was created, but the strategy for it has not been successful.
"There has not been a rebuilding of Afghanistan in a way that has meant this could end in the way that it should have and I do feel a huge sense of grief and anger around that. I know that will be a cause of distress to many people in the borough, absolutely."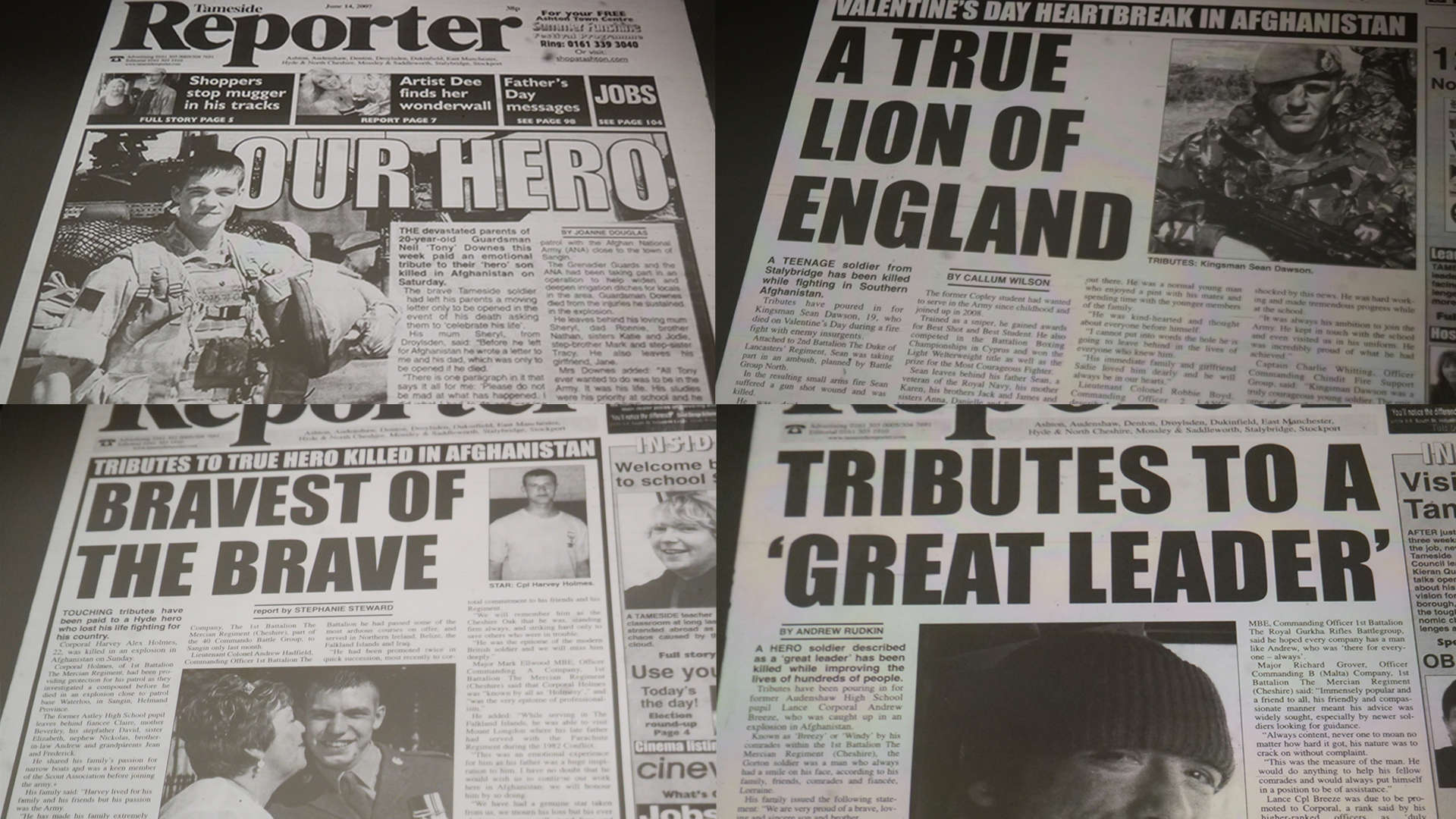 Some of the Reporter's coverage paying tribute to our Tameside heroes killed in Afghanistan
He had paid a visit to Helmand province, where many British troops were stationed, in 2011 and saw first hand the work that was carried out.
He said that with the images on the news of the Taliban marching across Afghanistan, it would be a hard time for veterans too.
"I wanted to say there are charities reaching out to veterans who may be in need of support because of the scenes they're witnessing.
"If any constituents of mine or anyone in the borough needs some help with that I'm here to offer direction and signpost them to whatever they require."
Tameside Council also paid tribute to the sacrifice made by those in the borough.
The Leader of the Council, Councillor Brenda Warrington, said: "I'm deeply saddened and concerned by the current events in Afghanistan, it is a humanitarian tragedy and my thoughts are with all the people who now find themselves in a very unsettled environment.
"Of course, my thoughts also turn to the five Tameside soldiers - Andrew Breeze, Sean Dawson, Tony Downes, Joseph Etchells and Harvey Holmes who sadly lost their lives while out in Afghanistan. They, like so many other service men and women, were committed to trying to help the people of Afghanistan build peace, harmony and a better future.
"Anyone who has served in Afghanistan and returned home can be assured Tameside Council will live up to the commitments it made when it signed the Armed Forces Covenant by offering them the support they have earned.
"I would encourage all veterans, wherever they served, to make their GPs aware of their time in the forces and to register with the Tameside Armed Services Community."
More information is available at www.TamesideASC.org.uk.
Read more from the Tameside Reporter
Click here for more of the latest news
Click here to read the latest edition of the paper online
Click here to find out where you can pick up a copy of the paper