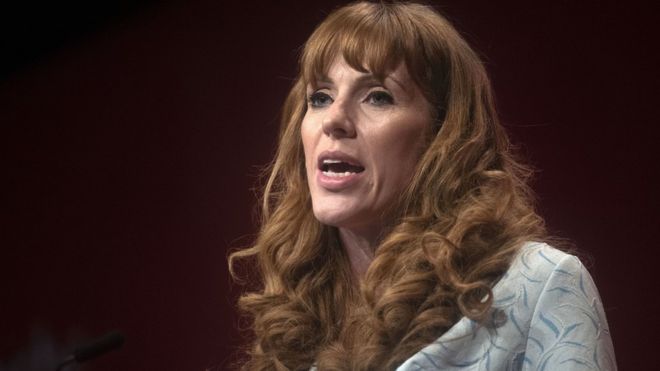 Ashton-under-Lyne MP Angela Rayner.
Ashton-under-Lyne MP Angela Rayner has been embroiled in a row after comments she made at an event during Labour's party conference.
The deputy leader has said she will not apologise for calling Boris Johnson "scum" until the prime minister withdraws past comments she described as homophobic, racist and misogynistic.
Ms Rayner, who represents Ashton, Droylsden and Failsworth in Parliament, reportedly called Conservative ministers "a bunch of scum" at an event during the conference in Brighton.
She said at the reception: "We cannot get any worse than a bunch of scum, homophobic, racist, misogynistic, absolute vile… banana republic, vile, nasty, Etonian… piece of scum" before adding that she had "held back a little".
The comments have attracted criticism from some Tory MPs, while Labour leader Sir Keir Starmer and other shadow cabinet ministers have said they would not have used the same terms.
Starmer told the BBC's Andrew Marr Show that "Angela and I take different approaches, and that's not language that I would use".
Meanwhile, Foreign Office minister James Cleverly said that voters would see a Conservative party that has had two female prime ministers - Margaret Thatcher and Theresa May - and the "most diverse government" and "they'll know she's talking crap".
But Rayner defended the remarks, saying they were made in the "street language" of her northern working-class roots to convey her "anger and frustration" at the government's actions.
"Anyone who leaves children hungry during a pandemic and can give billions of pounds to their mates on WhatsApp, I think that was pretty scummy," Ms Rayner told Sky News.
She said she would say sorry only if Mr Johnson apologised for past comments he made "that are homophobic, that are racist, that are misogynistic" - a reference to the PM's previous comments including comparing burka-wearing Muslim women to "letterboxes" and describing gay men as "tank-topped bum boys".
Ms Rayner was also defended by former shadow chancellor John McDonnell, who suggested she shouldn't have used the language she did but said "deep down, she's expressing the anger many of us feel" and that she is "human" and has "human emotions".