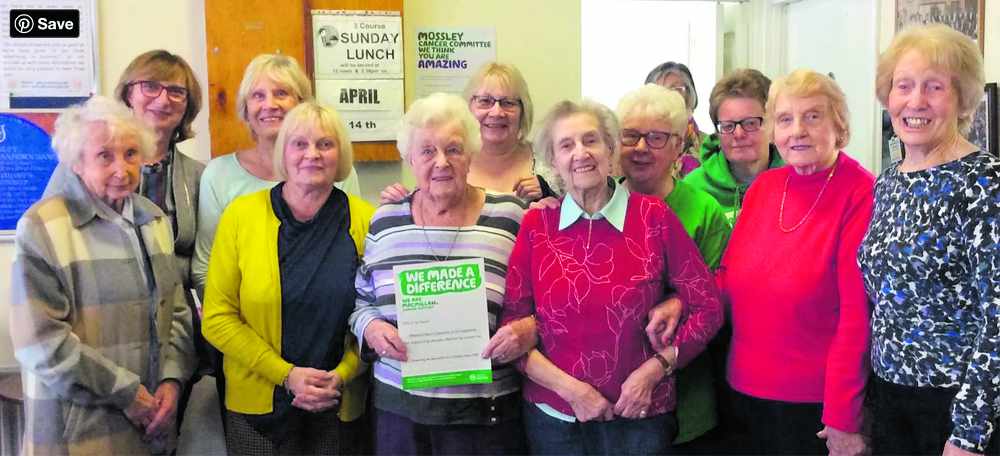 Mossley Cancer Committee has been far from idle through lockdown, with members clubbing together to not only raise money but also provide vital social interaction for those who need it most.
From selling handmade masks, chutneys, jams and more, the group has raised more than £2,500 - a whopping amount considering the majority of planned activities that were scheduled for this year had to be scrapped due to Covid.
"One of our members made a couple of masks and brought them to myself and another member and it blossomed from there," explained group secretary Margaret Brooks.
"They are available from myself and a few shops in Mossley who have kindly offered to sell them, such as Doodlepots and Teleman.
"The response has been absolutely brilliant and we intend to continue with them as I don't think this is going away any time soon. We will make masks as long as there is a need for them. Another member has made a number of jams and chutneys and they quickly sell out too!"
Due to lockdown restrictions, the group's usual coffee mornings - which are highlights of their social calendar - also had to be put on hold. But thanks to some quick thinking from members, the group continued to mark the occasion virtually.
"People have been incredibly supportive and everything we have raised goes into the pot to be distributed to our causes.
"Before lockdown we would meet for regular coffee mornings at Mossley Band Club and it is very much a social thing, not solely for money raising – where we meet up and chat.
"The majority of members are elderly (our oldest member is 98) and it's all about keeping in touch. It's one thing that has kept us all together," Margaret added.
The virtual mornings could be attended via Zoom, which went on for a whopping 18 weeks, with the group now boasting a virtual raffle too.
"We were set to turn 50 this year and had many efforts planned, such as a concert at George Lawson Hall, fashion shows, coffee days at Stamford Golf Club which obviously couldn't go ahead - so to get this response is incredible.
"We support the Macmillan Unit, Cancer Research UK, The Christie at Oldham, Macmillan, Marie Curie, Reuben's Retreat, Willow Wood, Doctor Kershaw's, Maggie's at both Oldham and The Christie and the Cecelia Unit at Wythenshawe.
"They have all benefitted from various amounts from us over the years."
If you'd be interested in supporting the group, call Margaret on 01457 834141.