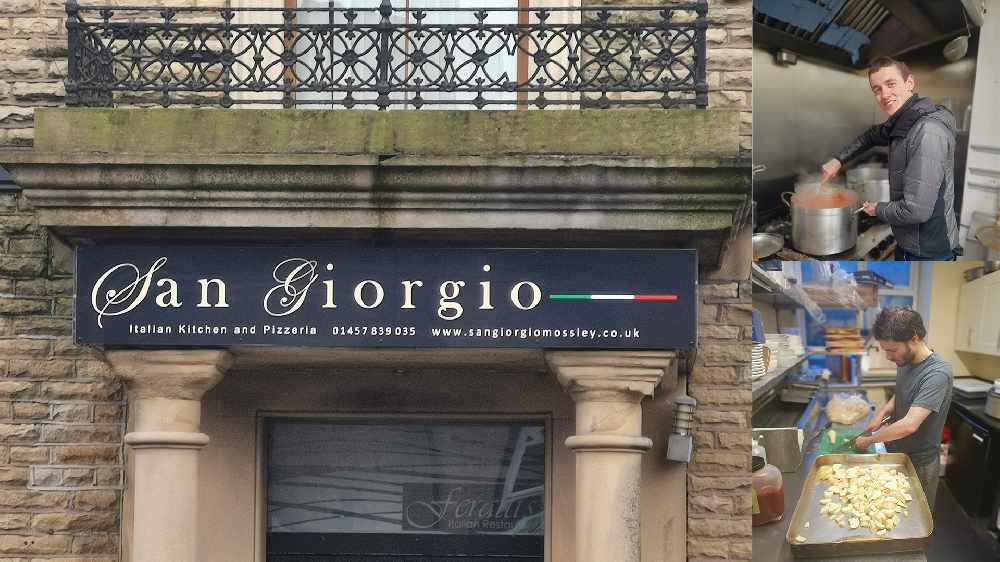 A community minded restaurant are doing all they can to help the vulnerable in Mossley during the Coronavirus Pandemic.
Anthony Owens and his team at San Giorgio restaurant have turned their kitchens into a production line and are making meals for around 70 elderly and vulnerable people at a time.
After cooking, the meals are decanted into disinfected Tupperware before being frozen and packed for delivery. They're then taken out to those most needy.
Owner Anthony says that he felt he had to do what he could to help those most in need.
"It started a few weeks ago when the prime minister said all vulnerable people need to stay in. We're in a privileged position as a restaurant in that we can make food en masse.
"The idea was to just make big pans of stew, curry, chilli or broth, box it up and put in sterile boxes. We seal them airtight and clingfilm it then Freeze it down."
The service has been helping the over 60's, those with a serious health condition and single parents who would otherwise struggle to get a nutritious, hot meal.
The entire operation is organised from a document on Anthony's phone, with those in needed calling him to ask for his help.
It's grown to be larger than he could ever have imagined.
"I was planning on just making a pan here and there" he says, "but its turned into such high demand now we're making it all on a Monday then Tuesday we drop off 4 meals per person. Then we do the same the week after.
"Because there's so many people subscribed, I should have anticipated that I suppose, I've asked the staff and they were all willing to help."
The meals are all free of charge and Anthony says this endeavour has nothing to do with his business. He said: "It's our generations war effort if you like and we need to help as much as possible. I was planning to finance through the business but stock cost so much I've had to set up donations.
"People were asking to drop off cash and gifts but cash needs to be in a proper account and it defeats the objective of keeping social distance."
Since opening the fund to donations people have already donated £1,300 to help him carry on his rounds. Anthony estimates that he's already spent £700 of his own money on stock to make the meals.
Hard at work in the kitchens, they're making around 40 gallons of curry and other meals at one time, with plenty of support from people online and in the community. "All the messages of support and it's been so pleasant to see" he said.
"The community response has been amazing and I'm sure when its over, even though it's not to do with business, they'll support the business more than ever."
The charitable venture has taken it's toll on San Giorgio, with the restaurant forcing to close due to the governments new rules.
"It's really hard financially, I'm not sure how long the restaurant will be able to carry on for. Our takings have dropped overnight to about 20 per cent.
"We're still trying to do takeaway and delivery but, as it stands, we wont survive. I'll have to negotiate with the landlord and government that will help as well."
Anyone who would like to help Anthony and the team continue their vital work is asked to head to the San Giorgio Facebook page where a donation link is available, along with updates on the team and their deliveries.