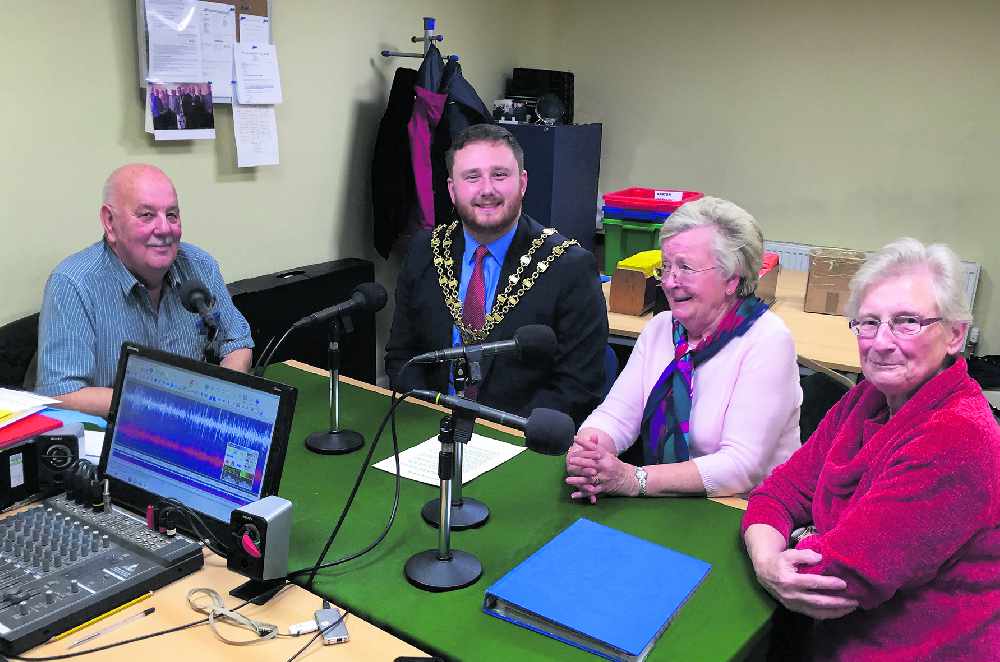 The Mayor of Tameside Cllr Leigh Drennan has shared his year so far with the Tameside Talking Newspaper.
Tameside's Talking Newspapers studio is based inside Dukinfield Town Hall and run entirely by volunteers.
The Tameside Talking Newspaper for the Blind Association issue an audio version of the local news every week to more than 120 visually impaired residents in Tameside.
The recordings are based on the news in the Tameside Reporter but volunteers also conduct special interviews with numerous community leaders.
Talking Newspaper's Dukinfield studio always invite the Civic Mayor into their studios to be interviewed about their experiences half way through their civic year.
In a very informal chat Cllr Leigh Drennan told listeners how he had enjoyed every civic engagement he had attended so far.
He also revealed how, in his school days, he had suffered from dyslexia and dyspraxia but had overcome these difficulties to eventually be elected to Tameside Council in 2012 and to rise to the position of Civic Mayor in 2019.
If you know of anyone with sight problems who you think would be interested in receiving this service, please contact Tameside Council's visual impairment team on (0161) 342 2575.
• Cllr Leigh Drennan will be rolling out the red carpet for charity on Saturday, February 22, when he hosts the Civic Mayor of Tameside's annual ball.
The event – which aptly has a red-carpet theme – takes place at Dukinfield Town Hall.
All proceeds will be donated to the Mayor's Charity Appeal Fund which supports the LGBT Foundation; Believe and Achieve Trust; Tameside, Oldham and Glossop MIND; Millstream Animal Shelter and Tameside 4 Good.
The Civic Mayor said: "Come to the charity ball and you'll be doing your bit to help some very good causes by having a very good time. Surely that's an unbeatable combination?
"Everyone's welcome. I hope it's a sell-out night and we make lots of money for my charity appeal."
The evening starts with a drinks and canapes reception at 6.30pm. The formal dinner is at 7pm, followed by dancing and entertainment from 'Britain's Got Talent' semi-finalist Danny Beard.
Tables for eight people are available at a cost of £320. Individual tickets are £40 each. Dress is dinner jacket or lounge suit.
To make a reservation please call 0161 342 3087.
Main image:
IN CONVERSATION: The Mayor of Tameside Cllr Leigh Drennan explains how he overcame the problems of dyslexia to become a local councillor to The Talking Newspapers volunteers John Howard, Margaret Beaumont and Sylvia Cooke - and their 120 plus listeners.