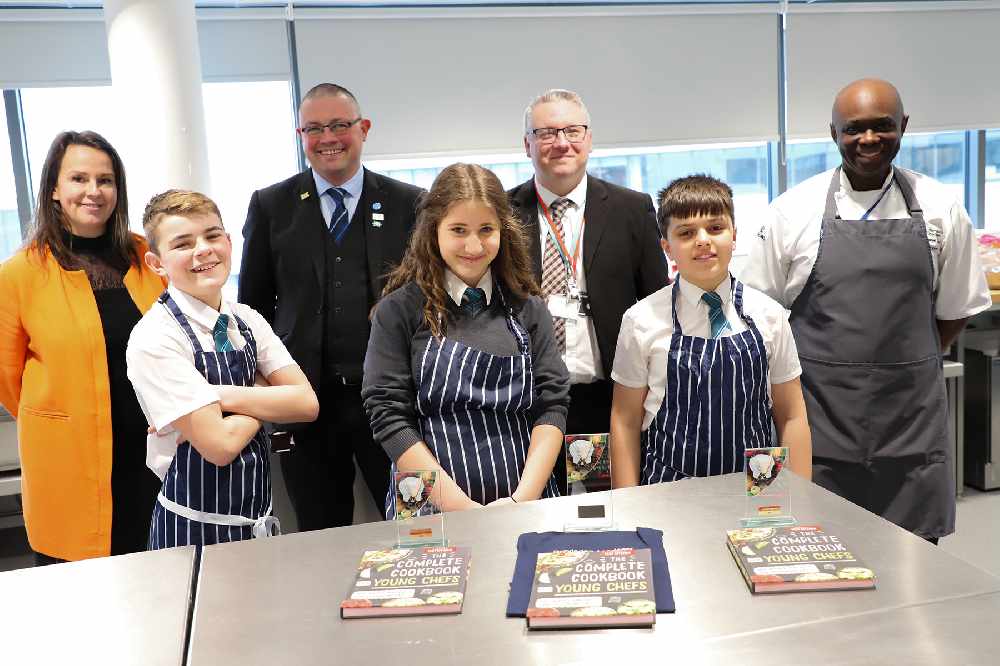 Three young chefs from Droylsden Academy battled it out in the kitchen last week when the school held its annual Masterchef final. 
More than 30 students from Years 7-10 began the competition, with three Year 8 students making the final round via three heats.
Daniel Dadashzadeh, Alfie Haggerty and Elisa Morreale took part in the grand final at Tameside College's state-of-the-art kitchens at Tameside One, where their brief was to produce a two-course meal which had a personal meaning for them.
Daniel made a starter of tomato stuffed with meat, followed by Halušky with tomato sauce - a Slovak dish with noodles and dumplings - the last dish his grandfather made before his passing.
Alfie made cottage pie with seasonal vegetables and a dessert of apple crumble with cream, his grandmother's recipe made with apples from her tree.
And Elisa Morreale delved into her Italian heritage to make bruschetta, followed by cavatelli al sugo, a freshly-made pasta with salami and sausage ragu, which her grandmother taught her to make in Italy.
The young proteges were judged on cleanliness, presentation, flavour, process and creativity.
After a tightly fought, two-hour contest, it was Elisa who impressed the judges the most to be crowned Droylsden Academy Masterchef Champion 2020. All three finalists were given a trophy and a cookbook, with Elisa also awarded a commemorative apron, free lunches at Bramble's Bakery in Audenshaw and some potential experience in a professional kitchen.
Droylsden Academy's partnership with Tameside College is due to continue in May when 16 students will run the Tameside One restaurant for one night, with support from the colleges Level 2 students.
Eight students will cook a five-course meal for paying guests, while the other eight will take over the front-of-house.
Images by Nigel Wood