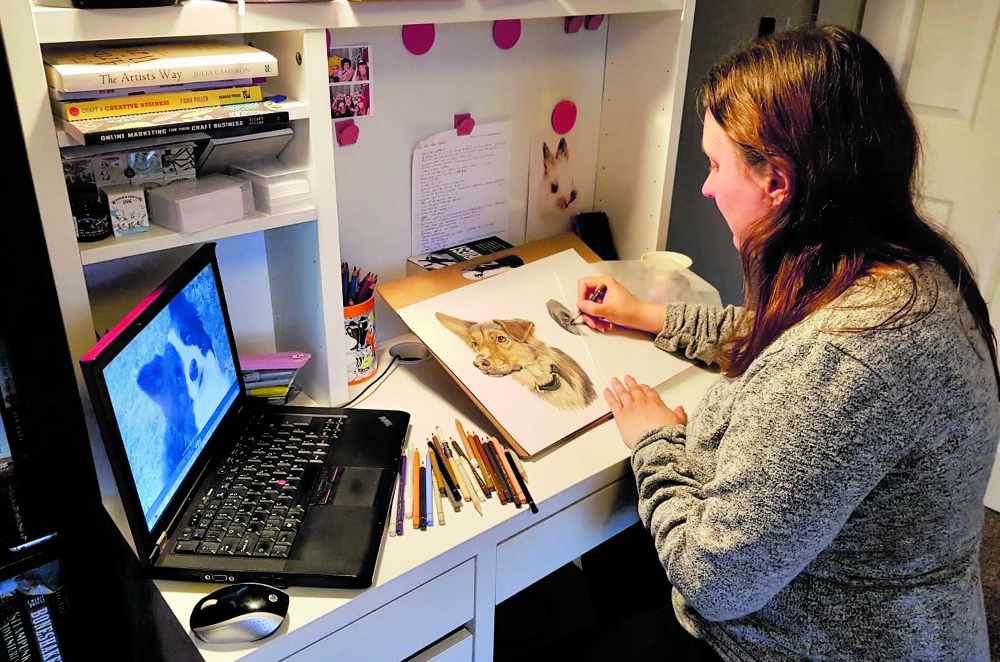 An artist from Dukinfield has hit the big time after one of her pieces was shared by a TV personality.
Megan Elizabeth (pictured), who draws incredibly detailed pictures of people's pets, sent a drawing of the late sheepdog Bill to his owner Amanda Owen.
Amanda is better known as the 'Yorkshire Shepherdess' thanks to her writing and TV career which has seen her author several books and appear in three series of the popular channel 5 show 'Our Yorkshire Farm.'
She shared Megan's drawing online, which attracted a raft of praise and commissions for the artist.
Megan explained: "I've been a huge fan of Amanda Owen and the Yorkshire Shepherdess. I've read the books and love the TV show, I think what she and the family have done is amazing.
"I saw on her social media a few months ago and their elderly sheepdog Bill, who was 15 at the time, had passed away, which was really sad.
"I had a bit of time between commissions so I sat down, did a little portrait of Bill and then posted it off to them."
Megan says she never expected such a great response to the piece, which was shared on social media by Amanda.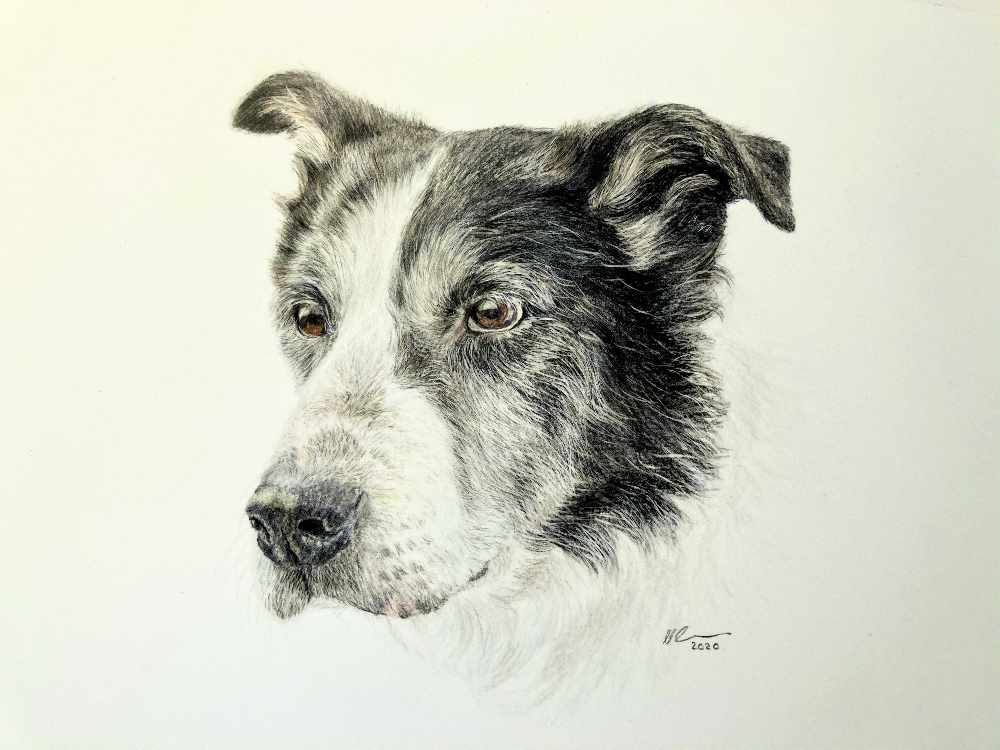 A portrait of Amanda Owen's dog Bill
It led to a raft of commissions which has seen her booked up into the new year.
It's a relatively new venture for Megan, who has been a lifelong lover of drawing, but only went full-time when the pandemic struck.
She lost her job as a horse riding instructor and decided to finally take the plunge after toying with the idea for years.
"I've always enjoyed art," said Megan. "When I was a kid I was always drawing, sketching and painting.
"Then about 18 months ago a friend of mine started sharing some coloured pencil drawings. I thought that looks cool, I'd like a go at that so I started doing a few little ones for friends and family, talking about how nice it would be to start doing it as a business.
"I wanted to but just wasn't brave enough to take that step. I was working as a horse riding instructor at the time where I worked with children that weren't in everyday schooling.
"I loved my job but, obviously as we all know, in March the lockdown happened and I unfortunately lost that job.
"Talking about it with my partner he suggested as I'd wanted to do art as a business, now was my chance, I won't get another one quite like it."
Megan's art has gone from strength to strength and it culminated earlier this year when she won the prestigious Donkadoodle art competition, run by animal charity Brooke Action for Working Horses and Donkeys.
She entered an original drawing into the competition, which always attracts submissions from big names in the art world, and much to her surprise was picked as the winner!
Her pencil piece (pictured below), entitled 'Best of Friends', is now for sale on the charity's website with all proceeds helping to fund their work.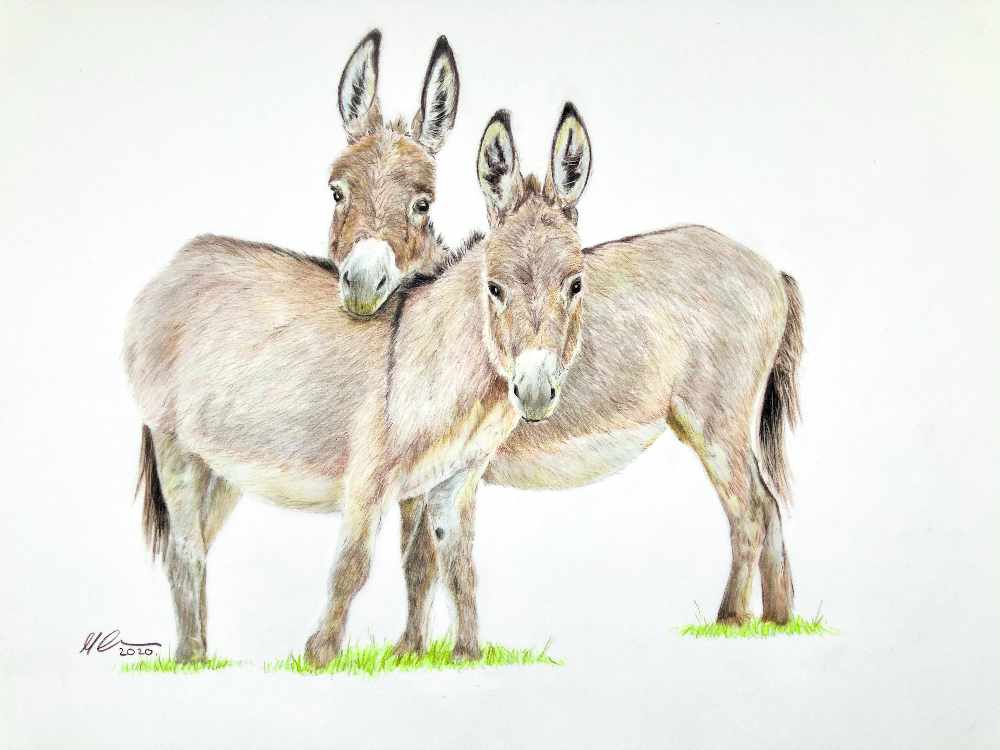 "They're a charity I've supported for a long time," said Megan.
"I drew a pair of very cute little donkeys for them and called it 'Best of Friends'. I sent it in and didn't think very much about it.
"They messaged me and said that mine had been shortlisted and I was like 'woah' - I couldn't believe it.
"I put it on my social media and said I'd love people to vote for me - again I didn't think anyone would.
"About a week after that they messaged me to say it had won the adult section and could I send them the original so they can scan it in.
"I couldn't believe it and I was so pleased. I've stayed in touch with them and I actually sell prints and mugs from that drawing which raises money for them.
"I worked in the charity sector for 16 years prior to being a horse riding instructor and it's something I always want to get involved with."
Megan describes her style as 'sort-of-realistic portraits' done in coloured pencil and pastel colours that 'try to capture the spirit of the animal.'
Working from a desk in her bedroom, she spends between 20 and 30 hours on each commission, which is then securely packaged and sent off to satisfied customers.
Megan's work can be seen online at www.megan-art.com