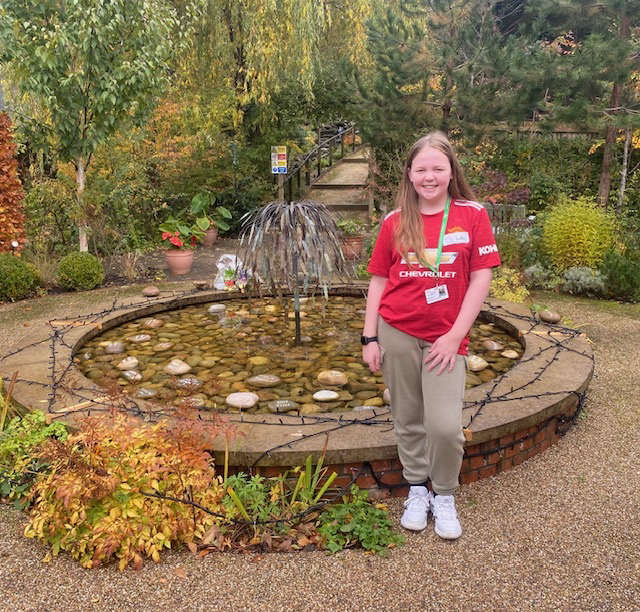 A teenager from Dukinfield is swimming the equivalent of five marathons and cycling 73 miles – all before the anniversary of her grandma's death – to raise funds for Willow Wood Hospice. 
Mary McClure died in the Ashton hospice on May 5, 2003, from breast cancer.
Although Leila McClure didn't get to meet her grandma, the memories shared with her throughout her life made it feel that she had a deep understanding and connection with her.
Leila's family have been supporting the Hospice for many years and have been volunteering at events which Leila has come along to since she was just two years old.
Now Leila is 13 years old and able to choose how she can support the Hospice by herself, she has taken on the huge challenge, which she intends to finish by May 5 2024 - the 20th anniversary of her grandmother's death.
Leila, who goes to All Saints Catholic College, said: "Unfortunately, I never met my grandma as she died before I was born, however, I have been told how much of an amazing person she was and how well she was cared for in our amazing Hospice.
"This year is the 20th anniversary since she passed away and she would have been celebrating her 73rd birthday on New Year's Eve. To mark the 20 years, I wanted to do something significant to recognise her and raise some money along the way. I plan to combine two passions of mine – cycling and swimming.
"As she would have been 73 and died on the fifth month of the year, I am doing a 73-mile bike ride (to recognise her 73rd birthday) and swim the equivalent of five marathons (as she died on the fifth day of the fifth month of the year).
READ MORE: https://www.questmedianetwork.co.uk/news/tameside-reporter/local-mp-visits-willow-wood-hospice/
"The swimming will be the most difficult challenge as that equates to 131 miles, so 8,433 lengths in total, but I am determined to do it and raise much-needed funds for a great cause, given how important it is to the local community.
"I am up for the challenge. Any help you can give me along the way by sponsoring me with whatever you can would be really appreciated."
Leila – who is a member of Dukinfield Marlins Swimming Club – usually swims for around two hours, three times per week, but she is now swimming most days to ensure she completes her challenge. She has already finished her first marathon – so it's one down, four to go!
Her initial target of £500 has already been smashed and Leila is thrilled with the support she has had so far.
Lisa Buckley, Community Fundraiser at Willow Wood Hospice, commented: "We are truly grateful for the incredible determination and heart that Leila is showing to support the Hospice.
"Her dedication is a shining example of the impact one individual can have when they set their mind to making a difference.
"We are thrilled to have such an inspirational champion like Leila helping us to continue providing vital care and support to those in need in our community."
Anyone who wishes to support Leila to help provide other families with the care and support her grandma received at the Hospice can make a donation on her JustGiving page here: https://www.justgiving.com/page/leila-mcclure-1696426430085