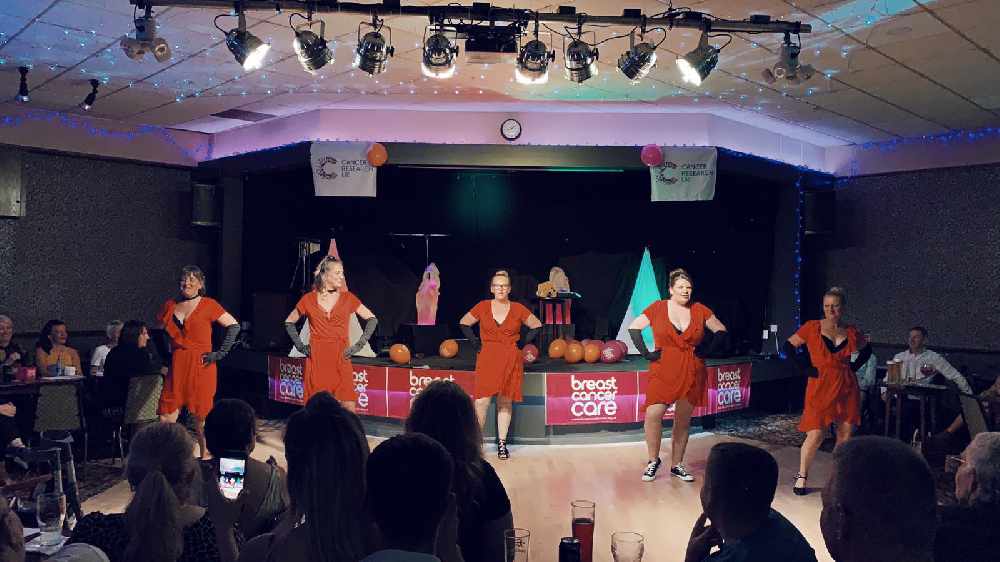 Some people run marathons, others climb mountains in their pursuits to raise money for charity, but five women have taken the path less trodden in their fundraising quest.
Joanne Harrison, Wendy Quigley, Joanne Gibson, Hayley Howard and Samantha Ogden all stripped down and bared all in a 'Full Monty' themed night on Friday [30 August].
The group have already raised over £1,300 for the Christie, a charity that is close to all of their hearts in one way or another.
They got their kit off for the charity after two and a half months of practicing steps and routines in the safety of their own homes.
The John Street Working Men's Club stage was the location for their performance - which they admit they were nervous about before going on.
It was the brainchild of Joanne Gibson, who after watching the Full Monty reality TV show on television last year, decided she wanted to do something similar for charity. A group of 15 friends were recruited, but that quickly shrunk down to five as the reality of the performance became clear. Jo explained: "When I watched that it got to my heart and meant things to me.
"My sister, Judith, had Leukemia last year and my dad passed away with cancer.
"It's not like climbing a mountain or going for a walk, it's something different. We're all extroverts."
The group were all delighted with the support they'd received from the Droylsden community.
There had only beee one full run through of the performance before the show on the night and Wendy said she was more worried about getting the moves right than taking her clothes off in front of a packed house. "It was getting the dance right that was the more nervous part for me" she explained. "Getting my steps right and doing it in the right sequence."
As well as ticket sales, the group also held a raffle, with many local Droylsden businesses supplying prizes to be won. Jo Harrison explained: "It was one hot sunny day and we went in every shop. We had the letter from Christies and explained we were doing the dance and is it possible they'd be able to donate anything.
"We got lots of different things from keys to be cut to a marble lamp, we've got every single hair and nails in Droylsden, a £100 tattoo."
Despite the performance being over, the group say this is only the beginning of their fundraising journey. Fresh from their Full Monty performance they say their next plan is to recreate the 'Calendar Girls' with their own charity calendar. Jo Harrison said: "We've planned it again on the piece of paper - every single month who's roughly going to do that month and what picture its going to be.
"For instance for October we're thinking why not have pumpkins?"
Being only five strong the ladies are looking for more volunteers to model alongside them for the calendar. Any interested parties should contact the Reporter who will put them in contact with the ladies.