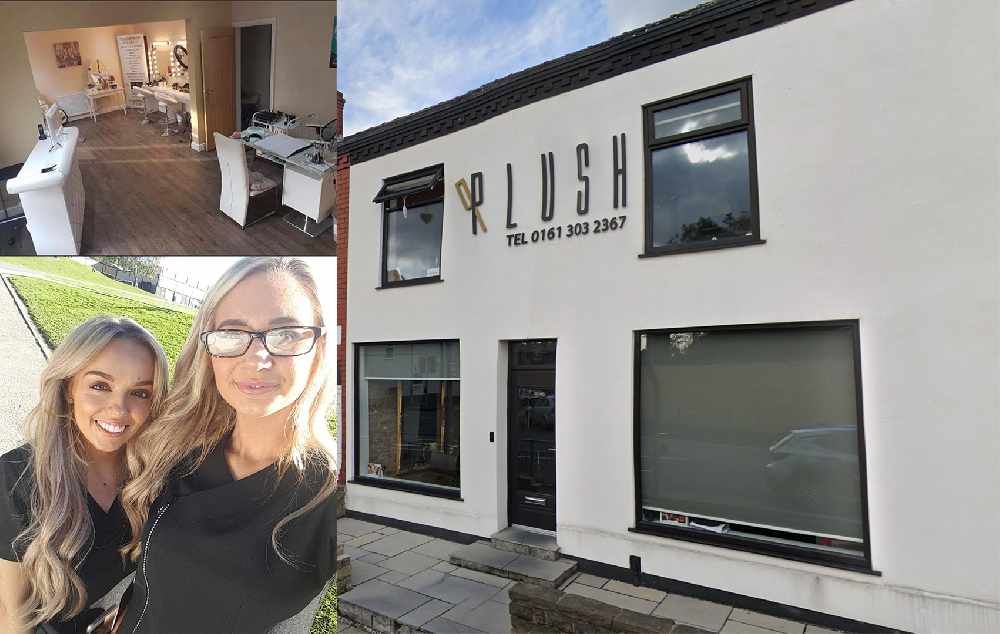 As thousands of other businesses prepare to open their doors for the first time in over three months tomorrow [Saturday 4 July], a sector of the beauty industry say they're feeling left behind by central government.
Beauty salons providing treatments such as brows, lashes and nails, have still been given no indication on when they can resume service, despite others such as salons and hairdressers being able to reopen.
Nowhere is this more apparent than in Dukinfield, where a hairdresser and beauty studio share a building. The salon can open from 4 July, but the beauticians cannot
It's a decision that has caused significant stress and confusion for Stephanie Ivell, 32 and her business partner Abbey Arminger, 25. Together they run Stephanie's Studio on Birch Lane in Dukinfield. They've been providing beauty treatments to the public for the last 12 years and say this lockdown has been the longest amount of time they've ever gone without seeing clients.
Their neighbours can open from Saturday, but Stephanie and Abbey have been told they have to stay shut, with no indication on when they can resume trading.
"I don't understand the logic behind it" says Steph. "We're being left until last to see how it goes."
The pair have invested heavily in screens, protective equipment and changing the layout of the studio in preparation of welcoming back customers safely.
"We feel like we've been ready for weeks" they said.
"We've got face visors for us, gloves and signs all around the salon for sanitising. We've taken away towels are replaced them with disposables."
Both women say they're very disappointed that salons will be able to open while beauty studios can't, saying they work in a very similar manner: "The guidelines for us are exactly the same.
"We feel like we've been ready for weeks.
"We're doing what we feel best because we're getting nothing from the government at all."
The pair were also very critical of the politicians laughing tone when discussing the issue in parliament last week.
For both Stephanie and Abbey, they can't understand why they're not allowed to open following the same guides as everyone else: "They may say its face to face but we are wearing visors and have a perspex screen between us and the client. It's at least a meter between them and us anyway.
"We can't understand why pubs can open but we can't?
"We're disinfecting between each client - are people going to follow those rules after a drink?
"We've planned to do one in and one out with limited staff in the shop. We've completely rearranged the salon to comply with social distancing - we've taken every precaution!
"We've got friends in the industry who are talking about doing temperature tests which they wont be doing at the pub."
Stephanie's Studio, along with others in the beauty industry, have been hard at work emailing their local MP's and the council to plead their case and unions are also getting involved.
Both say it's been a strange feeling not having seen their clients for 3 months. "I've not had a real day off in 12 years" said Stephanie. "The most we've ever been shut is a week when I got married and we've never shut."
The pair say that they fear for others in their position, who despite the economic measures introduced by the government could fail to reopen.
Despite such negativity, both ladies have been keeping busy creating and delivering products that they've sold online.
"We're down, but we're not out" said a defiant Stephanie.
"We've been trying to keep as much interaction with our customers as possible. We've built up such a good base over 12 years that we're like a family. We don't to lose contact.
"We're not just beauticians, some of these people know more about us than our other halves do!"
Abbey has been posting makeup tutorials on Facebook so people can still try out new looks from the comfort of their own home, while Stephanie has been hand making eyelash kits for home delivery.
"We've also been making smells that have gone down amazing" said Stephanie.
"We deliver them to our customers - diffusers, room sprays, carpet sprinkles - just using popular fragrances to keep us busy.
"We're used to working every day so we've struggled. It's not been making us loads of money its to keep us busy."
To support the pair while their business remains closed, visit their Facebook page "Stephanies Studio Dukinfield".
The pair are also offering 10% off their products and free local delivery if you quote Tameside Reporter when ordering.