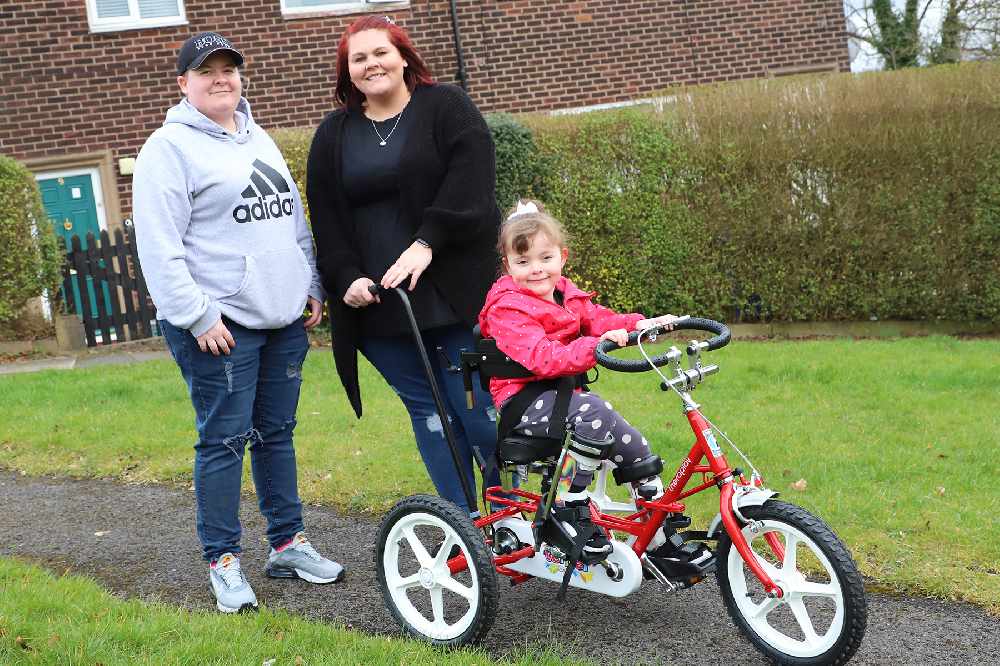 A little girl from Stalybridge is up and about with her friends on her new bike for the first time, thanks to the kindness of the community.
Four-year-old Layla Kinder last appeared in the Tameside Reporter in November 2020, when we were appealing for people to help realise her dream of getting an adaptable cycle.
Thanks to the public's donations and a helping hand from local charity The Believe and Achieve Trust, Layla now has an adaptable bike to call her own, meaning she can take part in cycling club at school for the first time.
It's been an emotional journey for her mums Gemma and Emma who said they were moved to tears when the bike finally arrived.
Gemma explained: "Last week she participated in her first cycling club in school. She absolutely loved it! She just got on her bike and all her friends rallied around her and had races - she's taken to it like a duck to water.
"I was just crying when we had it delivered and she pedalled on her own for the first time I was just like, wow - she's actually riding a bike."
It's an experience the pair thought Layla might never get to enjoy, but thanks to the community rallying round, the family were able to give her the experience she dreamed of.
The bike, which costs around £3,000, will last her until her eighth birthday, at which time it will go back to the company that sells them allowing Layla to move onto a bigger model, continuing until adulthood, meaning she'll always have a bike.
"We were in the park the other day for three hours just going in circles," said Gemma.
"The look on her face is just amazing. The other children at school in the playground have trikes as well so when they're on theirs playing she can just go on hers as well."
The final push they needed to reach their total came via Alison at the Believe and Achieve Trust.
"She's been amazing," said Gemma. "She gave us a massive donation and we actually met up with her in the park last weekend when we got the bike. She was so over the moon to see Layla and how happy she was.
"She brought along her little boy who actually raised money for Layla. Every time he got his spends for doing things around the house he put half away for Layla. Every time he did something he had a charity bucket to collect for Layla's bike. He's just seven years old. Everyone has been involved and it's been amazing."
Thanks to the adaptable bike, Layla can now have weekly lessons with her school friends and is able to take part in all activities.
Read more from the Tameside Reporter
Click here for more of the latest news
Click here to read the latest edition of the paper online
Click here to find out where you can pick up a copy of the paper