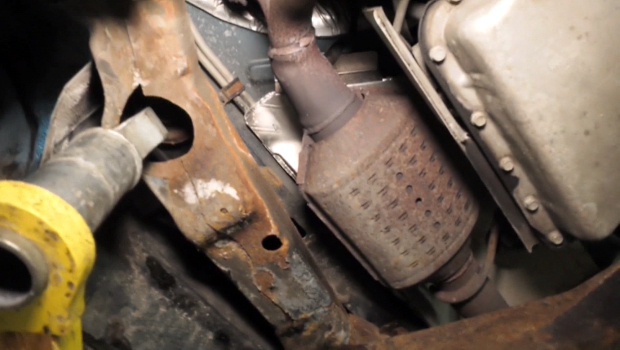 An inspector has warned catalytic converter thieves that the net is closing on them after a positive intelligence operation.
The crime, which brazen criminals have been committing in broad daylight in just minutes, has risen in line with the price of scrap metal.
Catalytic converters, located on the exhaust system, use precious and rare metals to reduce toxic gases and pollutants from car emissions.
Due to their value, criminals have been jacking up cars and cutting them off, before weighing them in at scrap metal merchants.
Tameside's Chief Inspector of Neighbourhoods Lee Broadstock said: "It's something that has reared its head in Tameside, off and on in peaks and troughs, through the last twelve months during Covid and its linked to the price of scrap metals - in particular on catalytic converters.
"That part of the vehicle is really valuable and as it goes up that is when we see spikes in catalytic converter thefts.
"What we've done over the past week is try to get to the crux of where the catalytic converters end up and that is at scrap metal merchants. My neighbourhood team here have done a fantastic piece of work, they've been visiting scrap metal dealers all across Tameside and over the past week they've recovered 13 catalytic converters that were stolen from across Tameside."
Insp Broadstock says that intelligence from the community allowed them to track down the culprits and stem the tide of the thefts.
There are steps that can be taken to help protect your vehicle from catalytic converter theft. These include parking in well-lit spaces and on visible car parks, park where your car can be seen CCTV and close to main roads.
Insp Broadstock explained: "What we've seen on CCTV is that offences happen really quickly. They're happening in car parks that are just off the beaten track, off roads where there is limited CCTV.
"Always try to be mindful, it may be that you have to go out of your way a little bit more but park your car in a well-lit area where people can see what's going on with your vehicle, there's CCTV and it's a registered car park.
"Criminals don't want to do it in public, they do it in the back streets, off the main road and without being seen. They won't want to do it with people watching and recording them so try to make yourself as aware as possible."
He also encouraged anyone that suspects scrap metal merchants of accepting stolen catalytic converters to come forward and share that with police.
"if you think there's a dodgy garage or a dodgy scrap metal dealer that you know is up to know good let us know because then we can use warrants and investigations to find those stolen vehicles and catalytic converters.
"It's all about catching those bad guys who are making people suffer in Tameside and for the first time in a long time we're starting to get somewhere."