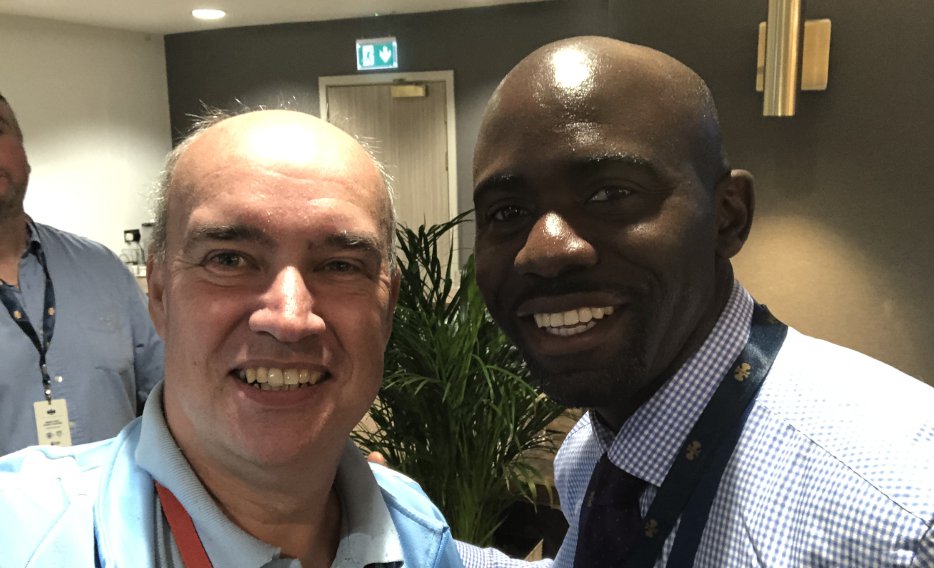 In this week's column, Tameside Radio presenter Ian Cheeseman discusses his chats with Eddie McGinnis's son Ryan, Syd Little and former Premier League footballer Fabrice Muamba.
I think it's fair to say that we have never appreciated the dedication and hard work of those who work in the medical profession more than we do now.
Someone I love spent time in hospital in January, just before this pandemic started. I witnessed, close at hand, the selfless caring profession and I never tired of telling everyone I interacted with how much I appreciated their efforts.
When I get good service in a restaurant I'm exactly the same, much to the annoyance of the people I'm with. I often make a point of going to thank people personally.
I know that the traditional way to thank people is to leave a tip, or in the times we are in, clapping on the doorstep. There's a place for those ways of expressing your gratitude, but I've always preferred a more personal touch.
My guests on my Tameside Radio shows this week have even more reason than I to be thankful for the NHS.
Ryan McGinnis had already been grateful for saving his dad's life back in 2003. At the age of 62, his father underwent a heart transplant at Papworth Hospital in Cambridge and went on to make a full recovery. Don't you just wonder at what medical science is capable of these days?
Ryan's dad is someone who you will have heard of. Eddie McGinnis was better known as Eddie Large, one half of the comedy duo Little and Large who attracted huge TV audiences throughout the 1980s. Millions would tune in to their shows every week.
Right in the middle of the terrible crisis the world is going through, back in March, Eddie contracted Covid-19 and on April 2 passed away.
On Saturday afternoon from 1pm, Eddie's son Ryan joins me to pay tribute to his father and share some of his personal stories from behind the scenes. I'll also be chatting to Syd Little about their career and friendship.
As you can imagine, both spoke with great sadness about the loss of Eddie, but they also spoke with humour about the happy times they shared. I know it will be an uplifting hour of memories and stories.
Following on at 2pm, in my series of sporting life stories, I have chatted to the footballer who 'died' on the pitch at White Hart Lane in 2012 after suffering a cardiac arrest.
His heart stopped beating for 78 minutes while paramedics tirelessly fought to bring him back from the brink. Fabrice Muamba (pictured right with Ian) had been playing for Bolton Wanderers in a Premier League game and happily, despite spending time in a coma, made a full recovery though he never played professional football again.
It's an amazing story as well as being another example of the wonders of modern medical science. Fabrice is fascinating. I've met him a couple of times since that dramatic day and he's extremely positive, has a zest for life and never stops smiling. I'd call him an inspiration.
Don't miss out this Saturday from 1-3pm when "Ian Cheeseman talks… to Ryan McGinnis, Syd Little and Fabrice Muamba" on Tameside Radio 103.6FM or via the App which is free to download.