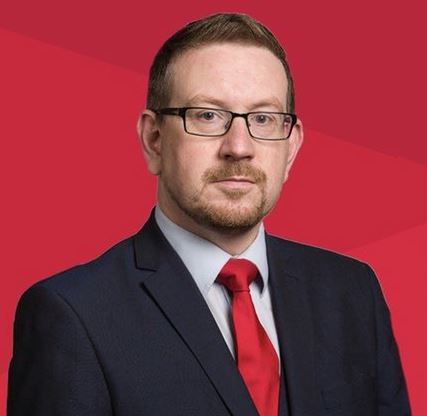 Denton MP Andrew Gwynne has given an honest account of his time in the Shadow Cabinet while confirming he is standing down from the Labour Party's frontbench.
Mr Gwynne congratulated Sir Keir Starmer and fellow Tameside MP Angela Rayner on their election as Labour's new leader and deputy leader respectively on Saturday, having nominated the pair and supported their campaigns.
He has since written a letter to Mr Starmer, which he published on Twitter on Monday morning, with the message: "It's time for change. Now let's get that Labour government we so desperately need."
It's time for change. Now let's get that @UKLabour Government we so desperately need. Here's the letter I sent @Keir_Starmer on Saturday. pic.twitter.com/OSUI21h5Bl

— Andrew Gwynne MP (@GwynneMP) April 6, 2020
In the detailed letter, Mr Gwynne - who has served the Denton and Reddish constituency since 2005 - reflects on his mixed experiences serving the party on the frontbench as Shadow Communities and Local Government Secretary and co-National Campaign Coordinator since 2017.
In it, he says he felt his role as NCC - which he described as "frankly torturous" - was "almost completely sidelined" around the time of the general election last December, and he felt "tired and bruised" by his election experiences.
Mr Gwynne also adds that he wanted to step down in the immediate aftermath but had been talking into staying on in the interim.
He also suggested he has lost his "political drive" but feels Mr Starmer's election is the first step in the process to getting it back.
Here's Mr Gwynne's letter in full, which was sent to Mr Starmer on Saturday:
"Dear Keir. Massive congratulations on your win, and what a margin! You've made my day. You now have the clearest mandate to re-shape the party and to put us on the path to winning again. I'm proud to have nominated you and campaigned for you.
"When we touched base early in the new year to talk about nominations, I offered you my support without precondition or request. I just wanted you to win.
"My experiences on the frontbench have been a mixed bag. I've thoroughly enjoyed my role as Labour's Communities and Local Government spokesperson. The LGA Labour Group and my whole shadow team have been a delight to work with, and I genuinely value the relationships I now have across the local government sector.
"If I was to offer any early advice to you as leader, it would be to look at what Labour IS delivering in power in parts of the country, in local government. There's some truly innovative and transformative work taking place at local level which is worth championing and adopting nationally.
"The second part of my frontbench role - as co-National Campaign Coordinator - was frankly torturous. Indeed, my role as NCC was almost completely sidelined at the time of the 2019 General Election. That cannot be allowed to ever happen again.
"Whoever you appoint to be NCC must be given your full authority to do the job, and do it properly - acting on the best advice and election support the party can obtain.
"At that chat in January, I said that I felt tired and bruised by my 2019 General Election experiences. I had wanted to step down in the immediate aftermath but had been talked into carrying on during the 'interregnum'. I know I'll get my 'political drive' back sometime, and your win is the first step in that process.
"You have my assurances that I will give you my fullest support at all times from the backbenches, and in the very many difficult, but ultimately necessary, decisions you'll have to take in order to rebuild the party back into a fighting force to win.
"It's been a pleasure working with you in the previous Shadow Cabinet. Again, my biggest congratulations on your election as leader. Do us all proud! Best wishes, Andrew."
Reacting to Mr Gwynne's announcement, local councillors have tweeted their support for the Denton MP:
For as long as I've known @GwynneMP he's been a champion of his community, his party & of local government, where he excelled as the Shadow Sec. I'm immensely proud to call him a friend as well as my MP.
I'm sure this isn't the last we've seen of him in a prominent role. https://t.co/KenVk6Vm4u

— Cllr Jack Naylor (@NaylorCllr) April 6, 2020
My unbounded respect for this man, my friend, remains absolute. Andrew is a true, honest and altruistic servant of the Labour Party, & his home constituency. Let me say as Chair, you will always have the the unwavering support of the whole CLP in everything you do #ThankYouAndrew https://t.co/dGBd4F1xQI

— Councillor Oliver Ryan (@OliverRyan95) April 6, 2020