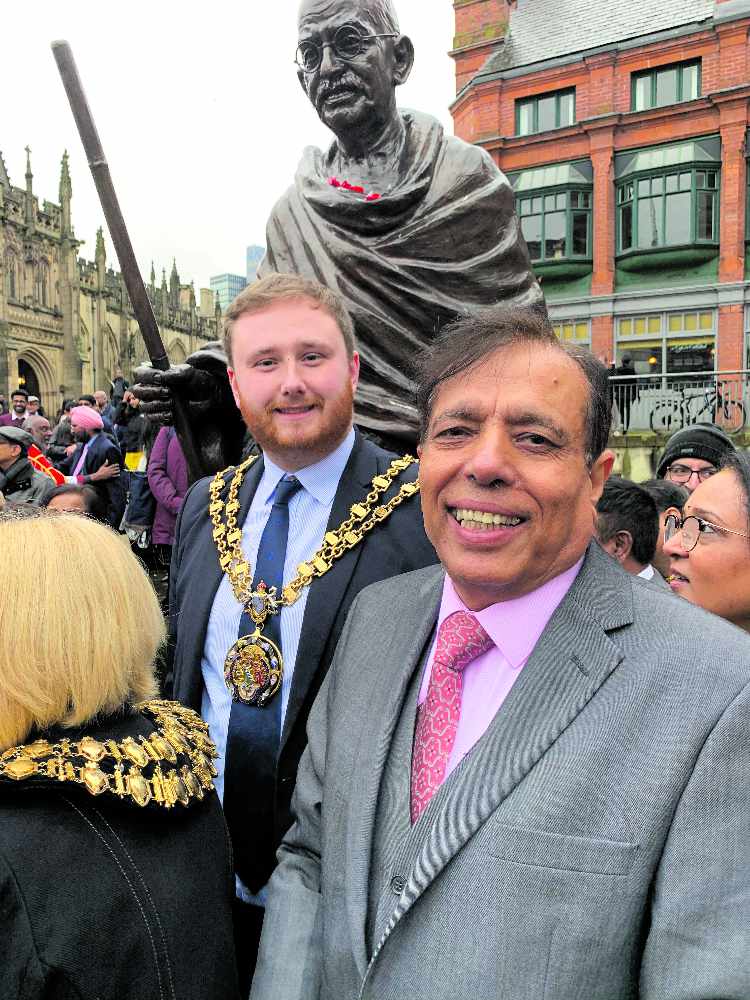 Local politicians, dignitaries and members of the Indian community from Tameside were at the unveiling of a statue of Mahatma Gandhi outside Manchester Cathedral on Monday.
The unveiling marked the 150th anniversary of his birth in 1869.
The anti-colonial nationalist, and political ethicist, who employed nonviolent resistance to lead the successful campaign for India's independence from British Rule, has inspired movements for civil rights and freedom across the globe.
Gandhi, who was given the title "Mahatma" ("Great Soul") by Indian Noble Laureate Rabindranath Tagore, was assassinated on January 30, 1948 in Delhi, at the age of 78.
An inspiration for social change across the world and among the greats of our time, he adopted his philosophy of non-violence and non-cooperative methods.
Hundreds watched the unveiling of a 9ft tall bronze tribute, designed by Indian artist Ram V Sutar, at the all singing, all dancing celebration, followed by further singing and readings in the cathedral itself.
As well as council representatives - including the Mayor of Tameside Cllr Leigh Drennan, other special guests at the unveiling included former GP and Tameside and Glossop Healthwatch Chair Dr Kailash Chand, OBE.
"I grew up with his noble teaching to the world," explained Dr Chand. "'Vasudhaiva Kutumbakam', which means "the world is one family" meaning every individual, irrespective of his status in society, irrespective of the position he holds, is important."
Ghandi visited the Manchester area in 1931, calling at textile mills in Lancashire and travelling from London to Blackburn via Manchester to meet with mill workers and explain the then Indian perspective on the boycott of British goods that was damaging their own industry.
He attracted large crowds of admires at the time and received a warm welcome.
Main image:
GHANDI CELEBRATION: The Mayor of Tameside Cllr Leigh Drennan and Dr Kailash Chand at the unveiling.