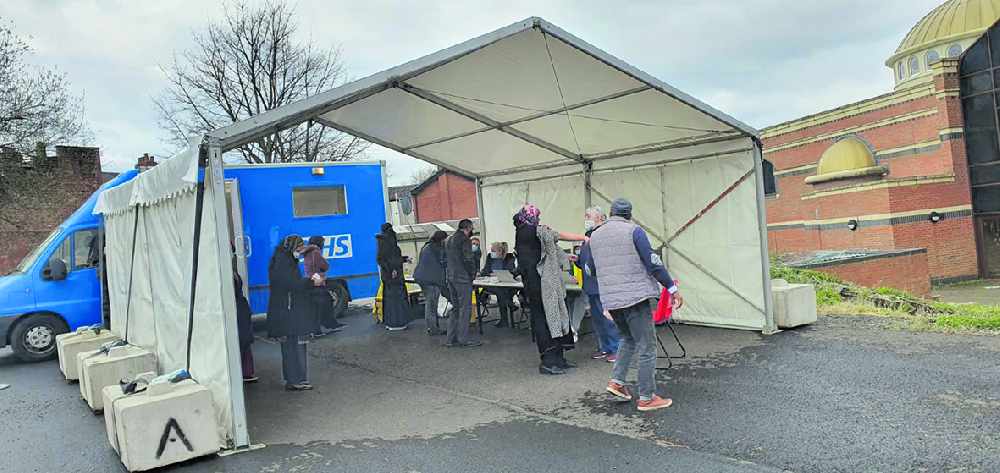 A pop-up vaccine clinic held at Ashton Central Mosque saw hundreds attend with the vast majority from lowest uptake groups.
The drop-in clinic was organised to make the Covid vaccine more accessible where there has been vaccine hesitancy.
It was the first time such an initiative had taken place in Tameside and Glossop and was a huge success with 591 people vaccinated from last Thursday through to Saturday – of which 80 per cent were from ethnic minority communities and 80 per cent from Ashton Central.
The clinic was open to anyone eligible in priority groups 1-9 (all over 50s, defined clinically extremely vulnerable individuals and adults aged 18-65 in an at-risk group) who live in Tameside and Glossop and there was no need to book with participants able to just turn up.
It was a community effort with NHS Tameside and Glossop Clinical Commissioning Group (CCG) working with GPs and Tameside Council to organise the clinic and local community leaders volunteering to support and promote it. The team of friendly professionals and volunteers guided people through the quick and easy process and multilingual staff were available to help.
NHS Tameside and Glossop CCG Co-chairmen Dr Asad Ali and Dr Ashwin Ramachandra said: "We're delighted with the success of our first pop-up vaccine clinic. It was a real community effort and we'd like to thank everyone involved in setting up and running the clinic, including the wonderful volunteers whose help was invaluable, and Ashton Central Mosque and community leaders who accommodated and supported us, as well as all those who came forward to receive their vaccine."
Ashton Central Mosque chairman Azeem Butt said: "We were happy to support the pop-up vaccine clinic and extremely pleased to see so many people attend to receive their vaccine.
"The Covid-19 vaccine does not break people's fast for those observing Ramadan. It is our best protection from becoming seriously ill and dying from Covid and I'd recommend everyone to take up the offer of receiving your vaccine when invited."
Covid vaccines have been offered to all of the first phase priority groups in Tameside and Glossop as the drive to protect the most vulnerable continues.
More than 112,000 first jabs have been administered locally and around 25,000 second doses, giving the most protection to those most at risk. Visits to care homes to give second doses of the life-saving jab to both residents and staff have also been completed.
Anyone in the top nine priority groups who has not yet been vaccinated is urged to book their appointment at their local vaccination hub by contacting their GP practice. They can also travel to the mass vaccination centre at the Etihad and are able to book this via the national booking system at www.nhs.uk/coronavirus-vaccination or by calling 119.
Those due for their second dose will receive their invitation and reminders to attend when it's their turn. Planning is underway for priority groups 10-12, those between the ages of 18 and 50.
You can find out more about the vaccine at www.tameside.gov.uk/covidvaccine.