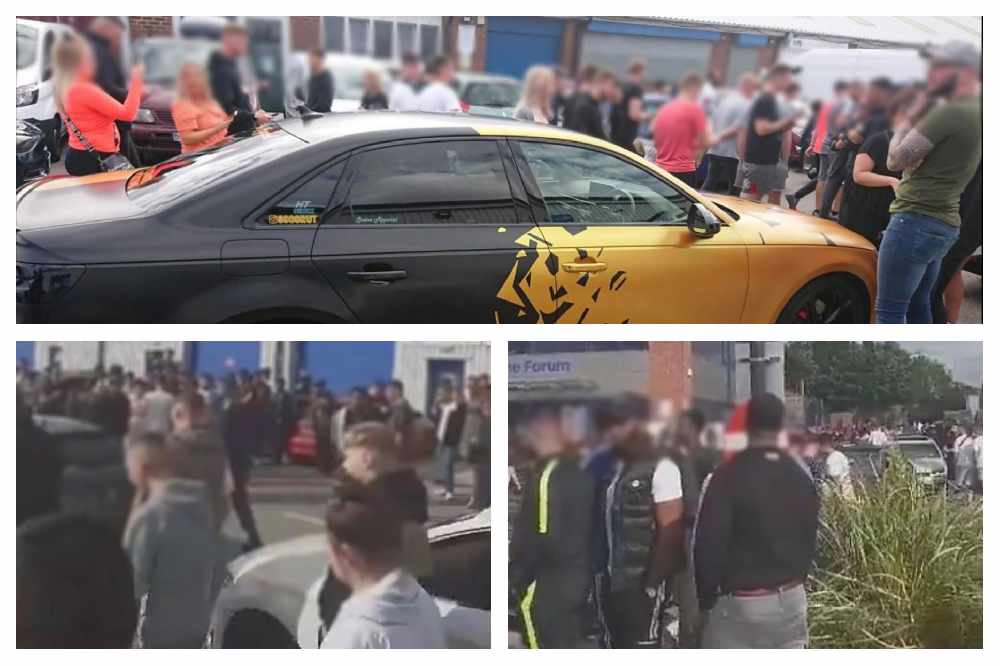 Hundreds of people have reportedly gathered at an apparent car meet in Denton on Sunday, which caused 'heavy congestion' on the motorways.
The illegal mass rally including people in cars and on motorbikes have been witnessed on an industrial estate on Windmill Lane, near the Tameside Business Centre.
People on social media also reported seeing drivers speeding up and down the hardshoulder of the M60 during the afternoon, saying the whole of Denton was 'gridlocked' and hearing noise like fireworks.
Residents described scenes they saw as "horrendous" and "a nightmare" including hundreds of vehicles and hundreds of people descending on the area.
Sharon Lynne said on Facebook: "The noise has been awful all afternoon. We are near The Fletcher's but could hear engines and backfiring."
Sharon Turner said: "Lived on windmill Lane for 35 years - never seen anything like this before."
A huge police presence has been in the area as officers at the scene eventually began to disperse those gathering.
These images tweeted to us by Tony Elliott show a police helicopter hovering above the M60 and cars piling up on the motorway.
Crazy times in #denton #danebank #m60j25 #gridlocked #avoid @MENnewsdesk @newsintameside pic.twitter.com/SfqgxA4lLv

— Mr Tony Elliott 🏆🏆🏆💯⚽️ (@StillGameAt62) July 19, 2020
Images posted on Snapchat show a huge number of people gathering at the car meet.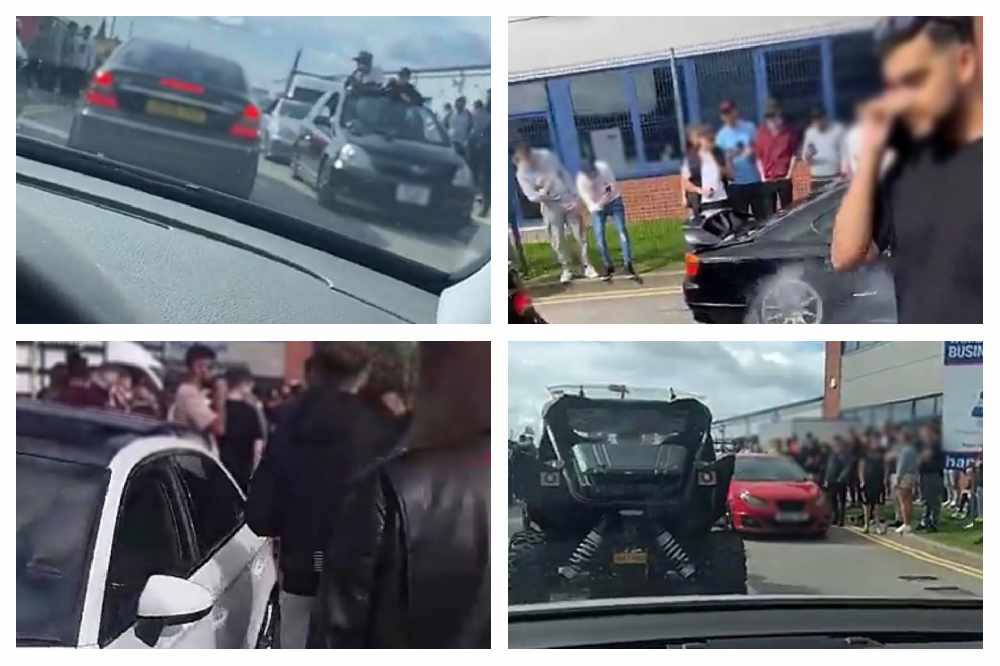 Greater Manchester Police asked people to avoid the area and said the incident was "putting a massive strain on our services".
GMP's Tameside South and West team posted: "Officers are currently dealing with an incident at Tameside Business Centre, Windmill Lane in Denton where there is an increased activity in vehicular traffic.
"Can we please ask that you avoid this and the surrounding area. Sadly this is putting a massive strain on our services at this time and is causing a back log of traffic, however we hope we can quickly have things resolved with your help."
Tameside Council tweeted:
Please avoid the Windmill Lane area of Denton while @gmpolice deal with an incident at Tameside Business Centre. Find alternative routes to get to your destination. Thanks.

— Tameside Council (@TamesideCouncil) July 19, 2020
North West Motorway Police tweeted just before 6pm to say traffic congestion around the M60 Junction 24 anticlockwise had eased, but then said at around 7.15pm that there was still 'heavy congestion' around the Denton area.
They earlier said: "M60 j24 both anticlockwise and clockwise we have heavy congestion - this is due to an apparent car meet off the motorway network, it is however impacting around M60 , M67, M66 - we are getting numerous re vehicles using the hard shoulder at speed, please take care.
"We assure members of the public that we have numerous patrols in the relevant areas, road closures are being put on off the network, the motorways are running as normal."
Denton MP Andrew Gwynne has slammed the mass gatherings as "completely irresponsible".
Completely irresponsible and I'm informed the Police are on it. In fact as I type, the Police helicopter is overhead. https://t.co/VC8hsIhIRf

— Andrew Gwynne MP (@GwynneMP) July 19, 2020
It appears the 'convoy' was advertised beforehand on Facebook, with people travelling all the way from Telford to attend.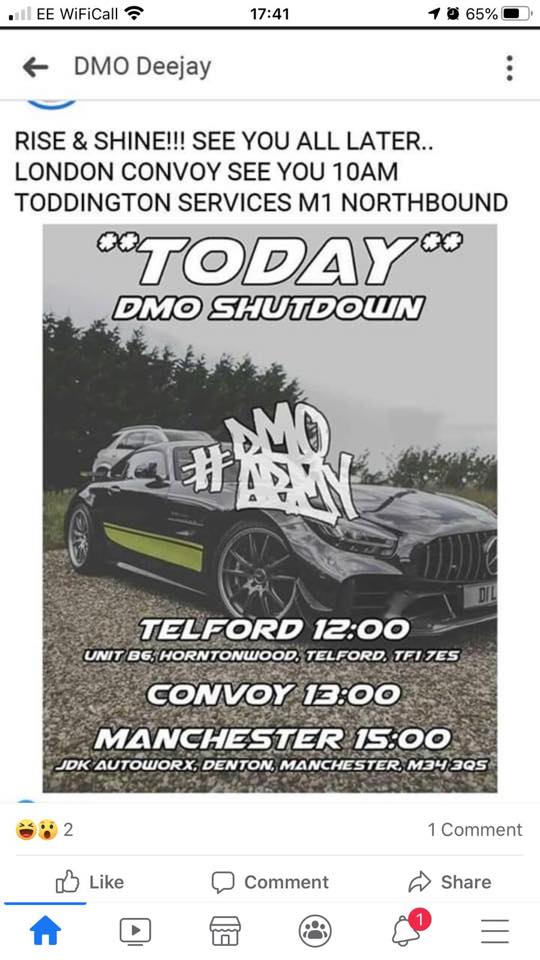 Mr Gwynne said on Facebook, in a reply to a member of the public: "I'll be asking for a full report from GMP tomorrow, including why their intelligence didn't spot this event being advertised (they have a unit looking for events / raves etc) and why the "convoy" from Telford wasn't halted. I'll also be asking how many arrests were made, and whether any action is being taken against the 'organisers'."
Denton West councillor George Jones tweeted:
The scenes seen today on Windmill Lane were completely reckless and irresponsible. An investigation must now take place to ensure we don't see any repeats.

— Councillor George Jones (@CllrGeorgeJones) July 19, 2020
Main image:
People at the gathering from Snapchat images.